On September 15, executive producer Kevin Williamson will help introduce CW watchers to another book series by L.J. Smith that has been adapted into a television show: The Secret Circle. The Secret Circle will join The Vampire Diaries (the CW's highest rated show) on Thursday nights. In some respects, the two shows are alike, which isn't surprising since the source material came from the same author. They're both about high school kids, there's a young girl in the lead role, there's forbidden love and there's witches. Of course, the similarities between the two shows aren't endless and they are actually meant to inhabit separate universes (which, according to Williamson at Comic-Con, isn't really likely to lead to a cross-over).
But the real question that Secret Circle fans might be asking themselves is how the 2011 television differs from the original book series, first released in 1992. Here's the truth: there are some big differences in terms of overall plot and characters. At the same time, however, there are similarities. This is also how The Vampire Diaries played out. But for those of you who are looking for some mild spoilers before tomorrow night's premiere, I've put together a little primer outlining both the differences and similarities between the television show and the books.
Click the arrows above to learn exactly how different show is from the books. Of course, let's keep in mind that I've only watched the pilot episode at this point, so I can't really guess about any future differences or similarities. But there are enough of both right now to let fans know how everything starts to play out.
Don't miss the premiere of The Secret Circle on Thursday, September 15 at 9:00 p.m. on The CW. You can read Mark's advance review of the show here and watch a cool new promo here.
(1) The beginning is completely different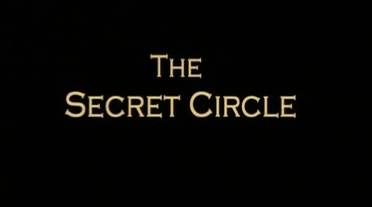 Fans of the book will recall that the series opens with Cassie spending her summer in a nice vacation town. Her first meeting with Adam takes place when she helps him hide from some enemies and her attraction to him begins immediately. This doesn't happen in the show. This also means that a character Cassie meets over the summer (Portia) probably won't be showing up later. Or, if she does, we, as an audience, will have to be introduced to another short backstory to introduce this character. It isn't a bad thing that the show and book start out vastly different, it just means that there's a different beginning to the Adam/Cassie storyline. Which actually leads into my next point….
(2) Cassie & Adam are still drawn to each other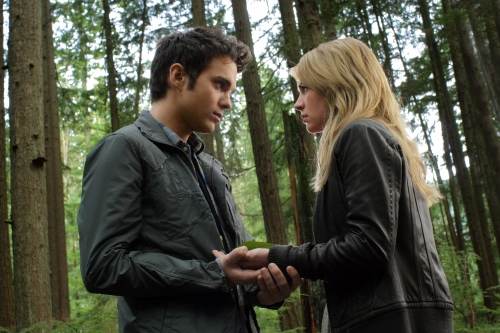 Like I said, their friendship doesn't start like in the books, but the duo are immediately drawn together. I don't think it's a spoiler to tell you that these two characters are attracted to each other and will likely one day end up together (despite the hurdle of Diana). Even Thomas Dekker (who plays Adam) told us at Comic-Con that Adam and Cassie will struggle with their attraction to each other. The only real question now is how long it might take them to get together, because it took a long time in the books for the two to finally come together.
(3) Cassie's mom is dead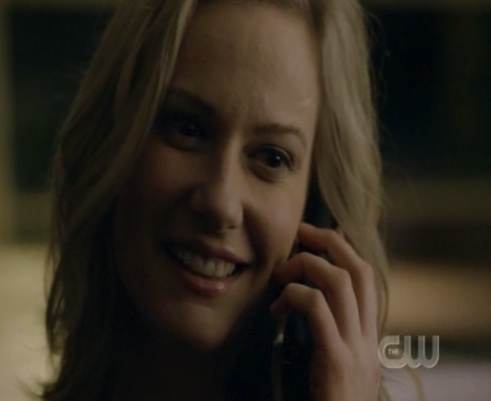 This is, of course, a huge difference from the novels. In the books, Cassie's mother is alive, but spends much of the story depressed or gravely ill. At Comic-Con, I asked two of the producers why they chose to make such a drastic change. They explained that Cassie's mother spends most of her time laid up with an illness in the books and, to some degree, this is a device used by the author so that Cassie can "find her way on her own". In the show, they wanted to have Cassie as a young girl who would have to reach out to people her own age – in the Circle – for help, instead of outside people, which would allow the Circle members to bond even more. The choice to kill Cassie's mother was a way to create a break without casting a character that would end up playing ill for many years. In many respects, this explanation made complete sense. It forces Cassie to be even more independent in the television show. As a mild spoiler, killing the mother also doesn't mean she can't provide her daughter with clues about her witch heritage, but you'll have to wait and see what I mean.
(4) The adults are more involved
We meet various adults in the books, including Cassie's mother and grandmother, Diana's father, Faye's mother, etc. Those characters are represented in the television show. The difference is that in the books, the parents are far from a central focus. Even when we're learning about their history and how their own Circle has an effect on what the kids are currently doing, the adults rarely taken center stage (except for one character, which we'll get to shortly). But at Comic-Con, Williamson pointed out that the show will very much include the older generations. From the beginning of the pilot the adults (including Cassie's grandmother, Diana's father Charles, Faye's mother Dawn and even Adam's father) all play a part. Some of them have plans of their own and I, for one, can't wait to see how it plays out (especially with the devilish Gale Harold in the cast).
(5) 6 Circle members instead of 12
Like with Cassie's mother, this is a substantial change from the books, which had 12 kids make up the Circle. The show, however, only has 6 Circle members: Cassie, Adam, Diana, Faye, Nick and Melissa. The first five characters are all part of the book, but Melissa is not. In fact, the following characters from the books do not appear in the pilot: Chris (Doug's twin brother), Melanie, Deborah, Laurel, Suzan and Sean. I suspect they trimmed down the number of Circle members because it would have been too much to have 12 central characters in the series. Six is a much more manageable number.
(6) Personalities aren't that different
The show may have chosen to drastically cut down on the number of characters, as we mentioned above, but they did manage to nail the personalities of the ones that they kept. Diana is still the kindhearted leader, while Faye is the resident bad girl. Adam is a nice, temperate guy and Cassie is a bit of a fish out of water, but is also strong-willed. All of this comes across in the pilot, so the characters you do know are fairly recognizable to book fans.
(6) Town – New Salem vs. Chance Harbor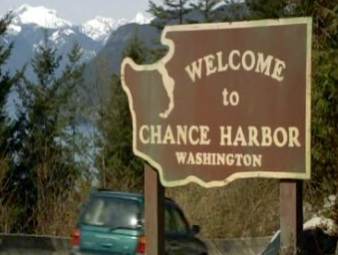 This is an interesting change. In the book, Cassie moves to New Salem. Right away, the town seems to be connected to witches from the name alone. But in the show, Cassie moves to Chance Harbor, Washington. Seems like a pretty normal town that doesn't really have a connection to historical witches. In the books, the Circle members also live on one street with houses that have been in the family for a long time. I'm not sure if that will turn out to be true with the houses in the show, but they all don't seem to live on the same street. Changing the name of the town isn't that big of a deal, but it's an interesting choice when you figure that the name from the book seemed to fit the theme so well. It will be interesting to discover whether Chance Harbor has more of a connection to witches than seems obvious from the name.
Update: As an aside, apparently they want to keep the magical elements of the show hidden from the other students and townspeople, so that would account for changing the name of the show. That will create many differences from the book going forward.
(8) Cassie's family still has a dark side & Black John may play a part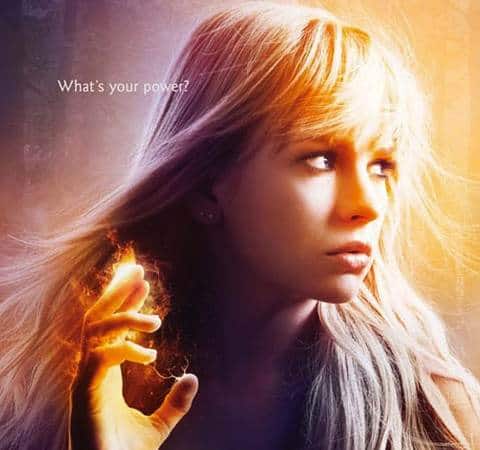 I don't want to spoil too much for fans who haven't read the series, but the book fans will know that Cassie's family has ties to the dark side, through a particular member of her family. At Comic-Con, Britt Robertson revealed that as we progress with the show, we'll find out that her father and her past has a dark side. There will be a pull inside of Cassie to lean this way, but we don't know whether she'll embrace it. As for Black John in particular, producer Andrew Miller said that "His presence will be felt in the show, specifically by Cassie, who is linked to him whether she wants to admit it or not." But that doesn't mean we're going to see him right away. We may have to wait a while to see him in person, although we should be learning more about him as the show progresses.
As the show goes on, I'm sure we'll see more differences and similarities between the show and the books, but all of this is what we know so far. Don't miss the series premiere of The Secret Circle on Thursday, September 15 at 9:00 p.m. on The CW. You can also read spoilers for the first two episodes here.