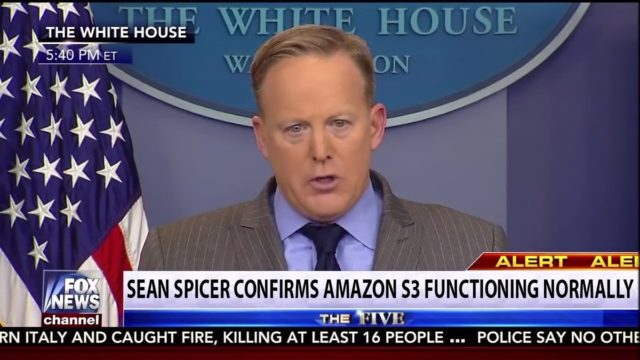 For the record Sean Spicer did not confirm that Amazon S3 was functioning normally but this picture is pretty awesome. If you have an internet connection then there's no doubt you noticed that earlier today more than your average number of sites were not working as well as they should have. It's because one of Amazon's major cloud servers on the East Coast was down. This was preventing some huge sites from functioning as they use Amazon's cloud for a number of services including storage of data and functionality of a number of codes (such as ad scripts for banner ads).
As a result sites were lagging if not down entirely. Some major players like Business Insider, Imgur, Quora and others weren't available to their users. Today we learned just how important Amazon is to the internet. Essentially if Amazon isn't functioning, the internet isn't functioning, nor are streaming services like Netflix which are highly dependent on Amazon's cloud servers.
If you're in the "geek" crowd as I think I may be, then you'll find this picture to be quite funny. It's just one of many photoshops and reactions to one of the most significant internet events of 2017. OK, I'm done.