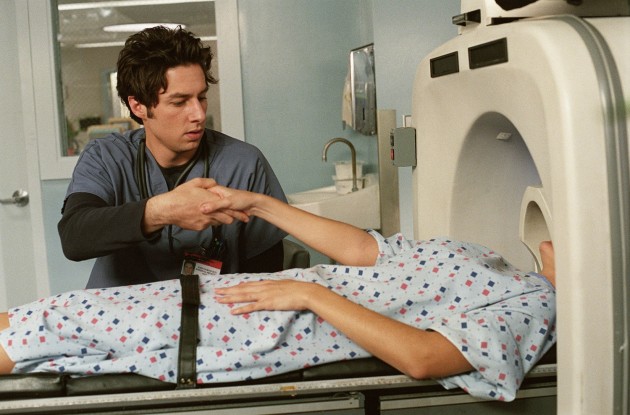 J.D.'s weekly narration talks a lot about taking chances at the end of "My Blind Date"; while this is certainly true for the three stories of the episode, "My Blind Date" is really about the concept of control. Feeding it through the lens of a hospital is a natural fit for Scrubs, and halfway through the show's freshman season, the half hour acts as a marker of sorts for the characters' journeys throughout the first season. And despite that including some rather off-putting behavior from J.D., "My Blind Date" works, a prime example of how a strong thematic core can override almost any character flaw on Scrubs (something it would often find itself in the position of doing with J.D., Cox, and even Kelso, when it wanted to).
Framed around Dr. Cox trying to throw a perfect game (aka go a 24 hour shift without losing anyone in intensive care), "My Blind Date" uses that metaphor as a foundation for other stories in the episode. At their core, all of the various character interactions come down to this theme of control; like a pitcher on the mound, everyone from J.D. to Kelso is trying to manipulate the odds in their favor, in order to solve whatever conflict they're facing in their lives. Some of these are simple, visual cues like Turk struggling to get Mr. Davis' arm back in the socket; others are more overt, like Elliot's attempts to get the world to "laugh with her tonight" by trying to preserve Dr. Cox's perfect game after a patient dies on his watch (at 11:55, five minutes before it ends). But they're all about the same thing; they're about our attempts, as humans, to control our emotions and life circumstances. It's one of life's many contradictions; we try to exert dominance over our own affairs, even though they're all byproducts of random moments in life, be they inspiration, intuition, or simple human connection.
That idea is the beating heart of "My Blind Date"; the more characters try to take the reins of their life and control their situations, the more they find themselves at the whims of the world around them. Turk and his feelings, Dr. Cox and his perfect game, Elliot and her self-worth as a doctor; these are things characters try to explicitly (or in the case of not mentioning the 'perfect game', implicitly) guide in this episode with their own perception of how things should be, or would be in a perfect world. All three stories are ultimately reminders that we don't have control (as Cox barks out to Barbie in the episode's darkest moment); sometimes, that even extends to who we're attracted to, a story "My Blind Date" explores in less than desirable ways.
J.D.'s story is really the one blemish on the episode; even Carla and Turk's frustrations work in the context of the episode's morality, leaving J.D. out in the cold as the selfish one. This would be the first nor the last time Scrubs wasn't afraid to show us J.D.'s petulant, self-serving side, and this is one of them – it's not that J.D. wants to hesitate dating the doctor until he sees her (because so many of us are that shallow), it's how dismissive of her he is until he decides that he's not a shallow guy. The sparks we're shown that he feels aren't enough? We really have to spend ten minutes watching J.D. contemplate dating a girl that might be ugly? It's a bit of a preposterous storyline, and doesn't bode well for "My Blind Date" and its personification of J.D.'s attempt to control his own feelings. The foundation for a better story is there, but "My Blind Date" takes the easier route to its conclusion, which makes for a disappointing meet-cute story between him and Alex (whose exit from the show would be even uglier, but we'll get to that one).
Thankfully, "My Blind Date" has two great side stories to pick up the slack; heck, Elliot's night alone with Cox at the hospital is worth the other two stories alone, a great tale that continues to flesh out one of the show's best secondary relationships, the ever-annoyed Cox pushing Elliot to face her worst self, improving her as a doctor and a human being with an even rougher rapport than that he has with J.D. Anchored by this, it's hard for "My Blind Date" to stray too far from its narrative parallels, even when J.D. is expressing his overwhelmingly superficial traits; there are a number of other episodes that fail to maintain this balance, and "My Blind Date" is an early example of it (mostly) nailing it.
Other thoughts/observations:
– "Help me to help you, Barbie. Help me to help you, help me to help you, help me to help you, help me to help you." Cox is in classic form through the entire episode.
– Ted, to Alex: "We could run away together."
– Dougie makes his second appearance, as the "nervous guy" who doesn't want to give Cox the bad toxicology results. That poor kid is just getting started.
– Elliot doesn't get the concept of a perfect game?
– "Girl, you know I can't have French fries."
– Nurse Roberts makes terrible coffee, apparently.
– Death selling Girl Scout cookies is a great cutaway, as is Elliot trying to play catcher for Dr. Cox.
– Elliot reading the chart might be the most over-the-top slow motion shot I've ever seen on Scrubs. Never has so little felt like it meant so much.
– "Better get ready; new game starts in four minutes."
[Photo via NBC]