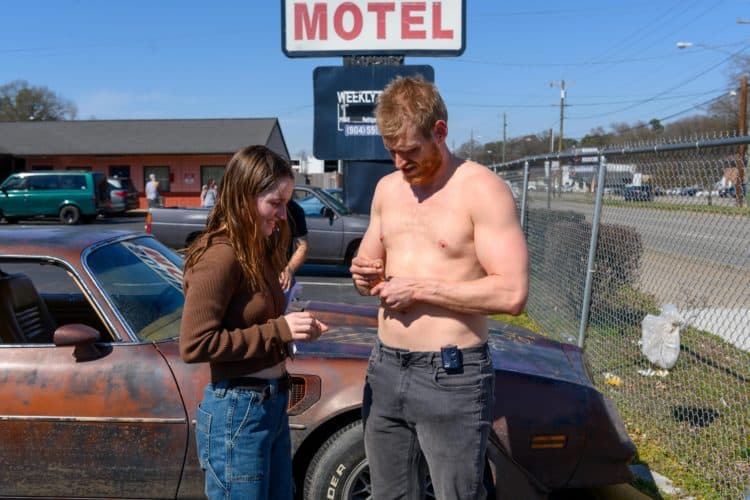 In Dopesick Episode 3, the agents at the forefront of the war against Purdue Pharma and their pain medication are all in dire health situations that require the use of the very pain medication they are against. Sadly, they are forced to make a choice between their quality of life and morality.
Overdose
Episode 4 of Dopesick takes place a year later, in 1997. The opening scene is quite heartbreaking because it shows a group of teens hanging out at a bonfire, cutting up Oxycontin and snorting lines of the drug. One of the teen's Ryder, passes out while doing a line, and his friends put him in the car and drive him home, where they leave him on the ground in front of his house. The show doesn't follow up with Ryder, but we can assume that he has overdosed.
Life Change
Betsy's life has changed dramatically over the last year. After the accident in the coal mines, she went on to work at a gas station in Finch Creek, Virginia. She also sells Oxycontin on the side to help her get by. This is far from the life that she had envisioned for herself. Grace, her ex-girlfriend, comes backs to town and tells her all about her time at Eureka Springs. Betsy takes a trip to Eureka Springs with her drug dealer friend, who convinces her to go see this doctor in Florida to get another prescription. While the doctor examines, he insinuates that if she doesn't have the money to pay for the prescription, they could "work something out."
Addiction Is A Myth
Meanwhile, Purdue Pharma is dealing with substantial claims that Oxycontin leads to addiction. As a result, Richard decides that it's best to add a less than 1% addiction rate on the medication label. However, Raymond Slacker feels that this was the wrong decision. The company decides to bring in an expert that believes that addiction isn't real and that patients addicted to Oxycontin have a "pseudo-addiction," and that the best course of action is to increase the dosage. Pauline questions this expert's philosophy and believes that he's a fraud that knows the dangers of Oxycontin. Richard Slacker ends up firing Pauline.
Dr. Finnix Is Addicted To Oxycontin
Perhaps the most shocking and heartbreaking discovery of the episode is finding out that Dr. Samuel Finnix is addicted to Oxycontin after getting a prescription from the hospital when he was in a car accident. Dr. Finnix collects bottles from his patients to feed his addiction. Dr. Finnix's addiction is affecting his ability to properly care for his patients. In fact, one of his patients is concerned about the way the medication is making him feel. Rather than take him off the medication, Dr. Finnix insists on slightly decreasing the dosage. In the episode, he attempts to sober up on his own by locking his pills in the medicine cabinet. He eventually becomes so desperate that he hurts his hand by smashing the glass on the cabinet to retrieve the pills. The episode closes with Dr. Finnix visiting a drug dealer for the first time and buying pills off the street. This time when Dr. Finnix takes the pain medication, it's clear that he's taking it to get high because he snorts it just as instructed by the drug dealer. Dr. Finnix sits backs and envisions himself dancing with his deceased wife.
Intervention
Besty's family enlists the help of Eric Miller, an addiction counselor, to stage an intervention. Her parents insist that they don't care about anything but her health, and they encourage Betsy to get help. Eric tells Betsy that her family won't support her any longer if she doesn't take the first step in the right direction by enrolling in the program. Betsy starts to attend AAA meetings and celebrates two days of sobriety. However, when a seemingly sweet woman in AAA sells her Oxy in the bathroom, the vicious cycle of addiction starts all over again. The woman promises to give her a dose every week.
The Meeting
Bridget meets with the FDA to discuss putting restrictions on the pain medication, but they stand firm in their decisions keep things as is. Bridget manages to land a meeting with Purdue Pharma and proposes that the pharmaceutical company implement measures to help reduce the addiction rates and get it off the streets. She advises that they decrease the amount of Oxycontin they supply to physicians and chemists. Bridget also suggests that restrictions be placed on the painkiller, such as only prescribing it for severe pain rather than moderate pain.
Tell us what's wrong with this post? How could we improve it? :)
Let us improve this post!