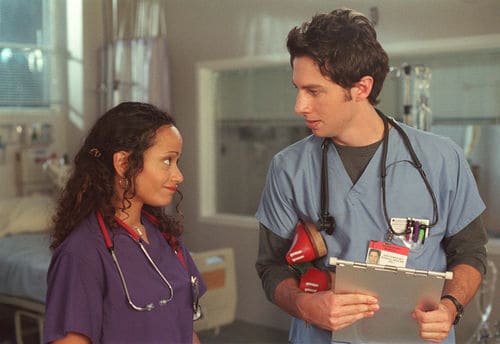 There's nothing more fun to watch then when a show finally feels comfortable with its established patterns, and begins playing around with them; "My Nickname" offers up a number of new dynamics to explore between characters, be it Kelso and Turk, or Elliot and Dr. Cox. Ultimately, these unique pairings end up exploring familiar territory (with their own little twists) for Scrubs, which in a way, paves the road for the heart of the episode, a brewing conflict between Carla and J.D. that takes on a deeply personal tone in the episode's surprisingly emotional conclusion.
Oddly enough, there aren't a ton of episodes like "My Nickname" throughout Scrubs' run; friction between Carla and J.D. mostly springs from Turk-related material throughout the series, which makes their sudden, more ideological conflict (at least initially) stand out in even stronger contrast upon rewatch. Carla's lack of formal education is never something the show would spend much time on; nowhere near as much time as it would on J.D.'s inability to define himself outside of his job, or Carla's feelings of inadequacy that occasionally spring from being around doctors who assume they're her intellectual superiors (thus explaining her need to constantly point out to them how they're living their lives like idiots). But combining those two to drive a wedge between Carla and J.D.? Not only is it a move that feels out of place for Scrubs – but ten episodes in, it exposes major flaws in the pair's young friendship, which is a bold move considering how close this show was to the chopping block in its freshman season.
Sure, nothing in "My Nickname" is as bold as numerous other episodes in this first season, but creating such a huge, larger-than-life moment between Carla and J.D., where she calls him out for his smug naivete, is a daring thing to do, even more so given the rain-soaked setting their climatic scenes were set in. Without the right balance, that moment would quickly topple over into parody, something "My Nickname" is desperately trying to avoid; this is the show's biggest emotional leap since "My Old Lady" – and coming in an episode that features Elliot basically befriending herself, and Turk fighting over a chair with Kelso, it seemingly appears out of nowhere, moments after a mislead where it seems Carla has resolved her dispute with J.D.
Carla's speech is a powerful moment, one that propels "My Nickname" from a decent episode to a good one – a distinction that may not seem important ten episodes in, but stands out as a singular moment for her character when reflecting on the 182 episodes Scrubs would air in total. Of the main cast members, Carla is given the least amount of time to shine in later seasons, which makes it even more fun to watch Judy Reyes chew up dialogue like she does when she dresses down J.D. in the rain, in one of the show's most beautiful, honest moments ever: "Never, in my nine years working as a nurse, have I ever felt bad about what I do. And then I met you."
That is a legendary burn, folks; and it's one that "My Nickname" doesn't back away from, hinting at reconciliation rather than offering it, smartly giving nuance to the resolution of the story where its most dramatic moments ring much louder. Balance like that is important, and Scrubs recognizes the value of letting the conflict linger a little bit longer than most shows would; it's one of the many real life touches the surrealist comedy used to create such a strong bond with the audience, and "My Nickname" shows a writing staff in full control of it.
"My Nickname" also marks the first appearance of Nicole Sullivan as Jill, who is a peek into an alternate reality, where everything in Elliot's life has gone horribly wrong. Completely overwhelmed by her job and self-sabotaging life plans, Jill is Elliot's energy and neuroses cranked up to 11, which throws them both into direct conflict with Dr. Cox (who basically gives Elliot the J.D treatment through the episode, though falling short of calling her boy names). Sullivan's first appearance is certainly not her most impactful, but "My Nickname" takes advantage of showing Elliot's dark side without having to attach those traits to Elliot herself: watching her work around her worst compulsions and fears rather than be consumed by them is a new wrinkle for Elliot, a rare, early example of her retaining control over a situation, even while Dr. Cox is putting in his best effort to ruin it.
However, "My Nickname" will always be remembered for J.D. and Carla's conversation in the rain; it may be Carla's single strongest moment, exposing J.D.'s biggest vulnerability in a way usually only reserved for Dr. Cox (and with a severely different tone than most of Cox/J.D. scenes would have, even the most meaningful ones). It's a spot of darkness on the collage of goofiness that defines the rest of the episode, a half hour that may not stick out as essential in the minds of long time Scrubs fans, but remains a strong reminder of what a powerful presence Carla could be when Scrubs would let her.
Other thoughts/observations:
– Kelso and Turk's little runner between the two larger stories of the episode is fun, and works as a great thematic bridge between the two, providing the segue for characters to begin internalizing the events of the episode, and finding connections (or critical dissonance) with those they're being paralleled with in the episode, primarily Jill and Elliot.
– Janitor's four potential new nicknames for J.D.: Whiny Face, Whiny Britches, Whiny Dancer, and Scooter. Why? "Because I hate scooter pies!"
– Jill and Elliot are having a little too much fun playing Sabotage the Relationship.
– Another fun early-episode camera shot: the pan around J.D. and Cox as he grills him, a wonderful homage to boxing films.
– High Five Count: The Todd returns strong in this episode with three monster high-fives. The first is a head five on Turk's dome, followed by two sexual pun-fives that assault J.D.'s hand.
[Photo via NBC]