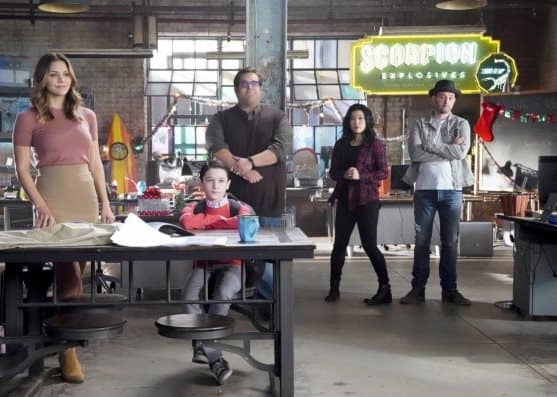 It's Christmas Eve, and Team Scorpion is ready to celebrate the holidays. Though in this week's mid-season finale of Scorpion, a particular genius with a 197 IQ is acting like a Scrooge. He even went as far as saying that he can do everything by himself and that he doesn't need Team Scorpion. Wow. Just. Wow.
I get that Walter is concerned about filling up the company's bank account, but it's the day before Christmas. No one in their right mind works on Christmas Eve. I did feel sorry for him when he took that tumble down the stairs that caused him to bleed out. Then again, that might be karma coming back to bite him in the arse. Seeing Ray again was cool. He served as the three ghosts that visited Scrooge to get him to change his ways. Though in this case, only one spirit will do.
Having alternate versions of each member of the team in Walter's dream was intriguing. Sylvester is a successful gaming mogul, Happy is a podcaster for fancy sports cars, Toby is a famous motivational speaker, Agent Gallo is the Chief of Police for the LAPD, and Paige owns a restaurant. Although in reality, if Scorpion never existed, Walter would remain in Ireland, Happy would still be at the orphanage; Toby will continue to gamble until his debts catch up with him, that, and he will never meet and marry Happy. Sylvester will keep on being a lonely nerd and not meet/marry Megan. Paige will remain a waitress living on minimum wage and Ralph will never get to put his brilliant mind to good use. Agent Gallo, of course, will continue to work for Homeland but will also lead a lonely life because he would never have met Allie.
The shocking part of the dream is that Walter married Florence. Yes, she saved his life when she found him unconscious on the garage floor, but I worry about Waige. The chemist next door is a friend for now, but it might evolve into something more down the line. If they're going down the love triangle route like the people over at Lucifer is doing with my Deckerstar, then fine. As long as Waige is the endgame, I'm all for some jealous Paige.
In the end, Walter's life is saved and is recovering in the hospital. Everyone is by his bedside as they celebrate Christmas together as a team and as a family. I agreed with Toby when the behaviourist told Walter that deep down, his psyche knows that Team Scorpion are better together. He knows that he needs them, but he also knows that they need each other and that they need him.
Final Thoughts:
Seeing Richard Elias as a technician for hire is a bit confusing. If anything, he should still be the wealthy tech guru that he is. On the other hand, dreams don't have to make sense.
Seeing another version of Walter is confusing as well, but it made sense in a way. Car Walter represents real Walter fighting to stay alive and if Car Walter dies, then real Walter will die as well.
Hearing Sylvester talk like the way he did in Walter's dream made me roll my eyes. It was amusing, don't get me wrong. I loved his variation on former President Barack Obama's name.
Scorpion returns with all new episodes January 15 at 10/9c. Photo via CBS
Scorpion Season 4 Episode 12 Review: "A Christmas Car-Roll"
Summary
On Christmas Eve, Walter becomes unconscious after falling down the stairs. He then enters a dream where Team Scorpion never existed as he fights to stay alive. It's a Scorpion Christmas Carol in this mid-season finale of Scorpion.