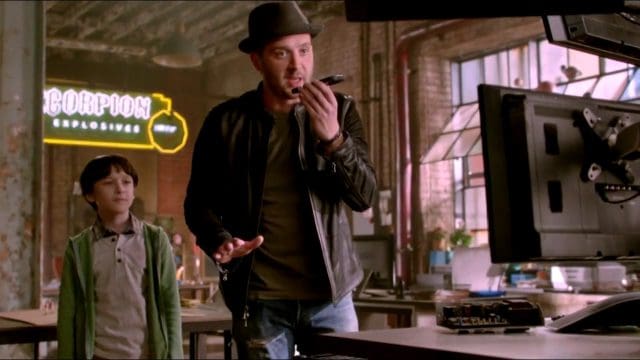 President Theodore Roosevelt once said that the only thing we have to fear is fear itself. In this week's episode of Scorpion, Sylvester, Happy and Agent Gallo are about to come face to face with theirs. Oh, it starts right in the middle of a crucial mission. Yeah, not good.
The hour began with Sylvester fast asleep at his desk. The human calculator was up all night preparing for his upcoming debate. When he awoke, he blurted out a name, Mr. Weiner. It turns out that Mr. Weiner was Sylvester's gym teacher in school. Sylvester then confided in the team that the jocks who picked on him locked him in a chicken coop once, hence his fear of chickens. You are not the only one who's afraid of chickens, Sylvester. Allow me to introduce you to Dr. Sheldon Cooper.
Agent Gallo then debriefed the team on a case. The Granse Seed Vault in Greenland has malfunctioned. The vault had a sudden power surge that blew a fuse and depleted all the power. Team Scorpion is to reboot the system and restore the vault's power. I hope that the world's backup food supply doesn't go bad. That would be beyond catastrophic.
Things then took a turn for the worst when Sylvester, Happy and Agent Gallo began hallucinating their deepest fears. They had breathed in ergot, a seed fungus that grows on rye and plants that relate to it. The fungus targets the fear centers of the brain, causing realistic hallucinations. It reminds me of the episode where Walter is floating around in space trapped on the rocket. Though in that instance, the hallucinations were not as bad as the ones in this episode.
Sylvester thought that he was trapped in the chicken coop again while Happy was brought back to her days at the orphanage. Agent Gallo found himself in a sitcom-esque situation where his fear of being weak came to life. It was also nice to see Ray again as he showed up as a game show host in Agent Gallo's hallucination. Wonder if he will ever come back to Scorpion?
My heart melted when Toby got through to Happy by telling her that she will never be alone and he loves her with everything he has. It was heartbreaking to see Happy relive her deepest fear because I can relate to it in a way. Though that is a story for another time. These two deserve to have their walk into the sunset and stay together forever! One can only hope that Chloe and Lucifer will do the same! I need my ships in order STAT!
When Ralph told Toby that he wants Walter to ask his Mom out, I was like, Yes! Ralph ships Waige too! My brief happiness was short-lived when Toby told the young genius that Paige just wants to be friends with Walter for the time being. Then again, after seeing her fear of Walter dating another woman come to life, I think that Waige will be back on track pretty soon. Speaking of Ralph, it was great to involve him in the mission. The young genius hacked into the seed vault's system and found the seeds necessary (per Toby's instructions) so Walter and Paige can make an antidote to cure Sylvester, Happy and Agent Gallo.
In the end, the mission was a success as usual. Agent Gallo then came clean with Allie about his fears to which the latter accepted wholeheartedly. I was surprised that the woman is a fan of vintage cars and Sinatra. It's like she was made for our favorite Homeland agent. Sylvester then proceeded to kick debate butt against Patel, getting over his other fear which is public speaking. Hope you win the election, Sylvester! If I were an American living in Los Angeles, I'd vote for you!
Photo via CBS
Scorpion Season 3 Episode 17 Review: "Dirty Seeds, Done Dirt Cheap"
Summary
Team Scorpion heads to Greenland to protect the worlds' backup food supply in this excellent episode of Scorpion.