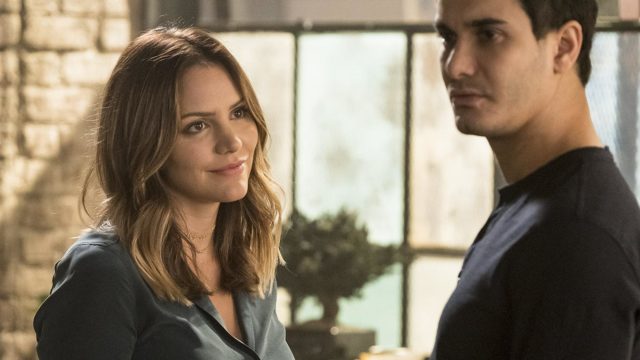 When one loses something down the drain, one calls the plumber. In this week's Scorpion, however, no plumber is needed as the team goes down to the sewer to retrieve a key fob. Yet, it's no ordinary fob. It controls 19-K, a military satellite armed with missiles. An agent from MI6, Gemma Franklin, contacts Team Scorpion to help disarm the satellite before a nuclear explosion takes place and kills millions. The team also gets a new neighbor. A chemist named Florence Tipton (guest star Tina Majorino from Veronica Mars).
The hour began right where the last one left off. Agent Gallo tells Toby his fears about going to prison, but the Homeland agent is not disclosing his issues. The whole point of talking to Toby is to get to the root of your problems, Agent Gallo. I suggest you take Happy's advice and keep up with your sessions. Also, coming up with seven synonyms for the same word has got to be a record.
Aside from that, I loved the reverse psychology tactic that Agent Gallo and Toby used on the hacker they apprehended. The guy sang like a canary after Toby showed him a map of where the nuclear explosion will be and that they will put the miscreant in the middle of it. Guess the guy got psychoanalyzed after all. Score one for Team Scorpion!
I felt sorry for Sylvester as I watched the episode. The human calculator fell into the sewer basin when a large branch weighed down the net used to catch the rat in. At least he was able to retrieve the fob from the rodent and Walter redirected the 19-K satellite to save Sylvester from certain death. Oh, major kudos to Walter for pulling one over MI6 by making the satellite go into deep space. It turns out that the military satellite wasn't a British satellite. MI6 used Scorpion to steal the satellite for whatever military agenda they have planned.
The Waige interaction in this episode was alright. I mean, Paige could have faced her fear of rats when Walter told her to grab it. On the other hand, she did say it was a deep-seated fear. The moment between the two at the end was perfect. It's true that they still have some kinks to work out, but they can make this work. As for Ralph and his crush on Patty? I will also withhold judgment until I have all the facts and let this run its natural course.
Final Thoughts:
Paige, just because you and Walter are dating doesn't mean that he has to agree with everything you say. He's allowed to form his own opinions. Yes, you are good at reading people, but when it comes down to it, you just have to put those vibes aside and focus on the task at hand.
Can't believe that Happy flushed Toby's Attaboy keychain down the toilet and made Paige fish it out of the sewage gunk. Least the mechanical prodigy made her husband another one after the satellite blew up the old one.
Personal opinion: women don't need makeup to look pretty. It's good to wear it on occasion when one goes out or has an interview, but other than that, it's better to go with one's natural beauty. I agreed with Walter when he said that Paige looks the same with or without makeup. Then again, a little conditioner wouldn't hurt. Must get rid of those tangles!
Florence agrees to be more courteous to Team Scorpion and not resort to chemical warfare, and the latter will do the same. It looks like we will have ourselves a new team member soon. Just a hunch.
Photo via CBS
Scorpion Season 4 Episode 7 Review: "Go With The Flo(rence)"
Summary
Team Scorpion team up with MI6 once again to help disarm a powerful military satellite. A new chemist neighbor moves in next door in this week's episode of Scorpion.