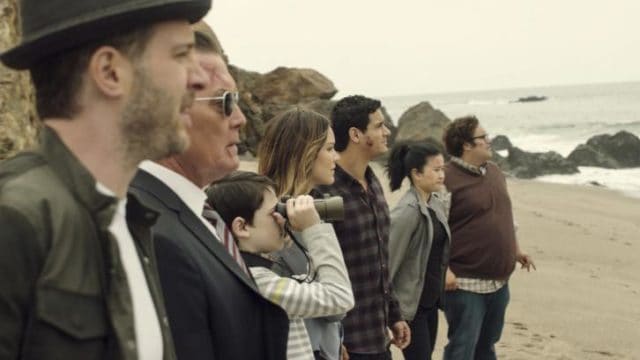 The last we saw of Team Scorpion, Toby and Happy are husband and wife, Walter and Paige finally admit their feelings for each other and everything should be smooth sailing right? Not even close. The team got on a plane to go to a job in Tahiti but crash-landed on a desert island. In this first part of the Scorpion season three finale, it's Survivor Team Scorpion style.
I applaud Scotty, the pilot for saving everyone's lives. At first, I naturally thought the worst when the team found him lying in the cockpit with his arm pinned by plane debris. Sorry for not thinking positive, Paige! Good thing they were able to save his life by pumping out his blood that contained deadly toxins and using powder from the flare to heal his internal wound.
It was also interesting to find out more about Happy's past. She has lived all over the world and even recorded a single while in Portugal. I, for one, would love to hear said single but I doubt that it's out there. My eyes went wide when Happy mentioned that she used to date a certain Jake Gyllenhaal. Wonder how long that relationship lasted? Typical Hollywood timeframe, perhaps? No matter, the mechanical prodigy is Toby's wife now, so the behaviorist has nothing to worry about. Yes, Quintis will learn more about one another as their marriage progresses, but it's all part of married life. Or so I've heard.
Speaking of Quintis, I understand that Ralph is worried about Waige. The young genius wanted Walter as his stepfather so badly that he just wants to get back home as soon as possible. Though Paige is right, the relationship should progress naturally. There's no reason to have to rush things. I mean, hearing Walter express his love for Paige is endearing, but it gets annoying after a while. Three weeks stuck on a desert island will do that to you. Oh, and Walter? You need to work on your pet names for Paige. I know she said that you could express your feelings however you want, but dude, no lady wants to be called "My little asthma" or "My little arrhythmia."
Meanwhile, Sylvester's behavior in this episode truly astounds me. The human calculator threw caution to the wind as he realized that death is near. Though I am quite fond of the old Sylvester like Paige is, the new Sylvester is pretty awesome as well. Perhaps he should stick around. When he's less crazy/borderline insane of course. His erratic behavior towards the end of the episode scares me. I hope that he, along with the rest of Team Scorpion, can get off the island soon because it's starting to take a toll on their minds as well as their overall sanity. That, and I want Toby to quit it with the ocean puns. Even though said puns are nods to respective television networks.
Photo via CBS