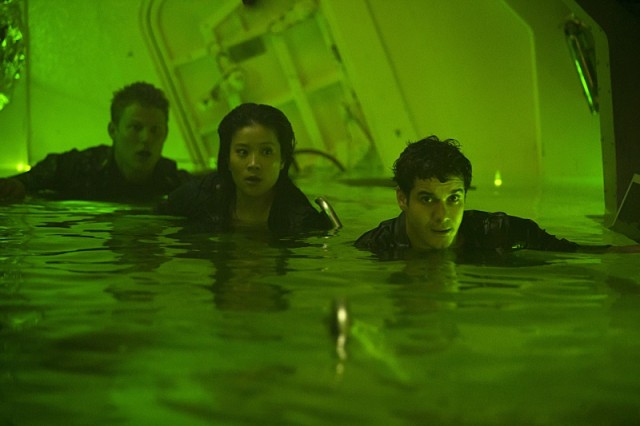 People tend to view Team Scorpion as robotic and mechanical because they take orders from math and science rather than from government authorities (Agent Gallo aside, of course). However, the team's eyes are opened when a top-secret, Black Ops nuclear submarine mission goes horribly wrong in this week's episode of Scorpion.
Agent Gallo, Walter, and Happy are asked by the Deputy Homeland Director Katherine Cooper (guest star Peri Gilpin, aka Roz from Frasier) to board the military submarine in San Pedro deep in international waters off the coast of California. The Deputy Director was not amused when Toby figured out what the mission was. What part of "Black Ops" and "classified mission" do you not understand, Doc? The "Black Ops" part or the "classified" part?
While part of Team Scorpion is aboard the submarine, Toby and Sylvester stay back at the garage so that they can figure out the exact location of the sub. The good doctor decides to play his own version of the game "Battleship," aptly named "Battle Sub," as he takes Sylvester's sandwich, using it to represent the actual sub on a grid-board that contains directions, longitude, and latitude.
I literally face-palmed when Toby and Walter said "hit" and "miss" as if they were really playing Battleship. This is an actual mission, guys, not a board game! However, it was a bit on the humorous side when Toby stuck a tiny flag in Sylvester's sandwich, piercing the pickles in the sandwich, much to the human calculator's dismay.
I enjoyed watching the scene where Happy and Walter attached a wire to the listening device on an underwater fibre optics cable connecting the U.S. Department of Defense to the Chinese government in Shanghai. Happy told Walter that while Toby called them robots, there's nothing more fascinating than a robot. I agree with Happy on this one, to an extent, given that robots can do things that we humans simply can't, like trying to attach a cable underwater as delicately as possible. Still, though, we are the ones who built the robot so we're the ones who are controlling it. Unless of course, the robots decide to get all Terminator on us.
Walter also concurred with Happy's comment, saying that Toby endlessly analyzes feelings, Sylvester is a mess of feelings, and Paige helps them sort out these feelings. The 197 IQ genius then said that without the metal gears to help that machine run smoothly, the machine would not work. Perhaps this is Walter's way of saying that sometimes, having emotions is not necessarily a bad thing, but I'm just reaching my own conclusions based on what I have seen. Agent Gallo then sarcastically stated that his role is to kick the machine when it starts talking and is not focused on the task at hand. Keep up with the sarcastic sense of humor, Scorpion writers!
I was amazed to see that an immersion suit can be made from scratch using waterproof supply bags and a lot of duct tape. Wonder if the real-life Walter O'Brien had a hand in coming up with this inventive, McGuyver-like solution. I was equally amazed to see Toby build an air tank from the list of supplies that Happy had given to Agent Gallo before sending the former Marine to the surface. The shrink was working with Happy's father, but still, it was quite the amazing feat.
In the end, everyone on the submarine, along with Walter and Happy, were safely rescued. Walter told Paige that he wanted to re-think some of the other conclusions that he has reached with regards to avoiding emotions. I'm really hoping that he's thinking of going into a relationship with Paige because from a personal standpoint, I think they would make a great couple given that they balance each other out. Paige helps with the emotional side, obviously, while Walter helps with the logical side of things.
On a side note, I was squealing like a fangirl when I found out that Elyes Gabel and Katharine McPhee have gotten together. One can only hope that they can stay together because if they were to break up, then things would be very awkward at work. That, and the song "Dancing in the Moonlight" by King Harvest will be stuck in my head for a while, but hey, at least it's catchy.
[Photo credit: Sonja Flemming/CBS]