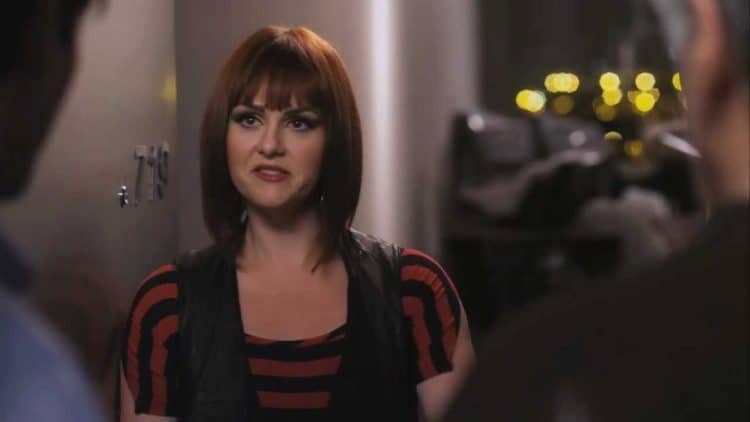 Sara Rue has been acting professionally for longer than some of her fans have been alive. She started her career when she was just 9-years-old, and she has been doing her thing ever since. Her resume now includes nearly 70 on screen credits and that number is only continuing to grow. She is best-known for her role in shows like Bones, American Housewife, and Rules of Engagement. Throughout her career, Sara has shown time and time again that she has what it takes to portray any kind of character. No matter what you see Sara in, you can bet that she's going to give a great performance. Continue reading for 10 things you didn't know about Sara Rue.
1. Her Last Name Isn't Actually Rue
Sara has used the last name Rue for her entire career, so many people will be surprised to find out that her last name is actually Schlackman. Rue is her mother's maiden name. We weren't able to find any information on why she chose to use Rue, but it's certainly not uncommon for actors to use stage names.
2. She Was Raised In The Jewish Faith
Sara was born and raised in New York City and comes from a Jewish family. Although it's unclear whether or not religion plays a significant role in her life, it looks like she does still follow some Jewish traditions. In December of 2019, she shared a photo on Instagram that showed she was celebrating Hanukkah.
3. She Played A Young Roseanne Conner
When Sara was a teenager, she appeared in an episode of the popular sitcom Roseanne in which she played a teenage version of the title character. Although she was only in one episode of the show, it proved to be a great experience for the young star. The following year she was cast as a main character in the series Grand.
4. She Is A Wife And Mother
To most people, Sara is a successful actress with a solid career – but when she's at home, she's simply mom. Sara and her husband, Kevin Price, have two children together. The couple has been married since 2011. Prior to her marriage to Kevin, Sara was married to film director Mischa Livingstone from 2001 to 2007.
5. She Is Not Afraid To Talk Politics
Politics has always been a hot topic, but 2020 has made things heat up even more. While some people have decided that it's best to keep their political views to themselves, Sara has been very vocal about where she stands. Through her social media platforms, she has made it clear that she is a strong support of president elect Joe Biden.
6. Her Parents Were Involved On The Theater Scene
Starting a career in acting seemed like a natural choice for Sara. She grew up in a home where her parents were passionate about the arts. Her mother had some acting experience and her father was a stage director. Both of her parents were involved in the Broadway scene.
7. She Struggled With Her Weight
Sara spent much of her life struggling with her weight. The entertainment industry is known for being superficial which made her even more self conscious about the fact that she didn't fit Hollywood's standard. Nearly a decade ago, she started a program with Weight Watchers and was able to lose more than 50 pounds. She eventually became a spokeswoman for Weight Watchers and appeared in a commercial for the brand. Since losing weight, Sara has gained confidence and adopted a more active lifestyle.
8. She Has A Passion For Helping Others
Sara has built a large platform during her career, and she has made it a point to use it to raise awareness to things that are important to her. She has supported several charitable organizations including the Coalition to Abolish Slavery and Trafficking and the Lili Claire Foundation.
9. She Is A Country Music Fan
As someone who was born and raised in New York City, country music probably wouldn't be the first genre that comes to mind if someone were to guess Sara's musical taste. However, despite her east coast up bringing, Sara loves country music and is a fan of artists like Reba and Dolly Parton.
10. She Loves Gardening
Growing up in the city means there aren't too many opportunities to get out and be around nature. For Sara, that opportunity came in the form of trips to the community garden with her father. Although her Instagram bio mentions that she is a "failed gardener" Sara has fond memories her time gardening as a child.