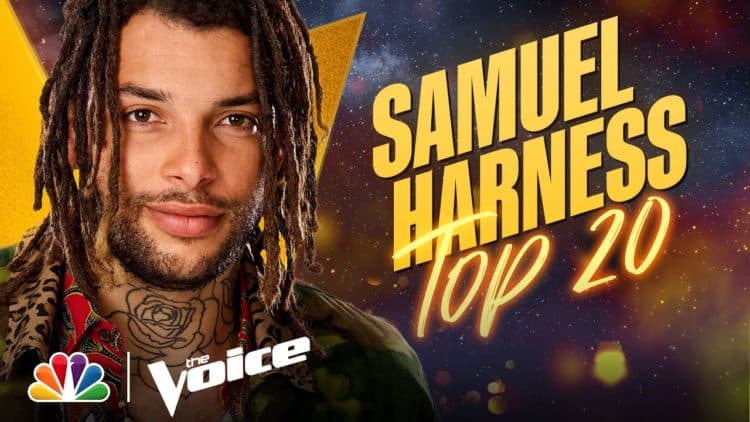 Every year, The Voice welcomes a new group of talented vocalists. After years of hard work, Indiana resident Samuel Harness was proud to finally earn a spot on the show. With his unique voice and strong stage presence, Samuel quickly started getting lots of attention from viewers and judges. Although he gave several strong performances during his time on the show, in the end, it just wasn't enough to earn him the winning spot. Despite that, however, just being on the show has earned Samuel lots of recognition and there's a very good chance we haven't seen (or heard) the last of him. Continue reading to learn 10 things you didn't know about Samuel Harness.
1. He Was Adopted
There isn't much information out there about Samuel's personal life, however, according to his official bio for The Voice, he was adopted. Although he considered Fort Wayne to be his hometown, Samuel was actually born in Lousiana. When Samuel was 18, he got the chance to meet his birth mother.
2. He Is A Proud Dad
Music may seem like the most important thing in Samuel's life, but the truth is that being a father is the thing he's most proud of. Samuel has one child and he loves spending as much time with him as he can. Additionally, Samuel credits his son with being a big part of the reason he's working so hard to be successful.
3. He Likes To Spend Time Outdoors
When Samuel isn't performing, you can usually catch him enjoying the beauty of the great outdoors. He loves to spend time outside and it's become the perfect place for him to rest and recharge. Sometimes, Samuel even likes to take his guitar outside and get some practice in.
4. He Has Released Lots Of Original Music
People who compete on The Voice come to the show at different stages in their careers. While some people are just getting started, others have already put in lots of work to build their careers. Samuel is part of the latter group. He has been performing for more than a decade and he's also a talented songwriter. Over the course of his career, he's put nearly two dozen original songs. However, it doesn't look like he has released a full-length project yet.
5. He Got Into Music In Middle School
There are lots of musicians who have been singing for as long as they can remember. Samuel's story is a little different, though. He grew up in a very musical household, but he didn't discover his own love for music until he earned a part in his middle school musical.
6. He Taught Himself How To Play Instruments
If you've ever tried to learn how to play an instrument, you know just how challenging it can be. However, Samuel welcomed the challenge. He taught himself how to play guitar and piano. It's unclear if he's had any formal training outside of that. By the time he was in high school, he started taking on gigs and he has been going strong ever since.
7. The Voice Appears To Be His First TV Show
Singing competition shows have become very popular over the years and they've provided musicians with a great platform to share their skills. From what we can tell, The Voice was Samuel's first time being a part of one of these shows, and he was incredibly thankful for the opportunity.
8. People Discouraged Him From Pursuing Music
Despite the fact that Samuel is a very talented musician, there were several people who tried to discourage him from embarking on a career in the music industry. Some people felt that he would be better off pursuing a more traditional path. Fortunately, he didn't listen to them and decided to go after what he loves.
9. He Has Performed All Around The World
One of the greatest things about music is that it has given Samuel the chance to have lots of cool experiences. Not only has he toured all over the United States, but he has also performed in other parts of the world. Thanks to his time on The Voice, he will probably have even more opportunities to travel and perform.
10. He Has A YouTube Channel
Just because Samuel's time on The Voice is over doesn't mean that you have to go without hearing him perform. He has a YouTube channel where he posts videos of himself singing covers and original songs. He hasn't uploaded anything new in about a year, but hopefully, he has some content on the way.