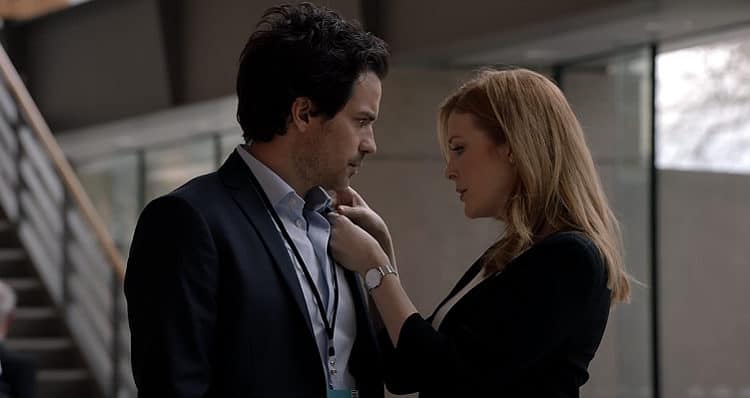 After viewing Salvation 2×2 I was at first a little disappointed. Most of the Salvation episode "Dente" worked really well, and then…that ending. Don't you hate when the majority of something makes sense and then, bam! There's an anvil – or so it seems. This one takes a little thought.
First, the Good Stuff in Salvation 2×2: Here's What Works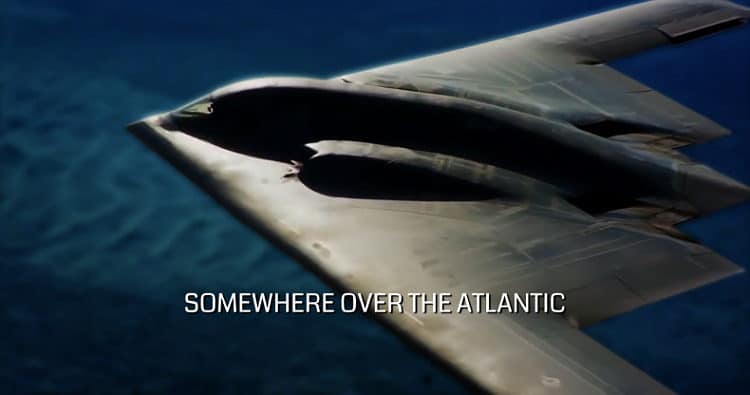 Darius and Grace
Darius Tanz (Santiago Cabrera) and Grace Barrows (Jennifer Finnigan) taking a stealth bomber is pretty cool. They're supposedly hard to detect, so hopefully, they weren't. Grace's telling Darius he couldn't have things both ways was on point. It doesn't change that she's in love with the guy. You can see her admiration of him as she watches him explain his plan to save the world.
https://youtu.be/aaj6bjHbg4A
The look on Grace's face after Darius got shot betrays how much she loves him. Also, don't you wish that lightweight bulletproof material Darius's shirt's made out of was a real thing?
V.P. Darius's New Assistant Jillian Hayes Finds Joe Riggs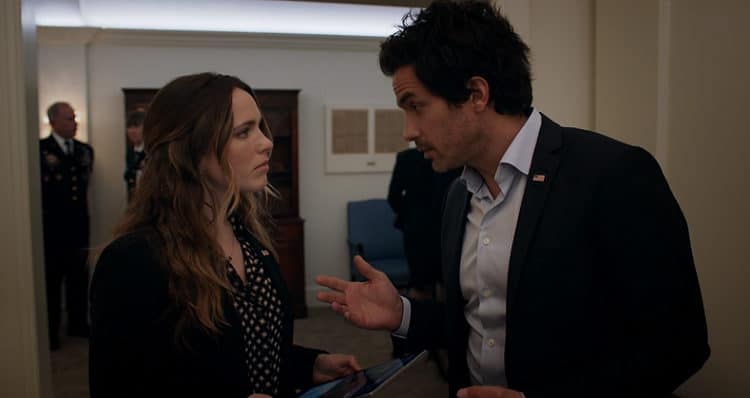 They could have named Jillian Hayes (Jacqueline Byers) "Friday" for all the hats this young woman has ended up wearing. Nevertheless, her discovering that Joe Riggs was a complete fake is totally intriguing -although his name should have tipped us off!
I thought for sure Fiona (Taylor Cole), Harris's bartender-who's-actually-a-scientist new bedpartner, would turn out to be involved with the sabotage. Of course, she still may well be. We'll have to see.
As for that "Nate" guy from Jillian's high school showing up as a White House page – I don't believe in coincidences. Do you?
Liam Cole Can't Resist RESIST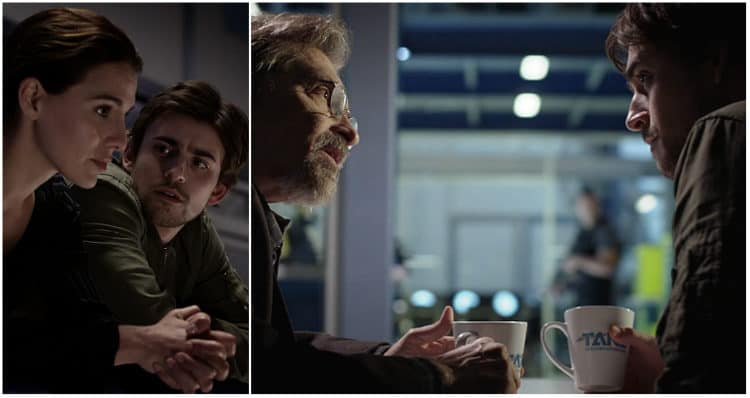 Liam Cole (Charlie Rowe) deciding to work with RESIST and tell them about the iron core is interesting. On the one hand, I suppose it's good to have the smartest people in the world working on this. However, scientist Alycia Vrettou (Melia Kreiling) is an obvious plant. The story about how she built the supercomputer TESS is highly suspect. It sounds like the kind of thing his Uncle Nicholas (John Noble) would make up. (I would bet money he's behind RESIST.)
There's also the convenient way Alycia was sitting next to Liam's former professor. Dr. Malcolm Croft (Dennis Boutsikaris) is a strait-up traitor willing to work for the highest bidder. I've no doubt RESIST had no problem buying his loyalty. The two are likely working together.
He's His Sister's Keeper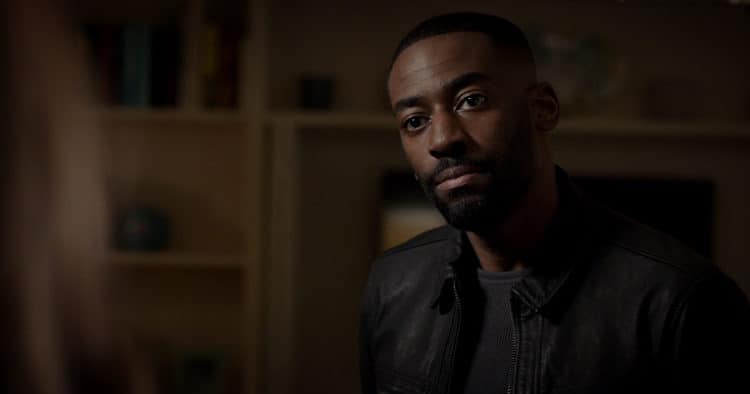 Having Detective Alonzo Carter (Ashley Thomas) turn out to be the brother of Claire Rayburn (Erica Luttrell) brother was a shock that made sense. Why would anyone be making this a priority otherwise? I wonder if he knows how awful Claire was?
As a side note, I'm loving the creepy Claire hauntings! A) Because PTSD is a real thing. B) Actress Erica Luttrell is so darn good at it!
Is He Daddy Dear or Daddy Dearest?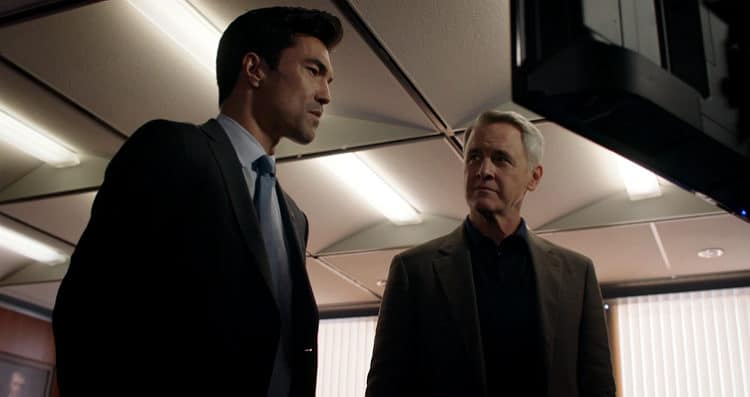 What's more concerning is Grace's dad Hugh Keating (Mark Moses). He says that he took care of Claire's body so that it can't be traced back to Grace or Secretary of Defense Harris Edwards (Ian Anthony Dale) All I keep praying is that Hugh doesn't turn out to be a villain, but there's this sneaking suspicion that just won't go away!
Salvation 2×2: This Means War?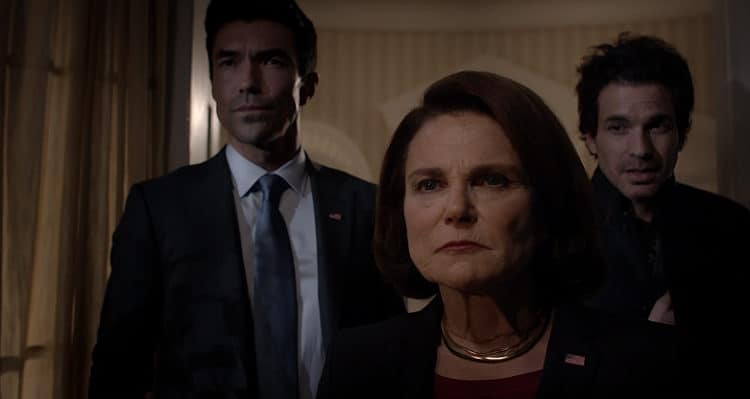 To be fair, Salvation could clean some of this up in the next episode. Let's hope so. As noted above, Salvation 2×2 has put many solid possibilities for storylines in place. I'd hate for this illogical ending to trip it up. The ending as it stands though makes little sense.
Salvation 2×2 is asking viewers to believe that the American people would stand behind Vice-President Monroe Bennett (Sasha Roiz) when they practically saw President MacKenzie (Tovah Feldshuh)die on camera. Obviously, she didn't die, so why would people see Bennett as the legitimate president? Yet, this is the speech we got:
The MacKenzie regime has committed treason and lied to the American people. They are criminals that must be stopped. I am still the President of the United States, and I willl take back the White House.
Okay, there's always a few military people down for a coup, but regular people surrounding the White House and chanting for MacKenzie's head? They saw the poisoning. Bennett couldn't have taken the presidency unless MacKenzie was out of the way. She's also been about to tell them something before she "died", and again before the nuclear bomb threat. All things considered, why would most people believe Monroe? There's little logical in this turn of events.
The Wrap-Up: The One Way Salvation 2×2 Makes Sense
The ending of Salvation "Dente" bothered me for a while – until I looked at the current situation in the United States. There's not a ton of logic being applied today either. Maybe the way Salvation 2×2 ends does make sense for our times? The fact that there's all this political craziness going on when an asteroid's about to pummel the earth certainly makes an appropriate metaphor.
It's the end of the world as we know it, and I feel…fine? If the strange irrational reaction to Bennet is supposed to reflect our present politic landscape, the writers need to hammer in their intention more. The reaction to Bennett shouldn't play as the expected one.
Here are a few other questions to ponder going forward. Why is Harris insisting Grace lie about what happened to Claire? That never goes well. Is Grace's father really one of the good guys? Who do these mysterious women, Alycia and Fiona, really work for? Finally, Dr. Rosetta Stendahl (Anjali Jay) seems to be another woman from Darius's past. While he needs her to save the world, do you think she's come between him and Grace?
You can leave your predictions in the comments and then check back to see if you're right. After all, we should be getting answers pretty soon!
Tell us what's wrong with this post? How could we improve it? :)
Let us improve this post!