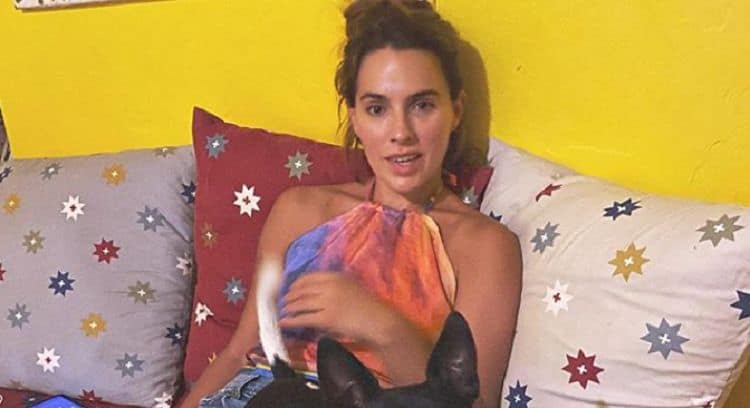 When Melia Kreiling first started dreaming of becoming an actor, she probably had no idea that her career would reach the heights that it has. In less than a decade, she has gone from being completely unknown to being known all over the world. Her resume includes acting credits in shows like The Borgias and The Last Tycoon. Now she is on the verge of an even bigger opportunity. Her most recent role in the new Fox series, Filthy Rich, has given her the chance to bring her talents to network TV which will allow her to reach a wider audience. Although the show is just getting started, fans are already excited to watch it unfold. Keep reading to learn 10 things you didn't know about Melia Kreiling.
1. She Was A Dancer
Melia isn't someone who has always dreamed of becoming an actress. In fact, acting wasn't even on her radar for several years. Instead, she was focused on becoming a dancer and she devoted all of her time and energy to perfecting her craft. However, she was forced to switch gears after an injury ended her dancing career.
2. She Was Born In Switzerland
Melia was born in Geneva, Switzerland to an American father and a Greek mother. She was raised primarily in Athens and considers Greece her home. She also grew up spending lots of time in the United States visiting her father and she currently resides in the U.S.
3. She Loves Not Having A Set Routine
The unpredictability of acting is a very scary thought for most people, and it's one of the things that usually drives people away. For Melia, however, it's one of the things she likes the most. She told Prettly, "Not having a routine is the best way for me to be at my best work wise: the element of change is invigorating and allows you to catch the small sparks of creativity before they've run away from you."
4. She Likes To Travel
Jet setting to different countries has been a part of Melia's life from a very early age. As an adult, Melia has continued to have a strong love for traveling and she has gotten the chance to see many different parts of the world and she loves snapping photos of her adventures.
5. She Enjoys Getting Massages
Even if you absolutely love your job, you still need to take time to rest and recharge. One of Melia's favorite ways to do that is to get massages. During her interview with Prettly she said, "quiet hour while you let go and put yourself in their hands, abdicating responsibility of your body's pain and pleasure for a moment."
6. If She Wasn't An Actress She'd Be A Handy[wo]man
Have you ever thought about what you'd be doing right now if you'd chosen a different career path? Melia's answer may be surprising to most people. If she wasn't acting, she believes she would have become a handyman instead so that she could follow in the footsteps of someone she really admires.
7. She Likes To Ride Horses
In addition to getting massages, spending time outdoors is another one of Melia's favorite ways to decompress. She is an adventurous person who enjoys trying new things that get her blood pumping. She loves to go horseback riding and recently shared a video on Instagram showing her followers her experience.
8. She Has Her Motorcycle License
Riding horses isn't the only adventurous thing Melia likes to do. She's also into motorcycles and has used some of her time during quarantine to focus on learning how to ride a motorcycle and she officially earned her license in 2020. Needless to say, she is now all about that bike life.
9. She Loves Doing TV And Film Work
Most actors focus on doing either TV or film work. It's rare to find someone who consistently does both. Melia is one of the few who has been able to find the balance and she enjoys different things about each medium. She told Kettle Magazine, "I love doing both! TV is incredible nowadays…Film has a certain magic about it, because you only have one chance to get the movie right; there's no episode next week to further develop a story or character…I always feel like film extends an invitation to you, and TV asks for an invitation from you."
10. She Enjoys Reading
All of the avid readers out there know that diving into a good book is one of the best feelings in the world. Not only are books a great way to learn new information, they can also be the perfect escape after a busy day. Melia loves to read a wide variety of books and has used some of her spare time during the pandemic to catch up on her reading.