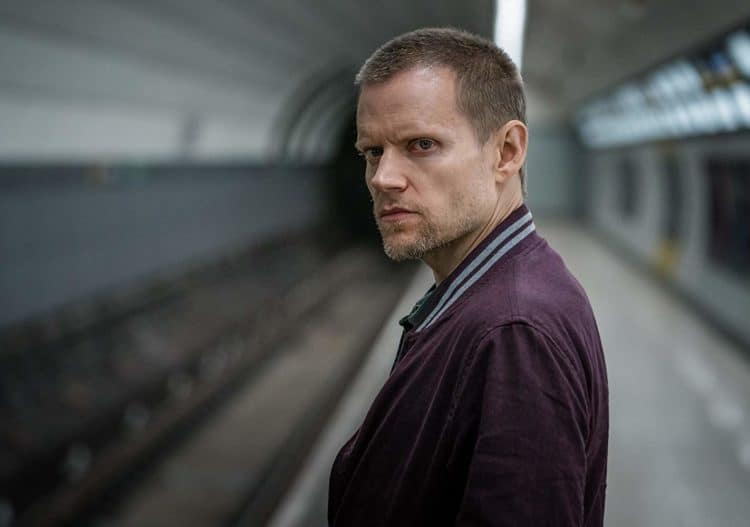 Marc Warren has been a staple of British TV for over two decades, appearing in everything from the long-running BBC crime drama Hustle to the period extravaganza, Beecham House. At the age of 52, the work continues to flood in, with one of his most recent successes being the new must-view dramady, Flack. Find out more about the actor with these 10 key facts.
1. He's a drama- school dropout
After developing a love of acting through the National Youth Theatre, Warren decided to pursue his dreams by enrolling at the East 15 Acting School. As it turned out, the actor dropped out of the school before graduating, quitting a few weeks into the course after he was asked to portray the color orange. "I've never turned up on a set since and missed having that skill," he's since told The Guardian.
2. He's good friends with Rankin
Warren has been close friends with the British fashion photographer and director Rankin for years and credits one of his most memorable trips with the one they took together. "My first trip to LA was with Rankin.," he told The Independent. "We drove along the Pacific Coast Highway in a convertible Mustang and stayed in a rock'n'roll hotel, for which he ended up paying most of the bill. It was a lot of fun, and after that, both our careers took off."
3. He made his professional debut in 1986
Although he was active in National Youth Theatre as a teenager, Warren didn't make his professional debut until he was 20. After several years of working small parts on TV and stage, Warren landed his breakthrough film role in the 1992 BBC feature, An Ungentlemanly Act. He's subsequently built up a wide-ranging portfolio that includes over 80 credits across film and TV, with some of his most notable work including performances as Albert Blithe in Band of Brothers, Danny Blue in Hustle, Dougie Raymond in The Vice, Dominic Foy in State of Play, Ray Say in The Rise and Fall of Little Voice, Elton Pope in Doctor Who , Rick in Mad Dogs, the Comte de Rochefort in The Musketeers, Nick in The Good Wife, and the Gentleman in Jonathan Strange & Mr Norrell.
4. He's known for playing the bad guy
As Future Movies notes, with his masterful way with a lip curl and his cocky attitude, Warren was almost born to play the bad guy- a quality that didn't go unnoticed by casting directors during the early half of his career. Until landing the role of big-hearted Danny Blue in Hustle, Warren was best known as the antihero: a rapist in Men Only, a thuggish skinhead in Boston Kickout, and a sly informer in State of Play. "They're often the most interesting parts," the actor has admitted, "but I do play a lot of nutters."
5. He's godfather to one of Anna Paquin's children
Warren's most recent role has been in the Anna Paquin vehicle, Flack. Although Warren unquestionably won the part on the strength of his acting credentials, it can't have helped that he has a personal connection with both Anna and her husband, Stephen Moyer. " They're very close friends of mine," he said during an interview with Bradford Zone. "I'm godfather to one of their children. Stephen called me a month before this shoot and said, "Are you Available?" I was sent the script and thought it was great. I'm not usually a great reader, but I read all six episodes of Flack. The script was brilliant."
6. He doesn't waste time on research
For some actors, the art of doing a good job goes beyond turning up to set on time and remembering their lines on cue. For those that feel the need to fully immerse themselves in the piece, weeks of research into the period, the place, and the character are needed. Not so Warren, who says "I tend to just work on the basis of learning the lines really well and turning up on the day and seeing what happens."
7. He loves a good period piece
Warren has been in the business for long enough to have tasted success in pretty much every genre out there. His favorite? Period pieces, with Alan Bleasdale's Oliver Twist ranking as his "greatest filming experience" of all. "I really loved that because it was a really memorable experience," he told Bradford Zone. "You just go into another world and if it's done well it looks wonderful, you look great because you're wearing these incredible costumes, and it does all the work for you. It automatically creates a character whereas something contemporary we wouldn't look quite as good."
8. He's a multi-millionaire
It's unlikely an actor with over 80 credits to their name is going to be struggling with cashflow. In Warren's case, his multiple screen successes have led to a seriously healthy fortune. As of 2019, Celebrity Net Worth estimates the acclaimed actor to be worth in the region of $4 million.
9. He's got some spells up his sleeve
When he learned the BBC were casting for the part of the Gentleman with the Thistledown Hair in the TV adaptation of the fantasy novel, Jonathan Strange & Mr. Norrell, Warren spent an entire week preparing himself for the role. "When I found out they were auditioning for the role, I prepared for a week. "When I went in to meet the director, Toby Haynes, I'd learned a spell. I did it for Toby and said, 'I am the Gentleman with the Thistledown Hair.' I got the gig!" he told the Express. "It was one of the most remarkable auditions I have ever seen. I felt compelled to give him the job there and then!" Haynes confirmed.
10. He's not a fan of Vancouver
His work may have taken Warren across some of the furthest-flung spots of the globe, but the only place he's ever felt unsafe was Vancouver. "Canada is home to the one place I have felt unsafe on my travels too," he told National Geographic. "I was in Vancouver once and ended up in an area of the city I later found out had a big reputation for drugs. You can probably imagine the sort of things that were going on there. It was very unsightly and very intimidating given that I'd randomly ended up there."Anna Paquin
Tell us what's wrong with this post? How could we improve it? :)
Let us improve this post!