"Yes, more subtitles!" was something I said often during "Maria of the Desert." Not because I was trying to be sarcastic, but because I was genuinely excited. Right from the pilot of "The Bridge" I was happy to see that the creators were using subtitles instead of dumbing down the show and its characters by making the Mexican characters speak English. Back then I was happy because it seemed to convey that the writers weren't giving us something easy to digest for the masses, but something different. Now I'm happy whenever I see subtitles because every scene involving a person on the Juarez side of the border is infinitely more interesting and appealing to me than the storylines on the Texas side of the bridge. Why is that the case? Well, I recommend you take a page from the Sonya Cross school of deduction: by staring at your computer screen for the next few hours. Let's begin.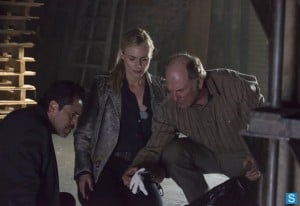 After last week's Godfathering of Charlotte's horse, Caesar advises her to open up the tunnel because next time it won't be a horse (gangster granny means business), so she reluctantly agrees. We then see her talking to her daughter-in-law in a scene that has to be one of the worst the show has produced yet. I'm not joking when I say this scene feels like it came from a random ABC Family teen drama. We then see Caesar tell Charlotte that the tunnels open and all is good. Charlotte is panicked and doesn't know what to do, so Caesar tells her to calm down and just binge watch "Orange Is the New Black" on Netflix (Didn't actually happen but we all thought it). Later, Charlotte visits the police station looking to talk to Det. Ruiz, but he's not there. As you can probably tell, I'm not a big fan of Charlotte and find her storyline and character easily the weakest. I know many people hated the random sex scene between her and Ruiz, feeling it was out of Ruiz's character, but I'm not going to attack that just yet. It was out of character from what we know of Ruiz, but we know only a little of him, so I'll give the writers the benefit of the doubt (for now).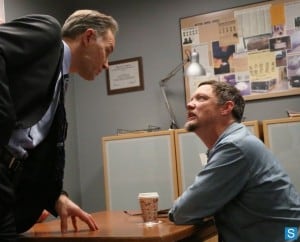 "Maria of the Desert" revolved around the captured Maria (aka Mexican Gina Carano) who is left on camera in the desert strapped down. This incident was planned by the "Bridge Butcher" as he's now being called, who wants one million dollars for the girl (maybe he's just a huge Austin Powers fan). Because it's a hostage negotiation and the video of her dying in straps is going viral, the FBI are forced to come in which of course brings conflict with the local police regarding who's in control of the case. Again, we've seen this trope a million times and like last week's interrogation, nothing new is brought to the table. I mean, Johnny Crowder from "Justified" shows up as a conceited FBI agent that gets his head chopped off, so there's that.
Even though I've mostly been bashing the show this episode is actually my favorite so far. All of the main characters storylines were (for the most part) directly linked to the crisis at hand in Maria's survival. While I don't think we gained too much insight into our main cast, I do feel like they were all well integrated into the hostage situation. We finally learned (kind of) what Steven Linder, guy who kidnaps women, was up to. The revelation wasn't attention grabbing, but it did make me more interested to see how his storyline plays out the rest of the season.
The real reason this episode stood out for me was every scene that had subtitles. We met Fausto this episode, a very powerful man, who had two great scenes. The first was when he entered the salon, threw coffee in a man's face, and then stared down granny gangster with the eye of a vulture. The second was when he pulled Ruiz in his car and gave him the money to pay for the hostage. I loved these two scenes not only because they were terrifically acted, but because it's something I haven't seen on TV before. Just by this episode we get a sense that this a complicated man who will stop at nothing to get production back on track.
Every episode of "The Bridge" so far seems to be a good news/bad news deal when it comes to what it's bringing to the table. For every interesting dish that looks unique (Fausto and Granny gangster salon day), there is another that feels like drive-thru (FBI quarreling with local police). It ties into a problem that many new TV shows (especially cable-dramas) seem to be struggling with: copying and pasting an element (or elements in this case) from a successful show without delivering something new. We see this in Showtime's "Ray Donovan," where they use ideas like the conflicted male anti-heroes struggle with guilt sprung from "The Sopranos," but without any of the depth that David Chase's classic employed. BBC's "Copper" tries to use its period setting as a way to explore justice in an unruly society free of the laws that bide us today, but without any of the sparkling wit and fervor that David Milch brought with "Deadwood." As I said in my past reviews, "The Bridge" is trying to use the interrelating narratives of all its characters to express how each person is connected but not treated equally. When it comes to that motif, given its serialized nature, TV is a medium that can do wonders with it. The problem with "The Bridge" and the shows I mentioned above aren't in their intentions, but execution. Striving to be the next "The Wire" isn't its downfall, the downfall lies in not seeing what made that show what it is: good writing.
Novel Notices
– Why did Det. Ruiz stare down at the girl who Frye was shacking up with? Like last week's big moment with Charlotte it felt weird and out of character.
– Speaking of that same scene: Matthew Lillard butt crack. Ladies, if that doesn't do it for you, I don't know what will.
– "Maria of the Desert" was directed by Bill Johnson who is a renowned editor in the TV landscape. In fact, he edited one of the greatest TV episodes I've ever seen in The West Wing's "Two Cathedrals."
"Maria of the Desert" = C+