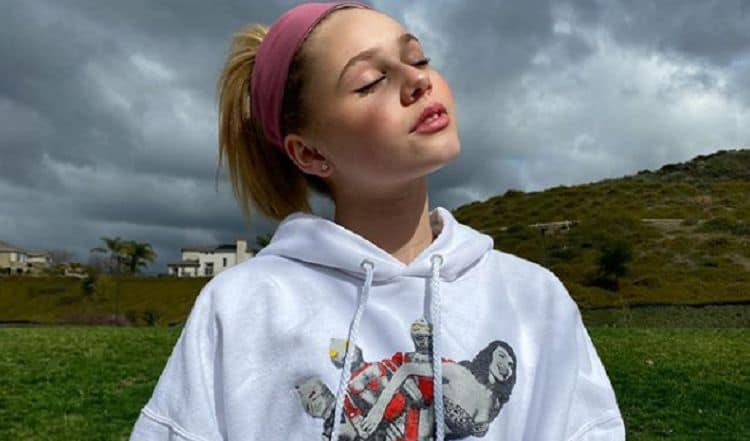 Young, Ruby Rose Turner was born on October 16, in 2005. She is a talented young girl with experience as a singer, dancer, modeling, and she is also an up-and-coming actor to top it off. This multi-talented young girl got her first break at a young age and she's continued to rise to star-level in the field of dancing and entertainment business. Not only has Ruby Rose Turner proved herself to be quite the competitor in dance competitions with her natural gift, but she's shown she's also got the talent for acting on stage as well as, in front of the camera. Turner's face has been seen in commercials and she's been chosen as the face for a number of big name brands, too. You might recognize this beautiful young girl from any number of places, so to find out more about her, keep reading to learn 10 things you didn't know about Ruby Rose Turner.
1. She was just a kid when she got a big break
Turner got a big break at a very young age. At the young age of seven, Turner auditioned for, and landed a role on a popular Spanish TV show that aired on Univision in the US. The show was "Sabado Gigante," which translates as, "Gigantic Saturday," and it was the break she needed for setting her on the career path she's still on today – the path to stardom.
2. She's won awards
Before turning professional, Turner was someone to watch out for in competitions. She's won titles and awards in a number of competitions, including winning several National Champion award titles over a four year span of competing.
3. She's the main star on a popular Disney show
Turner is the main character on the Disney Channel's, Coop & Cami Ask the World. Turner plays the role of Cameron Wrather, or (Cami), who is the co-host of an online show with her best friend, named, Coop.
4. She's appeared on a commercial for a cruise line
Turner appeared in a Disney Cruise commercial with Dakota Lotus when they shared their cruising adventure that included meeting the head chef of all the on-board restaurants, including being able to make one of the chef's signature desserts, then try it for themselves. Disney used their journey as part of their ad campaigns.
5. She's working with Disney to help give young stars the spotlight
Turner's own talent has made her realize she wants to help other young talents get their voices heard so she took-up with Disney Channel Voices and is using it as a platform for young stars to showcase their talents and get their voices heard, which you can see on Disney Now.
6. Her pets share the names of popular snacks
Turner lives with her mom and dad, her brothers, Alfie and Alec, and her sister, in LA. And according to Fandom, they also have a couple of furry companions, a cat and a dog. The Turner's pets share the names of popular snack names. The cat is Reese's Pieces and their dog goes by the name of Peanut.
7. She's appeared on a popular dance competition show
Dancing With the Stars has been a long running, televised dance competition that pairs professional dancers with amateurs, typically celebrities who are up for the challenge of learning to dance and compete for the DWTS title. Turner has made an appearance on the popular dance show, not once, but twice. First, she performed a live performance in the effort to promote the modern-day remake of "Annie," according to IMDB, and she performed the dance with Quvenazhane Wallis. Her second appearance was as a younger version of one of the show's most popular dancers, Julianne Hough.
8. Her sister appeared with her in a music video
Ruby Rose Turner isn't the only one in her family who has been in front of the camera. She and her sister , Nadia, who is also a dancer, have appeared in videos together. They both dance, and both perform in many YouTube videos they've created. You can even find a beautiful compilation of pictures, video, of the two girls on YouTube, titled, Ruby Rose and Nadia Turner; Sisters Forever.
9. She made an appearance in the continuation of popular TV show
Full House was a popular TV show in the late 80's. Many people loved the show so much, they made a continuation and brought it back with the cast, all grown up. The show was called, A Fuller House, and it ran from 2019-2020. Turner got a recurring role as Phyllis on the show, Joey's Gladstone's oldest daughter. It was one that helped her gain even more recognition due to its popularity.
10. She has a huge following on social media
Turner proves you don't have to be a grown-up in order to get a huge following on social media. She's active on Instagram, and often posts videos on TikTok. Turner has a huge following of over 2 million followers on Instagram, which is more than many popular older celebrities who have had accounts for quite a long time.