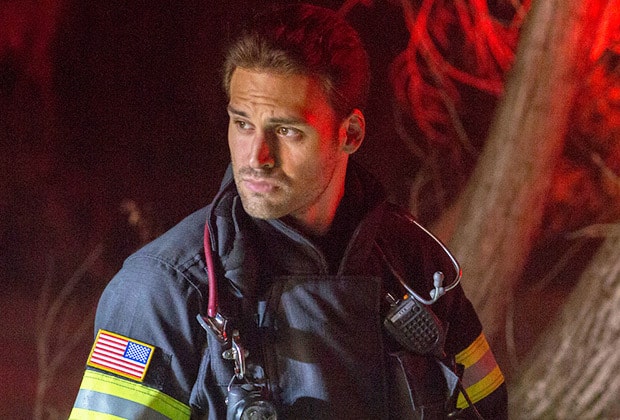 Ryan Guzman is one of our guilty pleasure watches. We love everything he's ever been in from the moment he stepped into the picture as Sean in Step Up Revolution. It's uncommon for beginning actors to take the lead right away, but Ryan wasn't messing around. He began with a bang, and he's stayed on top since then. We loved him in Pretty Little Liars and The Boy Next Door. Everything about this handsome actor keeps us coming back for more. Naturally, we got curious about him and had to know more. Here are ten things you didn't know about Ryan Guzman.
1. Fighting Chance
Most young Hollywood hopefuls move to L.A. so they can get into film. The service industry is chock full of attractive young people who are working their way up through SAG and playing bit parts until they get their first breakout role. There's nothing wrong with that. It's a tradition. However, Ryan didn't relocate for the chance to star in films. He originally moved to LA so he could become an MMA fighter.
2. Baseball
You might expect that growing up in Sacramento, California; acting was at least Ryan's second choice. However, that's not how things went at all for him. The MMA and martial arts, in general, were actually his fallback. Originally Guzman wanted to play baseball professionally. In college, he was a pitcher until he sustained an arm injury. Guzman had surgery to correct the problem, but unfortunately, it was unsuccessful. That forced the young Ryan to switch paths, so he moved over to martial arts. The acting wasn't even a consideration at the time because Ryan was into sports much more than spotlights and stages.
3. Model Citizen
Okay, Ryan wasn't totally disinterested in the spotlight. He spent some time as a male model. When he enrolled in college in San Francisco, he embarked on a sideline career of modeling. He worked mostly in Northern California before eventually moving to L.A. and changing paths. He took acting classes and MMA around the same time to increase his skills in different areas, so acting must have been on his mind even in those days.
4. He May Be Scantily Clad But…
Ryan isn't afraid to take some or all of his clothing off while modeling. Why would he be with a fantastic body like that? However, he has mentioned that he's not really into scantly clad women. Showing all the skin doesn't do it for him. In fact, he'd rather see a woman who knows how to cover it up and leave some secrets to discover. For the last couple of years, he's been dating Brazilian actress, Power Ranger, and fitness model Chrysti Ane. If you look at the pictures of them together, you'll notice she doesn't wear mini-dresses.
5. More Talented
Ryan doesn't spend all his time thinking about sports and acting. He's a talented writer, and Guzman draws as well. Having more talent than anyone needs is just part of why we love him so much but don't tell Chrysti, we're pretty sure she could take us with both hands tied behind her back.
6. Stuntwork
Though he's not formally a stuntman, Ryan isn't afraid to get in on the real action. He performed all his own stunts in both Step Up Revolution and Step Up All In. That's right, every time you saw him do some wild and incredible move, it was all Ryan in those shots. It almost seems unfair how incredible Guzman is. We couldn't be more impressed with him if we tried.
7. He's Really Good In…
Get your minds out of the gutter, if you can. Ryan is also a great cook, so he's outstanding in… the kitchen. If there were a perfect guy competition, this fighting, dancing, sporty, artsy, writing, modeling, acting dynamo would be our first nomination. The fact that he also loves to cook is just the icing on the cake. Ryan enjoys bringing the Latin flavor with dishes like posole and tripas. We'd let this nearly perfect heartthrob cook for us anytime!
8. Tidy Guy
Not only does Ryan cook, but he also cleans. In addition to his many talents, he prefers a clean home and isn't afraid to get out the broom whenever it's needed. It's hard to find anything wrong with him at all. Chrysti Ane is equally incredible, and we're happy they found each other, but there's no denying that the Power Ranger certainly scored when she met Ryan. We hope they go all the way and get married someday. Then they can have a bunch of equally amazing children.
9. Always Learning
Among his many talents is the ability to learn from everything he does. From his time spent working with the very down-to-earth J-lo to his work on Notorious, Ryan is always learning new things from his experiences. He told Yahoo that one of the most important lessons is always to do your research. Things aren't necessarily what they seem, especially when you're getting your info from a place like the internet. Facebook doesn't fact check.
10. Goofy
Ryan may be a male model, and wildly talented, but he doesn't see himself as the sex symbol Hollywood and the fans paint him as. When he looks in the mirror, Ryan sees a goofy guy who's down to have a good time and enjoy life. We suppose that probably helps him keep perspective on all that fame. It's nice to see someone who worked for their reputation but also doesn't let it all go to their head.
Final Thoughts
We couldn't be more happy o write about this incredible guy. Ryan Guzman is everything we hope to find when we do an in-depth article on a star. He's smart, savvy, talented beyond belief, and he seems to keep his head on his shoulders with an iron grip. We can't wait to see what he does next and doubtless, we'll be hearing from him for a very long time. What surprised you the most about this unique and incredibly handsome actor? Let us know in the comment section.