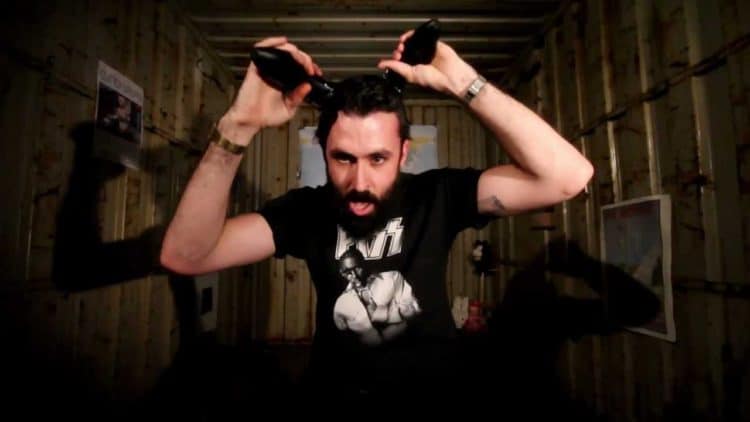 Born David Meads but known professionally as Scroobius Pip, this guy's name alone makes him impossible to forget. Scroobius is a truly multi-talented individual who has contributed a lot to the entertainment industry over the last 15 or so years. Many people know him best for the work he's done as a spoken word artist and others are most familiar with him through his acting. Regardless of how you know Scroobius Pip, you know that he puts his all into everything he does. He has recently gotten a great acting opportunity with a role on the new TV series Debris. He will also be in an upcoming movie called Old Man in France. Here are 10 things you didn't know about Scroobius Pip.
1. He Got His Stage Name From A Poem
Most people would agree that Scroobius Pip is quite an unusual name, but many are not aware of the name's history. The name actually originated in a poem by Edward Lear called "The Scroobious Pip". The poem was released in 1935 almost 50 years after the author's death and was never finished.
2. He Has A Successful YouTube Channel
Over the years, Scroobius Pip has built a solid online presence that includes followers across a variety of platforms. He has found a good deal of success on YouTube and his channel currently has almost 50,000 subscribers. What's even more impressive is the fact that he's gotten more than 10 million views.
3. He Likes Silence
Since Scroobius Pip is someone who loves to perform and be in front of crowds, most people would assume that he also loves the noise that tends to go along with it. In reality though, Scoobius enjoys his peace and quiet. During an interview with The Guardian he said, "I've never been one for talking just to fill gaps. I love silence. It's awesome."
4. He Has His Own Record Label
Music has been an important part of Scroobius' life for many years. When he was a teenager he got introduced to punk rock and was a member of several bands before eventually falling in love with hip hop. In the mid 2000s, he started his own independent record label, Speech Development Records, which is still in existence today.
5. He's A Writer And Director
Scroobius isn't just a Jack-of-all-Trades, he's become a master of quite a few of them as well. In addition to music, spoken word, and acting, Scroobius also has some behind the scenes experience as a writer and director. He has written and directed nearly a dozen projects since the early 2010s, and there will likely be more in the future.
6. He Loves Taking Pictures
As a creative person, Scroobius is always looking for ways to express himself, and the arts have been his biggest outlet. Photography is yet another interest of Scroobius' and he's gotten pretty good behind the camera. He loves capturing all kinds of different moments and he has shared several of them on social media.
7. He Hosts A Podcast
Scroobius Pip is the host of a weekly podcast called The Distraction Pieces Podcast. On the show, he interviews a variety of guests and covers a range of topics. The podcast started in 2014 and has been nominated for two awards: one in 2014 and another in 2016.
8. He Has A Stutter
Scroobius Pip has been dealing with a stutter for most of his life. The stutter developed when he was around 4 or 5-years-old and made him hesitant about saying certain words. Over the years, however, he found ways to cope with it and found that his stutter actually disappeared when he was rapping.
9. He Believes Poetry Should Be Accessible To Everyone
While many people would agree that poetry is a beautiful medium, most people would also agree that poetry can be very confusing. In fact, there are a lot of people who find poems to be downright intimidating. Scroobius Pip believes that poetry is something that everyone should be able to enjoy. He told The Double Negative, "…poetry should be for absolutely everyone, and I know that when I was growing up, I didn't feel it was accessible to me." He added, "There's such an old adage of: 'You need to learn to walk before you can run', but weirdly, we don't apply that to how we teach poetry. We go straight to Shakespeare. And again, Shakespeare is amazing, but, a lot of his stuff is, kind of, written in a language that is kind of dead or at least not structured in the same way."
10. He Has Hairy Feet
Apparently, there are people out there who have wondered what Scroobius Pip's feet look like and why he hasn't shown photos of them. In a Q&A on his Instagram profile, he shared that he has pretty hairy feet. He even went as far as to describe them as being "a bit Hobbit like".