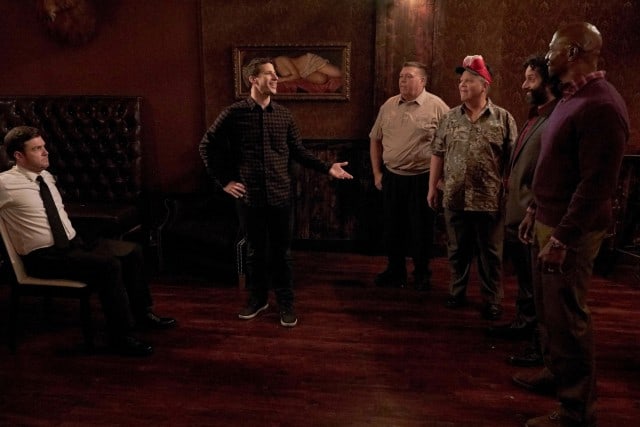 After a few weeks off, Brooklyn Nine-Nine is returning tonight in a big way. The promo shows the Nine-Nine planning for a wedding, but not the one you would expect. While Jake and Amy may seem like the obvious choice, instead the wedding being discussed is one between Rosa and Adrian Pimento, who has only recently returned from an emotionally scarring deep undercover stint.
With someone from his past threatening Adrian, it's possible that this wedding is just being used as a decoy of sorts to help them with a case. But we'll also see a disapproving Terry in tonight's episode, who isn't pleased with how quickly Rosa and Adrian's relationship is moving forward. So while it could easily be a fake wedding, there's also a chance that we'll see these two actually tie the knot. That is, if Jake can successfully help Rosa convince Terry that the relationship is a healthy one.
Either way, it's sure to be a hilarious episode, as it appears that Jake will be taking on the role of Best Man while naturally Charles takes over as Maid of Honor. I honestly couldn't imagine a better wedding party than these two. And another thing we can count on from this episode is more of the unusual yet somehow endearing relationship between Rosa and Adrian.
Check out the preview clip below and be sure to tune into Brooklyn Nine-Nine tomorrow on FOX at 9:00pm/8:00pm central.
[youtube https://www.youtube.com/watch?v=J60iYHmE18M]
Tell us what's wrong with this post? How could we improve it? :)
Let us improve this post!