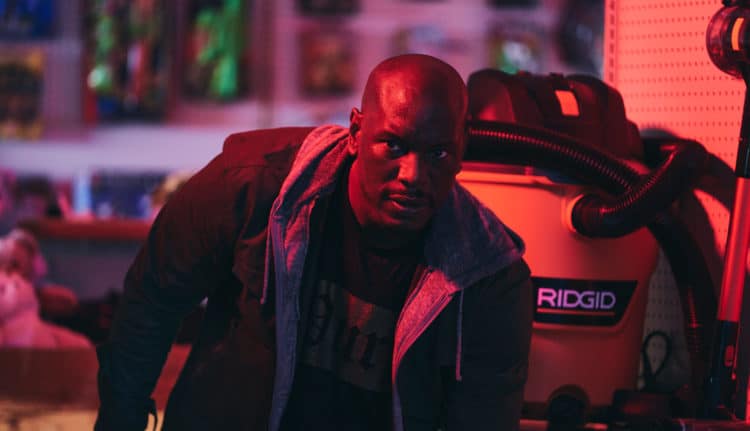 Battlefields bear casualties. Death is always a possibility. But worst of them all is the nightmares it brings. In Rogue Hostage, Kyle Snowden, a US Marine, has a battlefield memory haunting and taking a toll on him. The protagonist, to protect his family, is in a battle with rogues. The film's primary focus is on the bombs and big guns and doesn't ponder much on PTSD. Written by Mickey Solis and directed by Jon Keeyes, the film stars the witty John Malkovich and Tyrese Gibson in the leading roles. But even with its perfect crew and cast, the film presents some flaws that are seen majorly in the film writing, hindering engagement.
Plot Summary
With the film set in a rural US state, the movie starts with the flashback of a battlefield nightmare. This nightmare wakes up Kyle Snowden (Tyrese Gibson), a marine. After the frightening nightmarish events, Kylie leaves the service and begins work at Child Protective Services. His wife, however, leaves him without clear reasons as to why she made that choice. She leaves him as the sole guardian of Angel, his younger daughter. The movie narrative brings conflict. There is a plan to attack Sam Nelson (John Malkovich), a congressman, by a group of rogue mercenaries.
The group's leader Eagan Raize played by Christopher Backus, shares an individual vendetta with Sam Nelson. Luther, Eagan's father, was the congressman's business partner and was sentenced to 18 years in jail for fraud. Eagan feels that the congressman destroyed his father's life to take ownership of the business. The congressman is Angel's grandfather and Kyle's stepfather. On the day Eagan attacks the congressman's store, Kyle, Angel, and other people were in the same room. Kyle is now required to save the hostages. And it means killing people! Are you mentally prepared for some bloodshed?
The Movie Explained
(Major Spoiler Alert) Kyle accidentally shot his partner while on the battlefield. He was remorseful about it even though it kept on eating into his sanity. The sight of a gun would make him lose his mind. Though, he was unable to hold a gun again. But Kyle had to become a marine again when Eagan attacked the store and planted a bomb. Eagan wanted to destroy Nelson and seize capitalism in his town. He tried to use the congressman as an example. In the end, however, these big words did not support his endeavor. He steals money from the store at gunpoint and takes Sunshine (Luna Lauren Velez), a girl he's fascinated with. These actions seem like one of the lousiest sketches of a character ever to witness.
After killing Kyle's companion Clove from Child Protective Services, Manny, the Spanish kid, becomes Kyle's responsibility. That is, until further notice from the court, Kyle adopts Manny. A shoplifter, Mikki, takes the money stolen by Eagan and shares it with a store worker and Sunshine. They had hoped to live a better life. The congressman tries to convince the officers that the attack was not an act of terrorism but rather a planned robbery. He wants to get approval for insurance money. However, with his efforts in futility, he lost great wealth. Nevertheless, Nelson and Kyle make a truce at the end, which is, in fact, more important than the money.
The Review
The film actors have, over time, amassed considerable acclaim in their careers. The plot of the action thriller is something we all have seen before. The bad guys take hostages, take over a location, and have a tough hero who saves the day. We have seen this narrative in great action movies like Die Hard. That said, Rogue Hostage is somewhat predictable and lacks originality. The main character having a troubled past is one of the elements we see in most movies in this genre. There are some dumb parts in the film, such as casts acting foolishly in life or death situations. The villains, too, do not perform any better for an action film. So, for most of the protagonists, the acting is not all that convincing. We see this especially when they tell silly jokes while they face a threat to their lives. Tyrese does an okay job, especially for a good man who's been through a lot. However, Backus steals the show as a psychotic, dangerous leader to the bad guys.
The Hostage Situation
Even with the flaws, it comes with; the film still offers some enjoyment. A story about holding hostages is always interesting, and it, of course, has plenty of shooting, hand-to-hand combat, and nail-biting moments. It is incredibly amusing to watch the good guys win over their captors. Benjamin Weinman's support in the scenes adds much-needed value to the movie. There's an irony in asking for a little more from the movie. Rogue Hostage may seem as though determined to come off as void of entertainment and thrill. It has capable performers and up to thirty names as producers and executive producers. That seems enough to lure you into a sense of contentment. But maybe they've worked together and forged a clumsy. The movie is so forgettable that we should leave it as a slain victim. The film feels a little too short and is by no means a must-see. However, if you would love to spend your 90 minutes watching a movie that doesn't require much mental input, then Rogue Hostage will be worth your while.
Just sit back and enjoy!