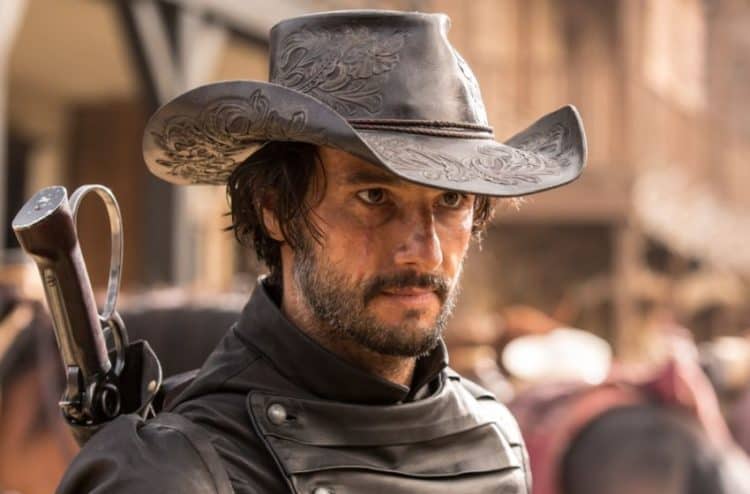 When Rodrigo Santoro signed up for an actor's workshop more than 20 years ago, he probably had no idea that his career would become what it is today. Santoro, who was born in Brazil, has become an internationally known actor. He is most famous for his role in movies like 300, Rio, Che, and I Love You Philip Morris. Since 2016, he has played Hector Escaton in the hit series, Westworld. Even though he is only a guest star in the show's third seasons, fans were happy to see him reprise his role. Continue reading for 10 things you didn't know about Rodrigo Santoro.
1. He Learned Improv From Chris Rock
In 2012, Rodrigo Santoro worked alongside Chris Rock on the film What to Expect When You're Expecting. Rodrigo's role required a lot of improve which is something he wasn't used to doing. Luckily, Chris Rock was able to give him some pointers. Rodrigo described his experiences with improv by saying, "it was tricky because they are hysterical, and I couldn't laugh because I am supposed to be really freaking out with the whole situation."
2. He Had A Horse As A Child
Do you remember the best gift you got when you're a kid? Rodrigo Santoro probably does. He was given the gift of a horse when he was just 4-years-old. The gift came from Rodrigo's grandfather whom he had a very close relationship with.
3. His Sister Is An Architect
Rodrigo Santoro isn't the only creative person in his family. His younger sister, Flávia Junqueira dos Reis Santoro, is an architect in Brazil. Although their professions are vastly different, they also share a lot of similarities.
4. He Shaved His Whole Body For 300
If you saw 300, you may have noticed that Rodrigo Santoro shaved his eyebrows from the role. That isn't the only thing he shaved though. Santoro has since revealed that he had to share his entire body for the movie. He told Coming Soon, "I have a lot of respect for women after that, but I will leave that to the girls, it just hurt so much." After this experience, it's highly unlikely that Rodrigo will ever opt for a full body shave again.
5. He Has A Daughter
Rodrigo Santoro loves children, so it's only right that he decide to have one of his own. He is the father of a daughter named Nina who was born in 2017. Even though is a very proud father, he doesn't typically post pictures of his daughter on social media.
6. He Likes Playing Characters Who Are Different From Him
Lots of actors are drawn to roles where they can play a character they're able to relate to. Rodrigo Santoro prefers to take a different approach. He likes to play characters who are vastly different from who he is as a person. In an interview with Screen Slam, Rodrigo discussed the types of characters he likes to play.
7. He's In A Happy Relationship
Sorry to anyone who was hoping that Rodrigo was still on the market. He is in a serious relationship with the mother of his child, Mel Fronckowiak. The couple has been together since 2012. Like Rodrigo, Mel works in the entertainment industry as well. She is a singer, actress, and model in Brazil. An engagement could possibly be in the couple's near future.
8. He Doesn't Avoid Paparazzi
Having to deal with the paparazzi is probably one of the most annoying aspects of being a celebrity. Over the years, there have been several stories about people's safety being put at risk because of a paparazzi's desire to take a photo or report a story. However, Rodrigo doesn't let any of that phase him. He still tries to live his life as normally as possible and enjoys doing things like going to the grocery store.
9. He Enjoys Nature
Spending time outdoors is one of Rodrigo Santoro's favorite things to do. In his interview with Screen Slam he said that he has a deep appreciation for nature which he developed during his childhood in Brazil. He likes to spend as much time outdoors as possible when he isn't working.
10. If He Wasn't Acting He'd Be Making Documentaries
It's hard to imagine Rodrigo Santoro doing anything other than acting, but if he were to do anything else he says he'd be working on documentaries. He's not sure exactly what his role would be but he imagines himself doing something like working on the Discovery Channel.
Tell us what's wrong with this post? How could we improve it? :)
Let us improve this post!