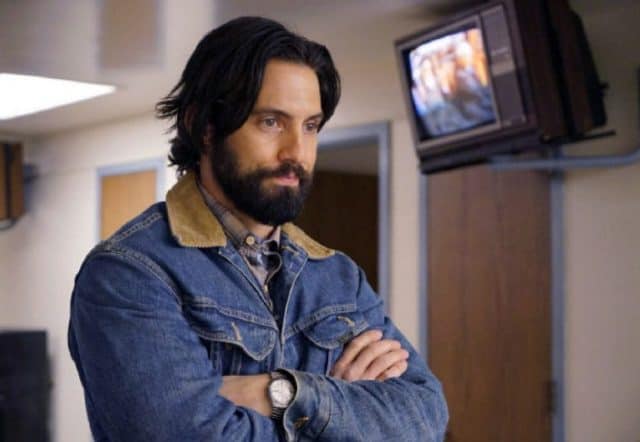 Milo Ventimiglia needs no introduction to most cult TV viewers who instantly recognize him as Gilmore Girls' Jess Mariano or Heroes' Peter Petrelli. He's back in a big way on NBC's This is Us which premiered last Tuesday. It quickly became the most talked-about pilot of the fall after its twist was revealed in the final moments. If you are just as hooked as I am on the premise of the show now, you may want to learn more about one of its leading men. After all, Jack is shaping up to be one of his most revealing characters yet.
Ladies who've seen the pilot know the bedroom scene I'm referring to, but that wasn't necessarily the one that struck me the most. His acting throughout the hour was so emotional and raw, especially in the hospital following some devastating news. Milo plays such a vital part in the story of This Is Us that it's only natural to wonder more about his life off-screen and previously little known facts about his career.
Milo is a lifelong vegetarian.
His parents raised Milo and his sisters on a healthy meat-free diet. In fact, he won the honorable title of PETA's sexiest vegetarian in 2009 along with Kellie Pickler of American Idol.
His first acting gig was on The Fresh Prince of Bel-Air in 1995
As "party guest #1," Milo delivered one line which has been preserved on Youtube for your viewing pleasure.
He's a man of many genres
Milo played Rocky Balboa's son in the 2006 Rocky Balboa film but did you also know he's been in a music video? He made his music video debut in Fergie's 2007 "Big Girls Don't Cry" video. You can watch his turn as Fergie's boyfriend in the video here.
He has his own production company
Milo runs Divide Pictures alongside his friend, Russ Cundiff. In 2007 they produced webisodes for clothing store American Eagle Outfitters. These webisodes were partially responsible for launching the career of Dianna Agron, who then landed a role on Heroes at the time.
He's never been nominated for any major awards. (Yet.)
He won a Teen Choice Award in 2008 for Heroes. Anyone who's seen This Is Us will probably not be surprised if he ends up with an Emmy nomination next year for the phenomenal work he's sure to deliver this season.
This Is Us airs Tuesdays at 10/9c on NBC.