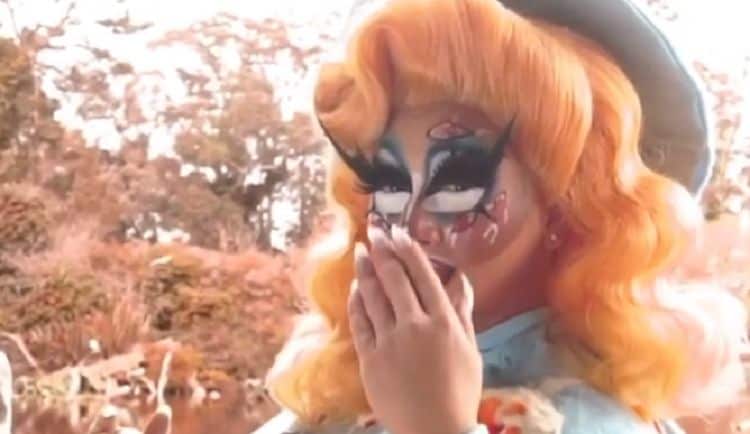 On February 28, 2020, the world was introduced to season 12 of RuPaul's Drag Race, and with it, a brand-new lineup of queens bidding for $100,000 and the sought-after title of "America's Next Drag Superstar." At the time of writing, we still don't know who the winner will be. What we do know is that whoever that person is, it's not going to be Rock M. Sakura. Despite winning our hearts with her quirky style, quick wit, and giant heart, Sakura's time on Drag Race is officially over. So, what next for the San Francisco queen? Find out the answer, and a lot more besides, with our ten fast facts.
1. From Bryan to Rock
Rock M. Sakura was born Bryan Steven Bradford. Clearly, Bryan isn't a name that's going to take you far in the drag world… Rock. M. Sakura, on the other hand, was a name made for the limelight. Bradford settled on the name in homage to his love for anime, not to mention his passion for all things kitsch and camp. It's also Bradford's salute to Rock 'Em Sock 'Em Robots, the iconic two-player game featuring dueling robots.
2. Coincidences
Coming into Drag Race, Sakura was the first San Francisco drag queen to appear on the show since Honey Mahogany, and the first Filipino RuPaul girl since Vivienne Pinay, both of whom appeared on season 5 and were eliminated in the same episode… the very same episode that Sakura sashayed off on season 12. How's that for a coincidence?
3. Memorable Quotes
What's a season of Drag Race without some memorable quotes? One of the deepest pleasures of watching the show is hearing the juicy gems that fall out of the contestant's mouths. Despite her disappointingly short run on the show, Rock blessed us with a fair share of zingers, right from the very moment of her introduction. "Hi! I'm Rock M. Sakura, I'm 28 years old, and I'm from San Francisco, California, and I'm your anime J-pop manga queen!" she announced on Mett the Queens… and from there, the one-liners just came coming. Who can forget "You said my name wrong, it's actually Kim Chi", or the slightly suspicious, "When I get there the first thing they notice is the smell." Quote of the season, however, has to go to the very singular parting line, "Remember: every time you fart, that's just me saying 'I love you!'"
4. Doing it for the Nerds
At heart, Sakura is a big old nerd, loving nothing more than comic books, anime, and video games. From the very second she made her entrance on Drag Race, she started receiving hundreds of messages from fellow nerds around the world, all thrilled to see themselves finally represented. "I'm getting floods and floods of nerds sending me messages saying, 'It's so nice to see representation on the show,'" she told CNET.
5. Bringing the Emotion
Drag Race seems to be making a habit of giving a platform to people looking to get things of their chest (who can forget Blair St. Clair sharing her sexual assault trauma on season 10)? This time around, it was Rock that felt the time was ripe to dig deep and tell the world her story. "I have a whole bunch of triggers, but I feel kind of odd in leadership roles. I never want to be put into a position where I lead someone to feel bad," Sakura told the rest of the season 12 girls as they applied their makeup in the Werk Room, before going on to reveal her mother had been a meth-addict who would frequently blame her kids for her addiction. "That always stuck with me because when you love someone so much and they tell you that you're the reason for their unhappiness, it'll mess with you a bit," she continued.
6. The Robbed Queen
Whatever happens next on season 12 of Drag Race, it's going to be hard to top the waves created by Sakura's early exit. From the very first moment we met her, she's enthralled us with her kindness, quirky humor, and inimitable fashion choices… which makes her departure all the more surprising. Judging from her elimination interview with E, we're not the only ones to think so. "I never expected in my wildest dreams to go home when I did because you saw the challenge, I was very confident," she shared. "I honestly don't think I was the worst-looking person up there. I lip-synced my heart out. To this day, it still confounds me. I'm still perplexed. I don't know what I did wrong!"
7. Bopping to K-Pop
If there's one thing guaranteed to make Sakura feel better about life, it's K-Pop. Talking to The Advocate about how she's dealing with the double whammy of quarantine and the disappointment of her early exit from Drag Race, she discussed how the music has been keeping the smile on her face. "People that know me know that I am very influenced by K-pop and J-pop and that is all I listen to," she explained. "The lyrics have given me so much happiness and they continue to give me happiness 'til this day."
8. Hometown Glory
Sakura was born in San Francisco, raised in San Francisco, and lives in San Francisco to this day. As such, it probably comes as little surprise to learn how important the city's been in shaping her development as a performer. "The city has really molded me into a visual storyteller and has given me an opportunity and an environment to really foster that creativity because some scenes don't let you do what I do and thrive at the same time," she shared with Instinct. "You can always do an anime face or a Japanese song, but here in San Francisco, I am celebrated and loved."
9. Words of Wisdom
Sakura's time on Drag Race may have been short, but it was long enough for her to be able to pass on some (slightly tongue-in-cheek) advice to next year's hopefuls. "Cry now," she recommended to MTV. "Cry before you go on, as much as you can, because if you don't let yourself cry before the show and show yourself that compassion, then it's going to come out when you're there."
10. The Next Challenge
Sakura's Drag Race dreams are officially over (for now, at least… but remember, there's always All Stars). So, what's next for the San Francisco queen? Going by her conversation with Instinct, it could be quite literally anything. YouTube, TV, walking the red carpet, musical collaborations, even food videos… whatever you say about Sakura, she dreams big, and regardless of what comes next, we know it's going to be fabulous.
Tell us what's wrong with this post? How could we improve it? :)
Let us improve this post!