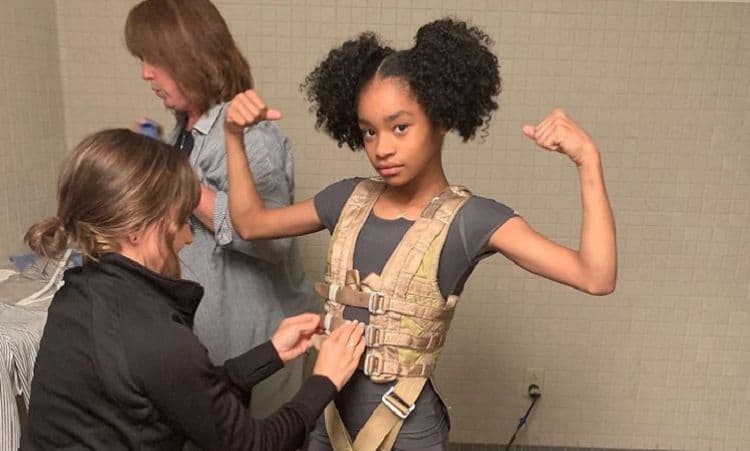 Akira Akbar is well on her way to becoming a household name across America. She's the young actress who paved her own way to stardom in the hit movie "Captain Marvel," and for having roles in two of the most popular, most famous primetime shows of the last decade (that would be both "Criminal Minds," and "This Is Us,"). She's young, she's lovely, and she's heavily talented as an actress, and the world wants to know as much as possible about the young actress.
1. She's Starring in a New Movie
If you've been hearing her name a lot more than usual recently, it's because the young actress is slated to take on the roe of "Fast Forward," in the new movie "We Can be Heroes," coming soon. The movie is making a lot of waves as it's been announced, and fans cannot wait to see what it is all about.
2. She's Very Young
She's only 14. That's right; she's only 14. She was in "Criminal Minds" way back in 2015 when she was only 9, and she was very talented back then. It's amazing to us just how much talent she really has at such a young age, but it just goes to show she's in the right line of work. Her date of birth is October 2, 2006.
3. She Modeled First
Before she made the decision to act for a living, she was a model. She modeled for some big brands that even some adults cannot say they've modeled for. Levi's, Nike, and Skechers are just a few of the major brands she modeled for as a child model.
4. She Was on Grey's Anatomy
The year was 2017, and we have a feeling she had no idea what she was in for. She probably did not watch the show before. She didn't know a thing about it at that time in her life, and we think that she's still probably too young to watch it and see what it is all about. However, she was part of the cast in a Season 14 episode.
5. She's Well-Spoken
Some people are shocked when they hear her speak for the first time because she comes across as so much more mature than a child who just turned 14. We are here to tell you she's been like that for some time, too. She's much more mature than so many people give a child credit for, and we love that she's taken the time to grow and learn to be mature and adorable at the same time.
6. She's Afraid of Chuck E. Cheese
No explanation necessary, honestly. It's a giant rat. It's a rat in a little room filled with kids who have runny noses who are touching everything while their parents sit around wondering where they are. It's not an ideal place, and no one likes it. We can see her point of view.
7. She Loves Affirmations
She said in an interview on "The Real," that she believes in affirmations because of her mother. Her mother is her inspiration, and she believes that you have to be thankful and grateful each and every single day that she's in this line of work. She believes in being grateful, and it's a lovely thing.
8. She's a Dancer
She's been a dancer since she was 4. She was a ballet dancer from the time she was four until she reached the age of nine and began modeling and acting. She loved it, but she's not looking to get back into it. It's hard work, a lot of dedication, and it's a very rigorous situation.
9. Samuel L. Jackson Gave Her a Nickname
He calls her Bear Hair, and we just want to know if there is anything that is better than being able to say that the Samuel L. Jackson gave you a nickname? They starred together in the hit movie, "Captain Marvel," and they seemed to get along very well.
10. She's the Sweetest
No matter how many times we've seen her, how many times she's been on television giving interviews and doing her thing, she's always managed to make it very clear that she is the sweetest. She might grow out of that as she gets a little further into her teens, but she's a doll and we adore her. She has a very easy to like personality, she's got a bright smile, and we have to say she's definitely got a very bright future ahead of her.
Tell us what's wrong with this post? How could we improve it? :)
Let us improve this post!