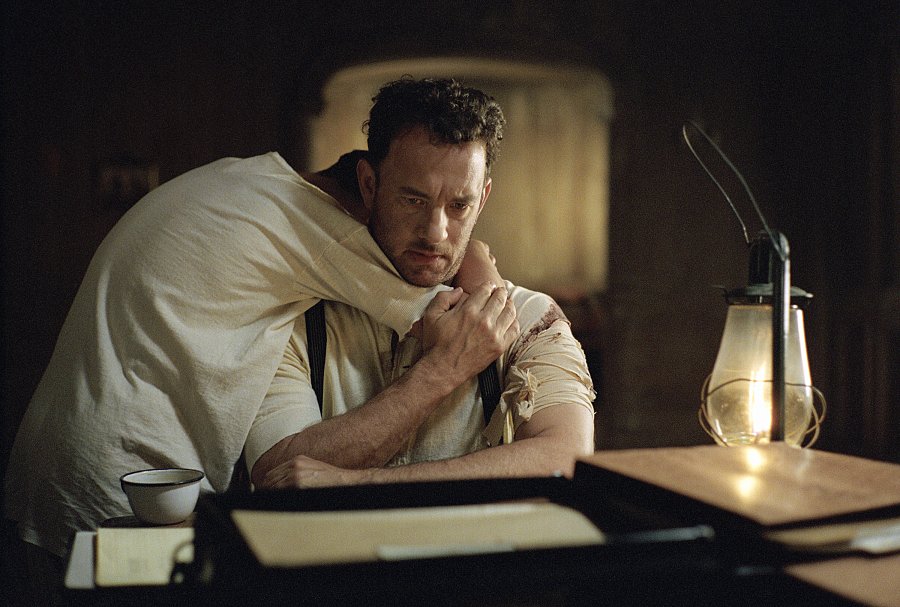 This July, Road To Perdition turns 20 years old. In honor of the milestone anniversary, we're taking a look back at this neo-noir crime classic and why it's worth rewatching all these years later. The film tells the story of Michael Sullivan (Tom Hanks), a hitman who is seeking revenge on the men who killed his son. It's an intense, engrossing drama that is sure to keep you hooked until the very end. The movie was well-regarded during its release, with The Wall Street Journal's Joe Morgenstern writing: "What makes the movie pay off is moving pictures of real action and of intimate scenes between man and boy that are all the more moving for being understated." A grossly underrated film, here are a few reasons why you should rewatch Road To Perdition on its 20th anniversary:
It features Tom Hanks at his finest
Road To Perdition is one of those films that features Tom Hanks at his very best. He completely disappears into the role of Michael Sullivan and gives a truly haunting performance. If you're a fan of Hanks, then this is definitely a film you need to check out. A particularly impressive aspect of Hanks' performance in the film is his ability to show Sullivan's emotional journey, which is something that is often difficult to do in a film like this. Hanks truly showcased his range as an actor in Road To Perdition and it's definitely one of his most underrated performances. In an interview with Hollywood.com a few years back, Hanks explained what he felt about the character that he portrayed, Michael Sullivan, and how the role personally inspired him:
"The key to this whole thing is the father and son relationships in the various permutations of the fathers and the sons that go on in the movie. I've got a father and I have sons. That alone helped. But there's a whole ocean of emotions to explore here and a million ways to find the universe of what these relationships are going to be. The most fascinating and strongest bond in this movie happens between non-blood. Mr. Rooney and myself are actually the perfect father and son combination. We emulate each other. We answer each other's questions. We are very comfortable with each other.
And we end up gunning each other down. It's not a big surprise, either. Who are the biggest strangers in the movie? Well, the biggest strangers in the movie are the actual blood father and son who travel in this car together. Each scene goes beyond how your hat looks. But I'm never looking to play a guy who does this or that. Once you do that, you end up taking any inorganic opportunity when it comes along and the next thing you know you're in a movie you don't really want to be in."
The film features some of the best acting performances of all time
Tom Hanks is, of course, excellent in the lead role, but he's also joined by a stellar cast that includes Paul Newman, Jude Law, Stanley Tucci, and Jennifer Jason Leigh. Each actor brings their A-game to the table and elevates the material. This is definitely a film that any fan of great acting should check out. The late Paul Newman, who passed away in 2008, has been widely praised for the film, which was one of his last.
A commentary from Screen Rant wrote about the actor: "The acclaim for Newman's work in Road to Perdition came as no surprise, as he runs the gamut of human emotion and embodies an archetypal feeling of fatherhood and grandfatherhood, which makes the violence he's responsible for all the more chilling. Though his character is honest with himself about the murderous life he's led, he still seeks some semblance of honor, and the fractured relationship he has with his own son is tinged with tormented loyalty. It is this complexity that makes Newman's work in Road to Perdition so compelling.
His character's duality is best showcased in a scene in which John begins by beating Connor in anger, only to end up holding him in a tight hug. The loss of John's relationship with Mike further reinforces the regret he feels beset upon him by the path he's chosen. Newman beautifully bears these burdens throughout the film, exuding this torment in his every move."
The cinematography is gorgeous
This is a beautiful film to look at. Set in the 1930s, the period setting is expertly recreated and the cinematography does an amazing job of capturing both the beauty and the ugliness of the world Sullivan inhabits. From the stunning landscapes to the bleak cityscapes, every frame of this film is a work of art. The movie won a posthumous Academy Award for Best Cinematography, serving as a testament to its cinematographer, Conrad L. Hall, who passed away before the film was released.
The score is unforgettable
Another important element of any great film is its score, and Road To Perdition definitely has one of the best scores out there. Composed by Thomas Newman, the music perfectly captures the mood of the film and adds an extra layer of emotion to every scene. It's a beautiful, haunting score that will stay with you long after the credits have rolled.
It depicts the Great Depression in a unique way
Road To Perdition is set during the Great Depression, but it's not your typical Depression-era film. Most films set during this time period focus on the hardships that people faced, but Road To Perdition takes a different approach. It's more interested in exploring the dark underbelly of society and the criminals who thrived during this time. If you're looking for a unique take on the Great Depression, then this is the film for you.
The story is compelling and unforgettable
Road To Perdition is the kind of film that sticks with you long after you've seen it. The story is both brutal and tender, and it's impossible to forget. This is a must-watch for any fan of crime dramas or great filmmaking in general. The movie's screenplay is written by David Self, who also wrote the screenplays for The Haunting and The Wolfman.
Tell us what's wrong with this post? How could we improve it? :)
Let us improve this post!