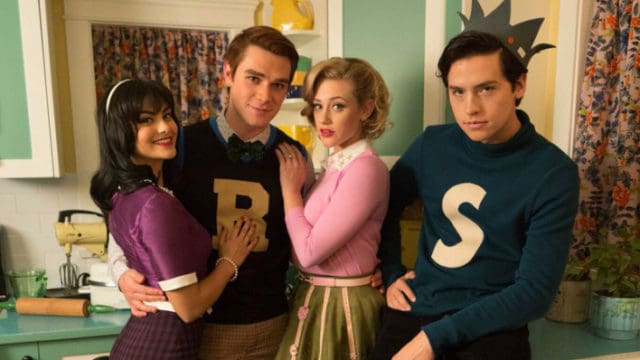 Most fans of Riverdale adore the series for its dark version of the classic comic for teens. The CW show is filled with all the elements which make drama so compelling. There's darkness, revenge, violence, conflict, and amazing cinematography to pull it all together. The cast certainly is amazing and every one of them deserving of success post series. Here's what five of them are doing now that may foreshadow what they'll be doing in their futures.
KJ Apa-Archie Andrews
KJ Apa has captured the hearts of plenty of fans. The actor from New Zealand has to die his hair red every two weeks to keep that Archie authentic look. At first, he got painful holes in is skin because his eyebrows were died to match his hair. But, he's learned to live with the process. One of the best indications that KJ is going to succeed-he's already having success with other acting work. Exclusive news was released that he is set to be the lead in The Last Summer. It's a romantic comedy which has set Bill Bindley as director for the Gulfstream Pictures film. It's described as the story of a group of high school graduates who meet in Chicago during the summer. They're all headed to college, and their lives cross paths just before they move on to the next part of life. With KJ's collection of awards and nominations added to his avid fan base, he's certain to continue acting.
Lili Reinhart-Betty Cooper
Lili Reinhart is incredibly intelligent. It's no surprise that she won the 2017 Breakout TV Star Teen Choice Award. She's already making positive social statements which have to do with her celebrity, but more importantly, her focus on truth and justice. When a Twitter user attempted to use social media to body shame Lili, Lili responded by twitting that she'd get back to the shame monger later-after her double cheeseburger meal was finished. She also objected to the photoshopping she saw on her Cosmopolitan Philippines cover. Lili shared the distorted images on Instagram. She announced it was International Women's Day and that the fight for women's rights had only just begun. Lili has all she needs to make a great career in social work or politics.
Cole Sprouse-Jughead Jones
Cole Sprouse not only won the 2017 Teen Choice Drama TV Actor award, he's been traveling and documenting his activities with some of his photos. He's a photography hobbyist, and it's been said that his large Instagram following is due to his photography. He was recently criticized for a caption he added to a photo he took of Manila. He was bashed for writing insensitive words. He was also praised for showing the Filipino people suffering in poverty but making life work. A Filipino fan of Cole's photography thanked him. Cole may pursue his acting career, but it is certain that he's being acknowledged for his photography, and that may just lead him into the direction of photojournalism.
Madelaine Petsch-Cheryl Blossom
The stunning South African-American Madelaine Petsch won the 2017 Teen Choice Hissy Fit Award, and for good reason. Portraying Cheryl Blossom is her first substantial character on TV, and she's demonstrated a talent for giving Cheryl different voices based on the emotions of each scene. That acting skill and flexibility is part of Madelaine's intelligent approach to acting. But, she is also fashion savvy. She just tweeted the news that her new capsule collection sunglass line with PRIVÉ REVAUX is available for sale online and at Nordstroms. She's bound to capitalize on her sunglass collection regardless of what happens after Riverdale.
5.Camila Mendes — Veronica Lodge
Camila has already been selected as an ambassador for John Frieda's "Your Hair Talks, Make a Statement" hair products brand campaign. Her beautiful dark hair has brought her a new role. She will spend a year hosting social events and activities in partnership with John Frieda. She grew up in Miami and confessed to US Magazine that the humidity there always caused her naturally wavy hair to get frizzy. What she's using on her hair now is John Frieda's Frizz Ease serum. Mendes uses her hair as a tool to shape character in the roles she takes on. She's already been awarded the 2017 Teen Choice Scene Stealer Award. She's most likely to have more scene stealing roles in her future. But she's also already in line for some great product promotions.