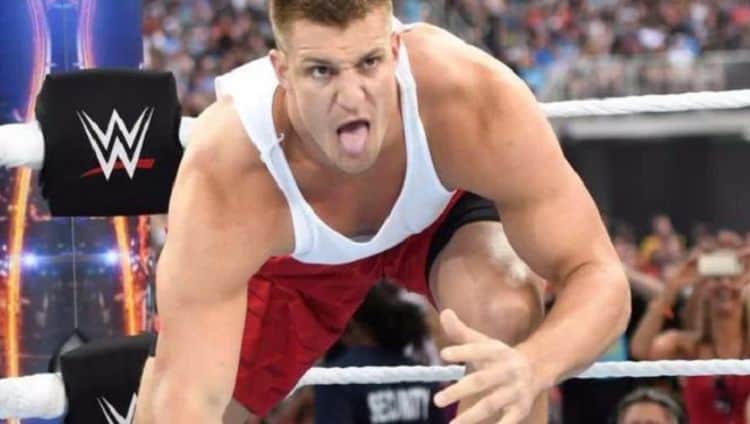 If you needed any more proof that Rob Gronkowski is retired from the NFL then seeing him a WWE ring would be a good indication. At this time it's not entirely certain how hosting a show without a live audience is going to go over, but one thing is certain as Jeremy Dick of MovieWeb has revealed, Gronk will be lacing up those boots and making his way to ringside. The former tight end for the New England Patriots and three-time Superbowl champion was seen ringside at 2017's Wrestlemania to cheer on his friend Mojo Rawley, who's also a former NFL player, even if he only had a couple of years on two different practice squads. All the same, Gronk has been wanting to step in the ring now for a while it sounds like, and come Smackdown he'll get his chance, though it's yet to see just how effective he's going to be. One might think that a former football player would be a great presence in the ring since he's been trained how to take hits and is a big and very durable individual. Of course they might have forgotten that he's also had a number of injuries in a sport where the players have padding to help minimize the impacts. It's true enough that the speeds and impacts that NFL players take are brutal and that there's not a lot of comparison to the WWE, where the competitors are acting for the most part, but it's still worth noting that accidents do happen, and without padding to take away even a small amount of the impact.
All the same the crowd won't be on hand to offer any 'oohs' or 'aahs' or even cheer Gronk on as he takes on his first stint as a WWE superstar since according to Nellie Andreeva of Deadline it's already been decided that the show will be aired at a different location and there will be no live crowd. The act of course comes in order to keep from spreading the coronavirus and is just one more measure being taken to keep people safe and hopefully slow down the continual spread of the disease. But one has to wonder what this will do for the show and what it might mean for the performance now that it's being taken off of live TV. The WWE has been highly dependent on their fan base for a long time now, as it's one reason why the corporation has grown so big and been able to keep expanding and branching out over the years. Without a live audience it's likely that people are still going to tune in, but the ticket sales that will start declining since massing in large groups at this moment is not a desired practice for any sporting event could become a big problem for the brand.
How this might affect Gronk's chances of hitting it big in the WWE is hard to say since without a live audience one has to think that the stars are still performing for the audiences at home, though the impact they have is largely unseen since a live crowd is pretty raucous and continuously shouting out support or condemnation to their favorite superstars. A lot of those coming from behind the curtain have learned how to feed off of the vibes the crowd throws their way, while some ignore it almost completely when possible. For Gronk, who's been in front of massive crowds for years now thanks to being in the NFL, that part might not be so bad. But performing on TV without an audience could be something that might be kind of unusual for him and the rest of the roster since a lot of times the superstars will actually interact with the fans and even play up to their reactions in order to make the show just a little better. Whether this will affect how Gronk steps into the ring and how he composes himself will have to be something we wait to see since it's not known if it's going to affect him yet. But to the more pertinent matter of how he's going to actually do when he locks up with another wrestler, it's all a question of whether he's ready to rumble when it comes to being flung around or when it comes to flinging someone else around. He's not the first football player to step into the wrestling ring, as there have been many athletes from a few sports that have taken part in the show over the years, some a competitors and some as special guests. Heck, Muhammad Ali was a guest referee at one Wrestlemania, and Pete Rose made it a habit to show up for a while. Kale Havervold of SportsBreak has a list of people that made the jump. Here's hoping he does well in this endeavor, as it might be interesting to watch.