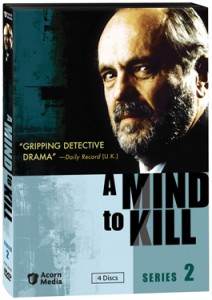 In October, Acorn Media will give viewers a second look at the gritty 1994-2002 detective series A Mind To Kill, starring Philip Madoc (who played multiple roles in Doctor Who from 1968-1969, 1976 and 1978-1979). I've got a glance at it well before its October 19 release date!
The Show
As the title suggests, this series is more about getting into the minds of the bad guys, more like a Wire In The Blood or Criminal Minds. DCI Noel Bain (Philip Madoc) deals with "the worst aspects of human behavior – cruelty, brutality, vengeance and greed" while trying to parent his teenage daughter.
While A Mind To Kill isn't as blatantly graphic as Wire In The Blood or as outright disturbing as episodes of Criminal Minds, it's both of those things. The show contains nudity and a fair amount of graphic material; I wouldn't recommend it to anyone under, say, 16. You're not going to see anyone's head exploding on screen, but given the nature of the show, this isn't something you want to be sharing with your kids either.
I can't say that I was particularly engaged by the series, possibly because I'm just not quite taken with any of the characters, including the lead. It's not quite fair toward this show that Wire In The Blood came out after it, but Robson Green was a more commanding lead there than Philip Madoc is here. However, the show does have some good guest appearances (Horatio Hornblower's Ioan Gruffudd turns up), and in its defense, the show isn't as outright violent as Wire In The Blood is either. As best I can describe it, this is the criminal profiler show before adult content became a common part of it.
The DVDs
Holy crap, this box is creepy. The picture can't do justice to how it looks like Philip Madoc wants to strangle you with his bare hands. Likewise, the pictures of guest actors on the back seem to be the creepiest pictures of them that they could find. I suppose the unsettling box art is fitting given the nature of the show, but it doesn't make me want to look at it.
Packaging-wise, you get the same thing as with Taggart: one plastic case with a cardboard slipcover that fits over the top when it feels like it. Art is the same on all four discs, and there is no booklet enclosed.
Here are seven episodes on four discs, with a stereo track. Unlike Taggart, though, A Mind To Kill is presented in fullscreen, no doubt a reflection on when it was made. The episodes are subtitled, but the extras are not. Menus have that same creepy art, and there is one forced trailer for the Acorn Media catalog before you can get to them (though it can be skipped). Upon selecting an episode, you'll go to a screen that has that installment's synopsis and an option for scene selection.
As far as presentation, this show can be dark and creepy, but that for the most part doesn't hinder viewing. I did notice some noise in the picture, best described as the same fuzzy look things get when you use your VCR to put something on tape. This is also probably due to the age of the source material, however.
The Special Features
Only two special features on this set: cast filmography screens, and then a clip from the fourth episode of the Welsh-language version of the series, Yr Heliwr. I wonder why they chose to only include a clip and not an entire episode, but if you don't speak Welsh (as I don't, and I doubt many people buying this release will), I suppose it would only serve to be confusing, especially since it's not subtitled.
The Bottom Line
I'm not particularly taken by the series, either content-wise or technically (though that's just due to the time when it was made), and therefore I can't recommend spending $70 on it. If you're looking for a good series about criminal profiling and can't stomach some of the current series, this would be worth a look once it goes down in price, but until then, you'd be better off catching some of the UK's other crime dramas instead.