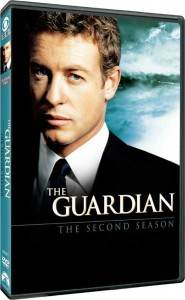 Yesterday saw the release of season two of The Guardian, which will now forever be known as "that show Simon Baker starred in before The Mentalist." Let's take a look at the six-disc, twenty-three episode release.
The Show
The Guardian ran for three seasons on CBS (2001-2004) and introduced audiences to Simon Baker. Here, Baker plays hotshot attorney Nick Fallin, whose father (Dabney Coleman) is founder of the Pittsburgh law firm Fallin & Associates. In other words, he should have it easy. That's before he's busted for drugs and ordered to perform 1,500 hours of community service. Nick sets out to do this by taking cases from Alvin Masterson (TV vet Alan Rosenberg), who runs a legal clinic where Nick now turns his talents toward working as an advocate, mostly in cases involving children. Wouldn't you know it, he also meets a new love interest, Louisa 'Lulu' Archer (Wendy Moniz) as well. On paper, it's a paint-by-numbers fall from grace story.
However cliched the setup sounds, The Guardian is refreshingly different once you see it in action. It's easy to see why Baker became such a star, and his character here is more restrained and more subtle than in The Mentalist. In the season opener, "Testimony," his answering-machine message to his father is heartwrenching. A further break from cliche is that Nick's father isn't just the overbearing patriarch that pops in every couple of episodes to mess with his son's life. Burton is actually an important part of the show, and he and Nick have a complex relationship that's compelling to watch unfold. Baker and Dabney Coleman play well off each other and elevate the material beyond standard legal drama or family drama fare.
The DVDs
The Guardian has the same frustrating packaging that plagued The Good Wife. All the information that's typically in the DVD booklet is on the inside of the plastic snapcase, and to read it, you're going to have to totally remove disc one and disc six, and be able to read some small font. Thankfully, this one did not completely shatter when I opened it, but it's still a letdown.
Aesthetically, the packaging is nice to look at, but it's simple and to the point – nothing special.
This is one of those releases where the one and only goal is simply to get the episodes out, and the technical specs reflect that. There's only a stereo track for the audio, and only English subtitles. No Digital 5.1 track and no other languages are supported. Video-wise, the show is presented in 16:9 widescreen. A mild frustration appears when you start the discs, when you have to bypass a CBS menu just to get to the main menu, which is bare-bones anyway. In fact, the menu graphics don't look that great at all.
Yet for a show that's almost a decade old, the video and audio look great, which is the most important part. I'm surprised at how well some of these older series are holding up on DVD, and I have no complaints about The Guardian's episodes as they're presented.
The Special Features
There are no special features on this release.
The Bottom Line
The Guardian is a good show, and I can see why fans embraced it, though they might be disappointed at the lack of features – though more happy to just have the episodes in their hands. Thanks to the largely self-contained nature of the show, you can feel comfortable picking up Season Two even if you haven't seen Season One. The set retails for $50, though Amazon.com has it for $34.49 at the time of this article, or about $1.50 per episode, which isn't that bad (considering video-on-demand episodes of shows go for $1.99 these days). If you're into legal dramas and are looking for something new to get into, I'd recommend this as a blind buy. You're not paying much for a show that's worth the watch.