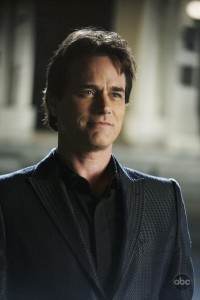 Eastwick is an easy win for me, though if you read a lot of other reviews on the internets you'd think I was the only person that actually liked this show. I don't actually believe such nonsense, and I think there's a strong audience out there just waiting for this kind of series. So don't always believe what you read, take a chance, and give this show a watch (or at the very least a DVR) tonight, and see for yourself. Or, you can read on to hear my reasons for watching it.
At its core, storytelling is about making a connection between the teller and the listeners (or viewers in this case). Stories are often told to build knowledge, teach lessons, relate history and past events in a common current setting, and most importantly of all to entertain. Eastwick, for me, has every one of those elements and I enjoyed it equally for all of them. The characters aren't perfect. The story is about three women who have always given themselves to others, and never taken. Upon learning that they have hidden powers they struggle to take control of their lives and stop being victims. But at the source of their powers lies a man to which they are still a victim…or are they. The story in this series is about their struggle to overcome as well as their struggle to learn and accept. While it may be a little early to be jumping on any bandwagons, this is definitely a show that I see having some potential.
Lets take a look at the main characters. First we have Paul Gross taking on the part of Darryl Van Horne. You will undoubtedly read many comparisons of Gross to Jack Nicholson, who played the part in the movie. To me, the comparison simply isn't fair to Paul Gross. However, allow me to say that Gross brings to the role of Darryl Van Horne his own cocky sex appeal with a spash of bravado, swank, and even compassion when necessary. Yet, despite this fact he still manages to show glimpses, at times, in the same style as Nicholson did. This gives Gross' Van Horne a uniqueness while still respected the great things that Nicholson did with the character.
Rebecca Romijn is the free-spirit, artsy type who is dirt poor and owns a pottery shop in the small town where she sells strange pottery. She has a teenaged daughter and her house is falling apart around her. Her desire is to have a passionate and sexy stranger sweep her (and her cares) away. Romijn plays the part very well with her opening line of the series being "Chicken hands, you gonna stare at my boobs all day or are you going to buy something."
Jaime Ray Newman who you may know from Syfy's Eureka, plays Kat, who is a mom who married a good looking, but lazy, abusive, and good for nothing father to her kids. She's a nurse and is expected to do everything for the family, including being the only money-maker in the house. Her one and only wish is to have someone wait on her for a change, which is really a reasonable request.
Finally there's Lindsay Price playing the role of Joanna, an ambitious reporter who projects her own self esteem issues onto those around her and gets very little respect from the men who she works with. She's in love with a camera man at the newspaper she works at, but only seems to put her foot in her mouth anytime she speaks to him, which is almost always hilarious (she tries to cover up the fact that she was talking about him once by telling him that she has a vibrator with the same name as him, but not named after him). I will say that putting the beautiful Lindsay Price into glasses to try to make her look homely is a little weak and cheesy, however I absolutely adore Lindsay Price and can therefore let this one go.
The chemestry of the three leading ladies as well as their chemistry with Paul Gross is fantastic and turns this do-over story into something fun, a little different, and not so serious compared to the other shows you're likely to see in the 10pm time slot. You might enjoy Eastwick if you are or were a fan of Desperate Housewives, Charmed, or even Sex in the City. Don't get me wrong, the show isn't trying to be any of those in any way, but it does share some basic commonalities with them that may carry over to those fanbases and allow a connection on some level.
If you missed Eastwick's premiere last night you can catch it on ABC.com, or here on Hulu today.