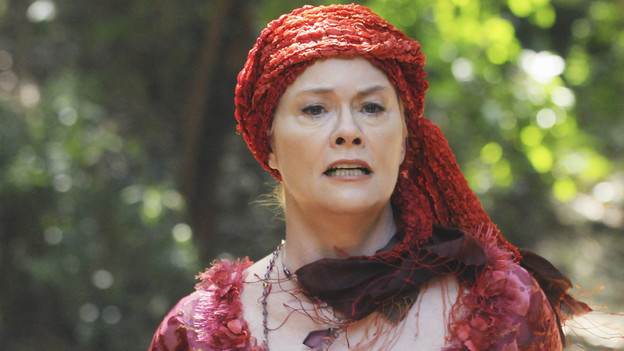 Eastwick was kind of tame for me this week. I could blame it on the craziness that has been my life for the past couple of days, but I only was interested in one storyline this week and that stroyline involved Kat, Bun, and Eleanor. So let's start with them first.
The Mythology Thickens
Eleanor (guest star Cybil Shepherd) cooks breakfast in her shack when an ad for Eastwick Wines appears on the TV with Darryl in the commercial. He seems to send a message to Eleanor, but the site of Darryl is enough to send Eleanor running out of her cabin and into the road where she is almost hit by a Mack 1o truck.
Meanwhile, it's Kat's turn with the kids and RJ injures Emily resulting in a nasty cut. When Kat rubs some antibiotic on the cut with her finger, the cut magically disappears. Emily thinks it is cool, but Kat is beyond freaked.
Later at the hospital, Eleanor give her nurse hell and when Kat walks in Eleanor declares that Kat be her nurse and heal her scars. Kat doesn't know what Eleanor is talking about at first, but when Eleanor tells Kat that she is like her and has the power to heal, Kat is wigged out even more. Eleanor tries to explain more to Kat, but Kat tries to change the subject. When Kat checks Eleanor's chart, she finds out that Bun is Eleanor's emergency contact person, but Eleanor has disappeared by the time Kat raises her head from the chart.
Later, Kat drags Bun with her to Eleanor's shack and when Eleanor comes to the door, she is not happy to see Bun, who is oblivious to the whole scenario. Kat tells Eleanor that she might can help Bun regain her memory and Eleanor relents, but tells Bun that she will have to do something in return. When they get inside, Kat notices Eleanor's garden and that Eleanor also has five kids. Eleanor stresses again that she and Kat are tit for tat in everything. Kat then tells Eleanor how Bun lost her memory and Eleanor comments that "He is tricky". Kat asks who (but we all know who) and Eleanor tells Kat to prepare to learn about her newfound gifts.
After awhile, Eleanor demands that Bun chugs down a glass of some concoction she made and tells them that its to numb the pain that is about to come. Before they can blink an eye after Bun reports that the upper part of her body is numb, Eleanor stabs two needle rods into Bun's back that have another concoction on the needle points. Kat freaks as Eleanor starts chanting and then red ants start to leave Bun's body through the puncture wounds and onto the floor. Eleanor commands that Kat kill as many of them as possible and when they do, Bun comes to and remembers everything, including her disdain for Eleanor and the current events. Kat tells Bun that they better leave, but Bun says she needs to stay there with Eleanor. After Kat leaves, Eleanor tells Bun that Darryl is back and they decide that they need to kill him again.
Uh Oh!!!
Later that night, RJ hurts his knee and Kat is about to heal it with her touch, but she decides against it and places a Band-Aid on it instead. When RJ leaves, Kat spots an ant and immediately smashes it.
Seems like someone is having trouble accepting their powers… Give em to me if you don't want them, Kat!
"I Shall Be Released"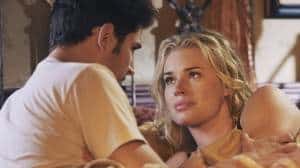 Roxie awakes the next morning after the bonfire to see Chad laying beside her. She thinks she's awake though. Chad tells her that she is sleep and that he is not there in person, but in her dreams and that she needs to do one thing for him because this will be the last time she sees him. Roxie asks Chad what does he want and he simply replies: "Follow the signs." Then Roxie wakes up.
Meanwhile at the hospital, Kat and Joanna run across Chad's dead body and rush to tell Roxie, who has already deducted the horrifying news by the dream and the girls' somber faces. She breaks down and Kat and Joanna comfort her.
As Roxie prepares for the funeral and looks for signs in Chad's drawer, Mia drops the bombshell that Chad's family doesn't want Roxie to attend the funeral, which crushes Roxie even more, because she blames herself for Chad's death and feels that Chad's family feels the same way. After getting to the bottom of Chad's drawer, Roxie finds a hammer that says "Return To Darryl Van Horn" and she rushes to Darryl's.
Roxie gives the hammer to Darryl to see if it has some significance, but Darryl says he doesn't know if it does. He then proceeds to walk on hot coals, which is something that has always pondered but never had the desire to actually do. While Darryl walks on the coals, he gives words of wisdom to Roxie about why women shouldn't feel cursed, because they were given the power to give life and to be self-aware, qualities that men lack. He also reveals to Roxie that her actual curse is to be extra ordinary and that she should grasp it and use it for her personal gain. Roxie says that she doesn't want people to run away from her and that she can't even go to Chad's funeral, but Darryl reminds Roxie that she was at the funeral in her vision, but Roxie says that it was raining also. Then it promptly starts to rain.
Time to get your mourn on, Roxie.
Roxie appears at the funeral with Mia and everyone is not happy about it. After the funeral, Roxie tries to pay her respects to Chad's mother, who makes her disdain and outrage known to Roxie for showing up. Then Chad's grandfather tries to manhandle Roxie out the funeral, but is knocked into an open grave when Roxie resists. Roxie also spots a young lady who was wearing the exact shirt that Chad wore in her dream. She goes and introduces herself to the girl (whose name is Jenna), who reveals that she was helping Chad with a song for Roxie's birthday entitled "I Shall Be Released". Jenna gives Roxie a copy of the song before leaving.
Roxie goes home and cries while holding the CD. She puts the CD into her CD player, but doesn't play it. Instead she makes her way back to Darryl's. She claims that she figured out that Chad wanted her to stop blaming herself for the death of her husband Danny and Chad and to let the past go and free herself from it. But Darryl feels that the only way for Roxie to release herself is by releasing her body and soul to him. But Roxie isn't dumb and says that the only way she can achieve total freedom is to do it herself.
When Roxie returns home, she plays Chad's song and starts the painful task of letting go by cleaning out Chad's drawer and putting all of his stuff in one box and also cleaning out Danny's drawer, which she hadn't touched since his death, and placing his things in his own box. Now, that I think back on it, this was the best scene of the night.
Joanna's Quest For Power
Joanna stops by the newspaper office to tell Penny about her newfound telekinesis over a picnic, but Penny tries to hide the fact Clyde has already replaced Joanna with a hot shot named Max Brody (guest star Jason George; Eve, What About Brian), who has had stints at The Washington Post and other prominent papers. Joanna has met her match in Max and he wants to do a story based on Joanna's ordeal in the coffin last week. Joanna doesn't want to tell Max her story and blows him off, her mind on other things. Like telekinesis.
While talking to Penny, Joanna tries to move a salt shaker and bend a spoon, both epic failures. Penny thinks Joanna is just traumatized from her near death experience, but Joanna feels that the experience reawakened something in her. Penny voices her concern for her friend, but Joanna repeats that she is fine. I don't know about that Joanna…
While Joanna tries to move her beer mug in the bar, Max shows up and amps the annoyance level to a screeching ten decibels. Joanna tells Max that she is trying to recreate a moment that had never happened before to happen again. He annoying asks question after question and Joanna figures out that she was emotional when she was moving things. Max eventually gives some good useful information to Joanna by referencing the movie Groundhog Day, telling Joanna that she is looking for the end result instead of putting the feeling into the task. Joanna gets an idea and Max is hot on her heels.
The idea is at a carnival that is about to close and a Ferris Wheel. Joanna reveals that she is scared of heights as is Max. Joanna gives the carny in charge of the ride The Eye and he lets them on despite saying they were closed. Joanna also glamours him into not closing the protection bar all the way. The ride starts and the bar comes off. Joanna moves the bar a little bit, but Max in a fit of panic grabs it and screams for help. Wimpy, little weasel…
When they get down, Max runs away and goes on a tirade saying that Joanna has a death wish. Joanna calls resentment for his words, but he tells her that she seriously needs to talk to someone like last week, because she is not 'OK' mentally after her ordeal. Joanna claims that she is trying to not think about the negative, because she can't deal, but Max tells her that she can't do that, because without critical thinking there is really no point in processing anything. I think.
In the end, Joanna goes to Penny for comfort and finally talks about her ordeal, including her unemployment and loneliness. Penny says that she is there to help Joanna through these troubling times. Awww…
The Aura of Tonight
– So Eleanor has a Mother Nature power like Kat, but she seems to also be able to either tell the future or read minds, but either way she is very powerful. Wonder if Bun has the power of persuasion or the power of precognition? Can't wait to see what happened to the third witch.
– Eastwick is a highly judgmental town. Remind me not to vacation there. Ever.
– Like I stated, the whole last scene was very sad and poignant and the symbolism hit a lot of nerves with me, because I too, can't deal with death well. It's hard to let go of someone close and kudos to Rebecca Romijn for a job well done.
Well, peeps, it seems like next week is a bi-week for Eastwick so I will see you when I see ya!
Tell us what's wrong with this post? How could we improve it? :)
Let us improve this post!