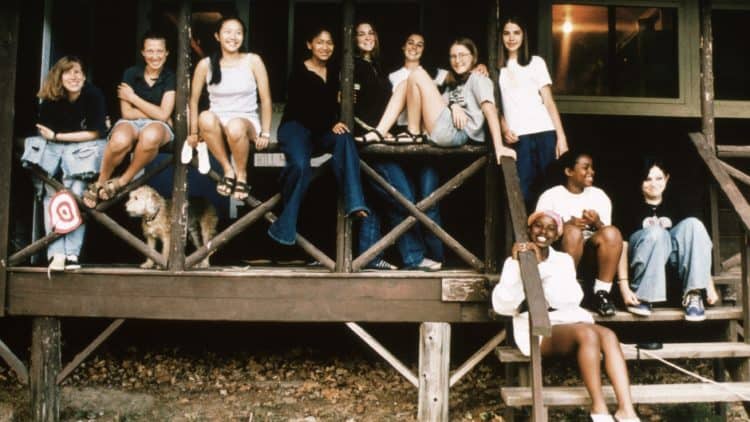 If you were a kid during the late 1990s/early 2000s, you probably have fond memories of the Disney Channel series, Bug Juice. During an era when reality TV was still a fairly new concept, Bug Juice was truly one of a kind. The series, which lasted for three seasons, was set at a different sleepaway camp each year. Camera crews followed groups of campers as they experienced life at sleepaway camp. For many young viewers, Bug Juice provided an awesome glimpse into the fun of summer camp and it was a great escape for those who weren't able to attend in real life. Although it's been more than 20 years since the show's last episode, Bug Juice's legacy lives on in the hearts of millennials everywhere. Keep reading to take a walk down memory lane in honor of Bug Juice.
Why Bug Juice Was Such A Memorable Show
As mentioned earlier, reality TV wasn't really a 'thing' in the late 1990s. Sure, there were other reality shows on the air by the time Bug Juice premiered, but Bug Juice was special because it provided representation for kids. It was wholesome and lighthearted and it truly captured an era that lots of people look back on with great memories. The series was named after a sugary drink that is popular at summer camps, and the show also had a theme song that was fun and catchy. Even if you never got the chance to experience going to a sleepaway camp, Bug Juice was still a show that was relatable to people from all backgrounds. At its core, the show highlighted young people who were navigating their pre-teen/early teenage years and exploring new friendships and activities. In many ways, it was the perfect coming-of-age story for young viewers at the time.
Why Was Bug Juice Canceled?
Unfortunately, we weren't able to find any official information on why Bug Juice was canceled after just three seasons. However, it's no secret that everything in the entertainment industry is all about numbers. More than likely, the numbers weren't in the show's favor after the third season. Like lots of other shows that were canceled too soon, Bug Juice still had a dedicated fan base that would've loved to keep watching.
Are The Bug Juice Camps Still Open?
Since it's been quite some time since Bug Juice ended its run, you may be wondering if the camps that were featured on the show are still operating. The good news is that the answer is yes. For the most part, that is.
Camp Waziyatah – Season 1
Located in Maine, Camp Waziyatah was the setting for the first season of Bug Juice. According to its website, Camp Waziyatah provides itself on being a place that doesn't allow cliques. Instead, the camp is focused on making sure that everyone who attends feels included and welcome.
Camp Highlander – Season 2
Camp Highlander is located in North Carolina. As its website states, the camp is "devoted to the growing and nurturing of boys and girls, in a safe, fun-filled, and electronics-free environment." Unlike the Camp Waziyatah website, Camp Highlander doesn't mention anything about ever being a part of Bug Juice.
Brush Ranch Camp – Season 3
Brush Ranch Camp has been the hardest to track down any information on. Although the location is still there, it appears to now be operating under the name Brush Ranch River Lodge, but it doesn't look like the camp still exists. Sadly, we weren't able to find any exact information on when or why the camp closed.
Bug Juice Revival
In 2018, the Bug Juice franchise was revived with a new series called Bug Juice: My Adventures at Camp. The series lasted for just one season which consisted of 16 episodes. The season took place back where it all began – at Camp Waziyatah. Unfortunately, it appears that Bug Juice: My Adventures at Camp didn't do well in terms of ratings. With so many other reality shows on the air, it was impossible to recapture the magic of the original. That said, it was nice to see the show be revisited, even if it was very short-lived. Bug Juice: My Adventures at Camp is currently available to be streamed on Disney +. However, the original Bug Juice has not been added to the streaming service and it's unclear if it ever will. At one point in time, full episodes of the original series could be found on YouTube, but it appears they were all removed prior to Disney +'s launch. Even if Bug Juice is never re-aired, I think it's safe to say that it's one of those shows that will never be forgotten.