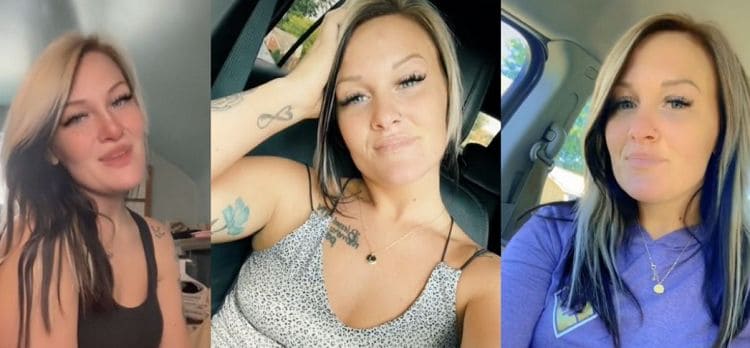 Katelyn Ballman was a big name on the TikTok platform. The 27-year-old social media star went by the name itskatieeebee, and her fans are heartbroken to learn of the star's death. Her family confirmed that the young mother died in the fall of 2021, though no one posted anything to the Facebook announcement about what happened to her to cause her time on earth to end so soon. It was her own aunt who posted the young social media star's death on her Facebook page. "It is with the utmost sadness that I need to report my niece Katelyn Ballman only 27 years old has passed away. She was fun and funny and a loving mother. I didn't hear from her often but she did call once in a while. Nothing as far as I know is known about the cause of death. Bless her and her family," reads the message posted by Saundra Mae-Lynn to Facebook. The star is gone, and no one knows why at this moment in time, but there is so much to remember her for. At the moment, it's important to remember that her family should be given time, space, and the respect they need to mourn this sudden loss. They are missing a mother, a wife, a daughter, and a friend, and giving them respect is currently the most important thing her fans and followers can do for this family at this time in their lives.
Katelyn Ballman's Life
Ballman was so much more than just a social media influencer. She's a young mom with four small children. She was born and raised in Ohio, and she had more than 75k followers and well over a million likes on her video platform. Her entire platform was dedicated to her husband and their four kids, and it's clear to us based on her content that she was a very proud mother and loving wife. She's married to Josh Wurtz, and the two share four children. Their kids are Anabelle Pastrimas-Wurtz, Braxton Wurtz, Owen Ballman, and Easton Ballman. It is unclear if all four kids belong to her husband biologically, but it doesn't really matter. He's there for all four kids, and Ballman's TikTok videos clearly make it obvious he is a proud dad and they are a tight family unit. Her videos are funny, they are relatable, and they are easy to follow. She shares stories, clips, vacations, and many other things with her husband and their kids, and she allowed the world into her life to see her live it each day. What makes her so likable? We can only assume that her videos are so well-liked because she has a great personality and she was so likable. To amass that many fans on the internet is no easy feat, and this only goes to show that she is someone who people enjoyed spending time with and getting to know.
Her Death
We know next to nothing about what happened to the TikTok star, but we do know that her death was not something anyone saw coming. She was not, from all we gather, ill or sick and aware that her life was being cut short. Her mother-in-law posted that her death was sudden, and no one seemed to know that this was happening. What is clear, however, is that she is very much loved by her family and her friends, and that she is someone the world will miss. The internet has been going crazy since her death was confirmed on September 29, 2021. It seems that so many people want to know what happened, and there are many speculating over what might have caused the young internet celebrity's death. Some wonder if she was involved in a car accident, if she was sick, or if something else happened entirely. While we don't yet know what caused her death, it is not the world's place to speculate or guess. Her family likely knows how she died and what happened to her, and it is up to them to decide to share with the world or to keep the cause of her death to themselves. What we do know is that her family is entitled to their privacy, and her four young kids and husband very much do not need the internet wondering if she took her own life or if she was struggling in some capacity. Our hearts and prayers go out to her husband, their children, and the friends, family, and fans she left behind.