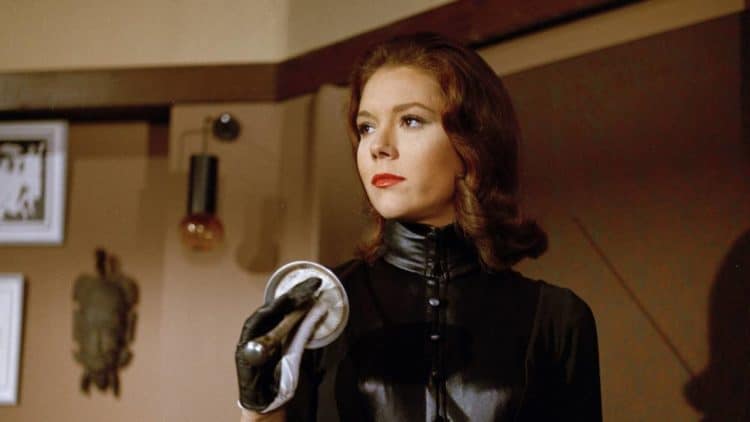 There are two very big roles that a lot of people are likely going to remember Dame Diana Rigg for, though many that followed her career will likely be able to trace her career back a little further and point out more high points that the actress managed to accomplish. Her passing came recently and as many might wonder, we have to guess whether 2020 is going to keep taking and taking without giving as much back, but that's kind of a childish reaction to a rough year and the loss of many talented individuals, and not really worthy of any of us. Instead, it's important to remember these individuals for who they were and what they contributed to show business over the years, and how many of them led the way by the examples they set and the performances that many have taken inspiration from. Rigg might not have always been one of those that was bound to turn every head as many might not have known about her until her stint on Game of Thrones, but her presence was such that it managed to command a great deal of respect even when she'd grown old and her name had become something less than it was to start with. She still holds a very special place in the hearts and minds of many fans, particularly for one of her most noticeable roles in recent years.
It doe happen in show business that even one such as Rigg can go largely unnoticed as some folks tend to take more low-key roles in TV and in movies and as a result tend to become lesser-known names that don't receive as much attention. This wasn't really the case with Rigg since she's been nominated for many awards and won several throughout her career, and her filmography is an impressive read since over the years she's been involved in several projects, from the theater to TV to movies, and she's rarely been idle. In fact, one could say that Rigg was kept pretty busy throughout her career and didn't pass up a lot of projects. She did take time off from the movies to focus on the theater and TV from time to time, but each performance she gave was well-respected and the two that are about to be mentioned are by far among her best, despite any words to the contrary from anyone. Opinions will differ obviously, but when it comes to Diana Rigg, two parts that stand out are those of Emma Peel from The Avengers (no, not the MCU) and Olenna Tyrell from Game of Thrones.
Her role as Emma Peel came when another actress was cut from the role for one reason or another, but she wasn't quite ready to be made into a sex object since if anyone can recall, Emma Peel was the type that wore very tight suits that showed every part of her body. While Rigg didn't really know what else to do about this, but she stuck around for a while before moving on. It's amusing right now to think that people in the business are coming forth with the MeToo movement and other issues since back in Rigg's day the treatment of women was far worse and yet the matter was rarely ever brought up unless it became a massive issue. It's very true that the ill-treatment of actors has been going on for some time and it's great that people are speaking up now, but unfortunately, it does appear to have been abused by a few people, which is frustrating since it can truly damage the cases of many others that have honest and serious grievances with abuse on the job. Thankfully Rigg did manage to move on and find work that was more agreeable, and as a result, she had a pretty successful career. Her casting as Lady Olenna Tyrell on GoT was absolutely perfect since she became the old woman whose tongue was just as sharp as any sword and said what she pleased most times, and was insanely devious to the end.
The fact that it was her character that killed King Joffrey was serious comeuppance since no one suspected her and no one bothered to question her until the end when she finally admitted it and went out on her own terms. That was the kind of woman that knew how to play the game, and likely would have gone on playing it for a while had the story gone any other way. Out of all the characters on GoT she was probably one of the favorites because she was a no-nonsense individual that knew how the game was played and knew when to take action versus when to sit and be still. Hollywood has lost another bright star, as Rigg passed on after a long fight with cancer. Rest in peace ma'am, you'll be missed.