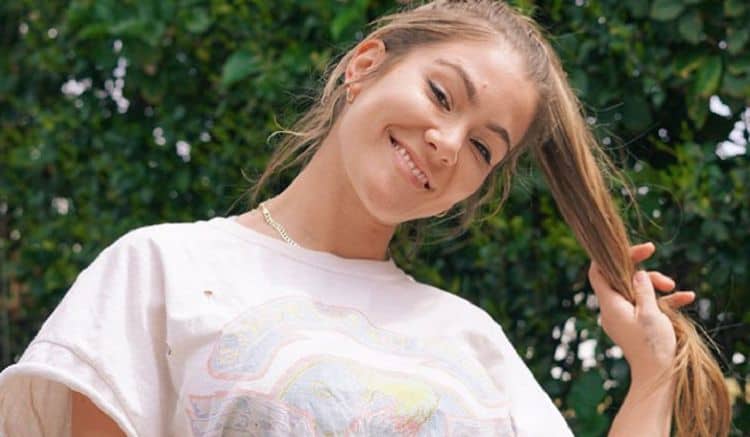 Born in New Jersey in March of 1993, Tori Deal is a popular reality star who can also sing, and she's one of those lucky few who just happened to be in the right place at the right time, and suddenly she's getting recognized everywhere. The 26 year old New Jersey girl has a brother named Nate, but other than that, not much is known about her immediate family and upbringing. She has appeared on a number of reality TV shows, is very involved in her social media, and it doesn't appear she's going anywhere but, 'up' from here. If you are a fan of MTV reality shows, you may recognize this beautiful face, but here are 10 things you didn't know about Tori Deal.
1. What was she doing before she reached fame?
Tori is part of the millennial generation, and the millennials do enjoy their pop culture. Before Deal was noticed and began her career as a TV reality star, she was working in Astoria, New York as a pop culture reporter. The job ended up paying off in a big way as it put her in the right place at the right time.
2. She was cast in reality show while working in New York
According to Celebs Couples, it was while working in Astoria, New York when she was cast in the MTV reality show, Are You the One? The show takes 16 singles and puts them together to see who ends up as a couple. There is a prize of $1 million dollars at stake for the winning couple, and being single at the time, Deal was cast in the 2016, 4th series of Are You the One?
3. Two of her cast members from, Are You the One
Many fans associate popular reality TV stars by who they were associated with in their show. When it comes to Tori Deal, many fans will likely associate her as being with the two following cast members; Kaylen Zahara and Asaf Goren. Of course, there are others that will stand out, too, if you recall which co-star she wound up dating, and another whom she was involved in a lot of drama with.
4. She's a talented singer
Deal is not only a pretty face and makes for interesting reality TV, but the girl can sing, too. Not a lot of people even knew she had a pretty voice but she can definitely belt out a tune. According to Person Bio, the talented vocalist has released a couple of singles, including, What's My Name, and F-ck Boy.
5. Appeared on The Challenge XXX Dirty 30
Another show Deal was cast for is The Challenge XXX Dirty 30 reality TV show. The show compiles a group of 30 reality stars from a variety of reality TV shows in the past and puts them together to compete against each other as individuals and as teams. There are lots of physical challenges to get through, and as of now, according to Biowiki, it is said that Deal has won 12 challenges, she has been eliminated four separate times, she's accumulated three, wins and has had one loss.
6. Likes to post songs on YouTube with her fiance
If you like watching Deal on her reality shows, you might want to check her out on YouTube, too. Deal likes to post videos of her and her fiance singing together, and the impromptu videos aren't too shabby. One of the most popular and most viewed videos she's made with her fiance, Jordan Wisely, is, The Work Song, which has been viewed over 63,460 times.
7. She's gaining followers fast on Instagram
Deal is one of the fastest trending reality stars today. If you follow her on social media, make sure one of the platforms you follow her on is Instagram. Deal has 468k followers now and her site is growing every day. She loves posting funny and sexy pictures of herself, as well as inspirational quotes and up-to-date trending fashion. At the rate her site is growing, she's sure to reach that 500k mark any time now.
8. She's listed on multiple lists
Due to Deal's instant recognition and popularity, she's been listed on many reality TV and popular celeb lists, including, "People born on 7-March-93", the Reality Star List, and Wikifamouspeople has also ranked Tori Deal among their most popular celebs list.
9. She's now off the market
Deal has had a few guys in her life, including Mike Cerasani who happened to be a co-star from her days on Are You the One? The two didn't last and she was moving on. In 2018, Deal hooked up with Jordan Wiseley and have been together since. Wiseley is a fellow cast member of The Challenge: War of the Worlds 2, and it was during one of the episodes that Wiseley decided to take the opportunity to propose. The spur of the moment proposal wasn't even discussed with the production crew in order to be sure the surprise wouldn't be spoiled. However, in the end, it was, just not in the way you may have imagined.
10. Her proposal was soured by cast member
Fellow cast member Cara Maria Sorbello was not one to hold back her feelings on the proposal between Jordan Wiseley and Tori Deal. Sorbello caused a scene during the event and made it very clear she wasn't happy with the two choosing the time of the show to share their happy event. She was voiced her feelings by giving the couple a 'double finger salute,' claiming they were going to be the cause of them losing challenges, feeling that the 'lovebirds' would no longer have their heart in the game. Although the reaction by Sorbello was upsetting to Deal, Deal didn't let it spoil her moment, but it's pretty clear that the spitfire, redhead Sorbello will not be attending the wedding, which the couple plans to have in the fall of 2020.