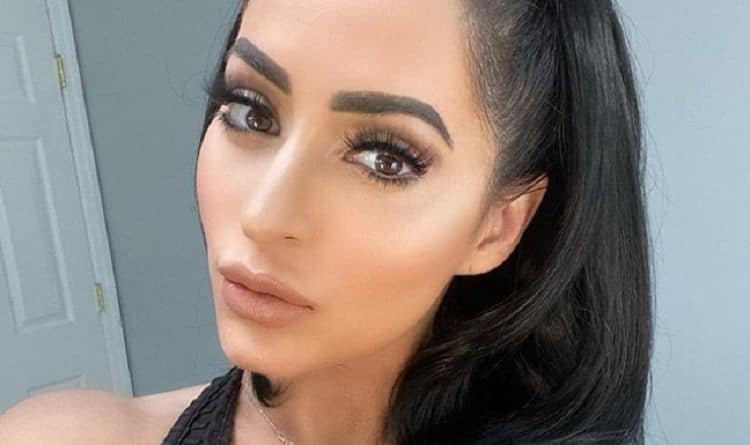 33-year-old Angelina Pivarnick came to fame as one of the central personalities on the MTV reality TV show, Jersey Shore. Since then, she's made several appearances on other shows, including VH1's Couple Therapy, the dating series Excused, and MTV's How Far is Tattoo Far?. Most recently, she's returned to her roots on Jersey Shore Family Vacation, treating fans to some of the series most dramatic moments to date. Find out more about the reality TV show starlet with these 10 fast facts.
1. She's been kicked off Jersey Shore twice
Pivarnick's first appearance on Jersey Shore came during its first season in 2009. Despite making a big impact from the get-go, she got booted from the Share House in the third episode after failing to show up on time for her shift at the T-shirt shop, and for giving her boss Danny a lot less respect than he so clearly felt he deserved. A year later, she re-appeared in season 2 but was again shown the door after getting a little too confrontational for comfort with fellow stars, Michael Sorrentino and Snooki Polizzi.
2. She's released several singles
After her (albeit brief) appearance on Jersey Shore, Pivarnick decided to capitalize on her newfound fame by trying her luck as a singer. The result was the 2010 single "I'm Hot", which despite its title, did little to set the charts on fire. Reluctant to give up on the music biz entirely, Pivarnick tried again in 2011, releasing the club banger "Gotta Get Out" featuring Tony Hanson. This time around, she fared slightly better, debuting at number 37 on the Billboard Dance/Club Play Songs list.
3. She's been in a music video
Apparently not content with restricting her musical activities to her own creative output, Pivarnick has occasionally got mixed up in other peoples. In 2011, she successfully auditioned for a part in Philly band Dacav5's music video to the track Dirty Style, appearing with rappers B-Roc, Mikey P, Kristyn and Michael Carte alongside the usual crew of models, extras and hanger ons.
4. She did a 180 on gay marriage
If reality TV stars get any PR training at all before being unleashed onto an unsuspecting world, it's clearly not doing the job. In 2012, Pivarnick caused controversy after making some pretty inflammatory comments during a debate on gay marriage with pop star Adam Barta. After her controversial attitude to same-sex marriage became public knowledge, Pivarnick found herself at the center of a PR disaster. Despite being unrepentant at the time, she was later forced to issue a public apology on TMZ after fellow Jersey Shore star JWoww called her out on Twitter.
5. She's got some great one-liners
If Pivarnick's opinion on gay marriage wasn't enough to show why she's regularly voted one of Jersey Shore's least popular cast members, maybe some of her other witterings will. The Jersey Shore Fandom site has a nice little compilation for anyone interested… although with such zingers as "If a girl's a slut, she should be abused', "I feel like this job is beneath me, I'm a bartender. I do, like, great things', and "Yo, I will cut your hair while you're sleeping', you might want to save your sanity and find something else to do instead.
6. She has unfinished business with Vinny Guadagnino
It may be several years since Pivarnick and Jersey Shore cast member Vinny Guadagnino hooked up, but their frequent on-screen spats during the filming of Jersey Shore: Family Vacation has led some to speculate that there's some unfinished business between the two… which probably isn't helped by jokers such as Ronnie Ortiz-Magro saying they have "one more hate bang to get out". You'd have thought the ongoing tension, sexual or otherwise, between the pair would be tough on Pivarnick's fiancé, Chris Larangeira, but according to Pivarnick, he's not losing any sleep over it. "I think Vinny likes Chris a lot," she told Hollywood Life "So I don't think that he's really mad about anything."
7. Her personal life isn't a bed of roses
Larangeira might not be too concerned about his wife-to-be's relationship with Guadagnino, but that's not to say their relationship is trouble-free. Pivarnick has recently admitted the pair are currently undergoing couple's therapy in advance of their wedding this fall. It's not the first time Pivarnick has sought professional help for relationship woes. In 2011, she and her then-boyfriend Chris Nirschel appeared in the first episode of season one of the VH1 reality TV show, Couple's Therapy. While the therapy clearly didn't pay off back then, here's hoping for more success the 2nd time round.
8. She's got some wild tattoos
In 2018, Pivarnick and Larangeira appeared on the premiere of MTV's new reality TV show, How Far is Tattoo Far. The show gives partners, friends and family members the chance to design a tattoo for each other, the catch being that neither party gets to see the design until it's too late to back out. In Pivarnick and Larangeira's case, one got a reminder of her two failed previous engagements with a tattoo of a ring captioned with "3rd Time's A Charm," while the other got a menstruating hamster.
9. She lost 20 lbs with a Keto inspired diet
In June this year, Pivarnick showed off the results of her 20 lb weightless, a feat she achieved by following a "half keto' diet. Pivarnick followed the nutritional advice of Vinny Guadagnino (who himself lost 50 lbs on the diet), but claims she still allows herself the occasional treat, and usually gives herself one cheat day per week where she can eat anything she likes.
10. She's gone under the knife
Diet and exercise may be all well and good, but when it comes to a complete transformation, nothing does the job quite like a bit of elective surgery. Over the years, Pivarnick's appearance has changed dramatically thanks to a breast augmentation and lift that set her back a reported $15,000.
Tell us what's wrong with this post? How could we improve it? :)
Let us improve this post!