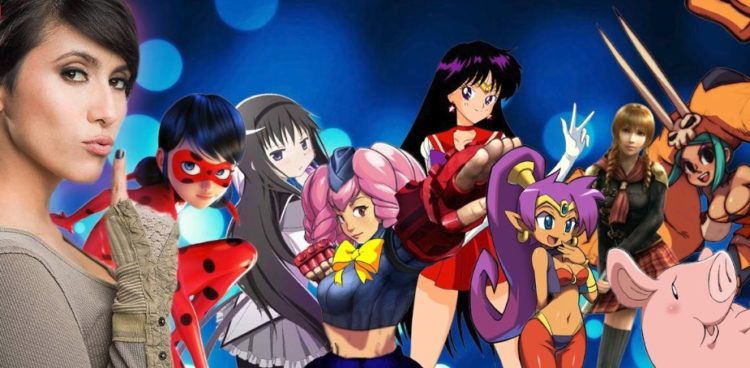 It's usually amazing to see how busy a voice actor is on a normal basis and looking at Cristina Vee's list of accomplishments it's very easy to appreciate just how valuable her time is when it comes to her work. According to Vee she comes from a family of artists that never really saw their talent as marketable and didn't pursue it all that much. But when she was still a kid she was inspired by the cartoon Sailor Moon and decided at first that she wanted to be an animator, but later on changed her mind, thinking she would rather be a voice actor. Honestly it doesn't seem like a lot of people really plan to become a voice actor, as a few of them seem to just fall into it and then go from there. Some stick with it for years while others tend to go back and forth between voice acting and live acting. Some live actors get talked into doing voice role and are then given the distinction of being voice actors as well without the distinction of having done much of it in their career. People like Cristina however have made this their living and are quite proud of everything they've done, and with good cause.
This kind of acting doesn't always get the most attention since the appearance of the animated flicks and shows are what people care about the most and the voices are kind of a byproduct sometimes. People want to focus on what they see and so long as what they hear syncs up with it then things are okay. That's the important of a voice actor though, they need to have the right voice in order to really make it work. If you heard a different voice for a character that you were expecting to sound a different you might, as a fan, be kind of disappointed. But given that most actors are fitted with their characters in a way that makes it mesh you get the idea that those behind the scenes usually know what they're doing. Looking at Cristina's list of credits it would appear that she's been selected time and time again for the right role and has performed beautifully since she's still to this day picking up roles as she goes along.
To be honest it's not really enough to just say that they're good at what they do. While they're not stepping in front of the camera voice actors are still making sure that the people watching the shows and films they're working on are going to be pleased and even impressed by what they can do. Some voice actors get to use their regular voices, and Vee is no different since she uses her normal voice for a couple of characters. But finding the right pitch, tone, and quality of voice for each character sounds more challenging than the average acting role since voice actors have to modify their voices so frequently that one might think that they would just have a set of voices they enjoyed using that could be adhered to so that they put less stress on their vocal cords. Let's face it, a voice actors voice is important to them in the same way a pro athlete's body is to their success in their given sport. If they're not taking care of their most important asset then their careers both go south in a big hurry.
Cristina does have another role however as she's been the voice director for a few projects as well as an actor. So she does have something to fall back on if her voice ever gave out, which hopefully it won't. That's called covering your bases and aspiring to something slightly greater as well since the director has far more responsibilities as well as much more pull about what goes into a project. Impressive would be a good word to use when describing her career at this point considering that she's not only an actress and a director, but the fact that she's come so far from the time she started until now. Considering that she wanted to be animator to start with, becoming a voice actor and a director is a huge leap and something that she should be extremely proud of.
There's no telling what the future is going to bring for Vee but if she continues along this course it would appear that she's set to be very comfortable since anime and animation are still big moneymakers and are capable of keeping her career steady or helping to elevate her to a new level she hasn't seen yet. Time will tell, but there's a kind of positive aura that seems to surround her and make it feel as though she may very well be doing just fine in the years to come.