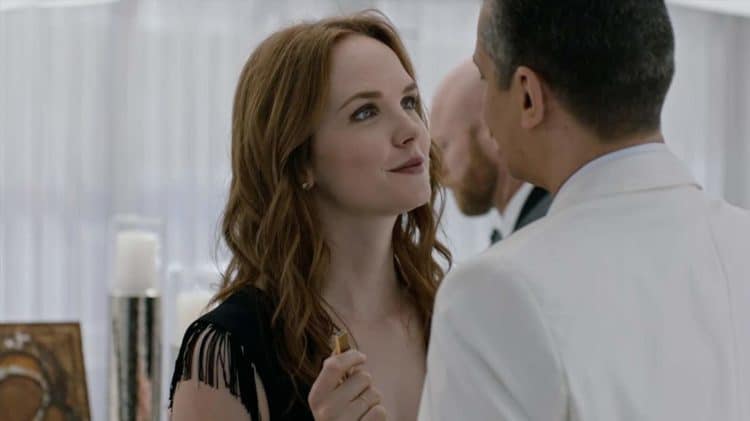 Morgan Cohan is a Canadian actress who began her career in 2014. She is probably best known for her role as Lillian Walsh which she first played in 2018 in 'When Calls the Heart- The Greatest Christmas Blessing' She then reprised the role for the television series 'When Hope Calls' in 2019.She is also known for playing Evie Beaumont in 'Ransom' and the lead role of Jade Williams in the Canadian fantasy horror film 'Jade's Asylum'. Despite working in the entertainment industry for the last five years, there are still many things that people do not know about her. Here are 10 interesting facts about Morgan Kohan.
1. She is From British Columbia in Canada
Morgan Kohan was born and raised in an area called Okanagan Valley in British Columbia, where she lived with her parents and her younger sister. She lived there until she began training for her career when she moved to Toronto. This is the city where she continues to live now.
2. She Trained at a Triple Threat Academy
When she was growing up, Morgan Kohan's main passion was dancing. She took dancing lessons and dreamed of one day becoming a professional dancer. However, she decided to diversify to increase her chances of becoming a success in the entertainment industry and attended a triple threat academy called the Randolph College for the Performing Arts to study dance, acting, and singing. She also took classes in the history of theater, voice and text training, scene studies, and many other performance skills.
3. Morgan Kohan Still Takes Acting Classes
Despite being a professional actress that is becoming increasingly in demand, Morgan Kohan has continued to take acting classes to improve her performance skills. She thinks it is important not to become lazy and that there is always the opportunity to grow and improve. Many of the acting classes she takes are in New York.
4. Kohan's First TV Series Was Murdoch Mysteries
Like most actresses, Morgan Kohan started her acting career working in commercials, says My Devotional Thoughts. Her first professional job in a television series was 'Murdoch Mysteries'. She lost her voice just before filming for the series, so her voice sounds really croaky in the episodes in which she appears.
5. She Loves Wearing Period Costumes
One of Kohan's favorite parts of working in period dramas is the costumes. She has loved her wardrobe when she is in this type of production, and she has said it helps to bring out her character. However, she has said that working in period dramas also poses some challenges, such as moving and speaking in keeping with the period while also making the performance engaging to a modern audience.
6. She Wants to Work with Saoirse Ronan
In an interview with Moments with Mercy she has said that the person she would like to work with the most is actress Saoirse Ronan, as she is an actor she respects. Kohan has described Ronan as being an incredibly talented actor that can add depth to her characters and subtlety to her performances.
7. Her Favorite Christmas Tradition is Chopping Down the Tree
Kohan has said that chopping down a Christmas tree is her favorite family tradition. It is a family affair and they turn the day into an event to make the most of the occasion. They start the day by heading out to find a tree. Kohan has described the one they usually choose as being more like a Charlie Brown tree than the spectacular specimens that other families choose. After cutting down their tree, they will go tobogganing if there is a hill in the vicinity. The family also build a campfire to sit around while they enjoy eating hot dogs and drinking hot chocolate. Not only is this her favorite Christmas tradition, but it is also one of her favorite days of the year.
8. Kohan Tries to Relate to Her Characters
Throughout her career, Rohan has played a diverse range of characters in many different genres of films and television series. This has required her to adapt her approach for each job. She has said that she reads the script repeatedly to prepare herself for a role. She also tried to find aspects of her character that she can relate to so that she can do the character justice. This might be aspects of the character's personality or the experiences the character has been through. Once she has found a relatable element, she finds playing the role much easier.
9. She Wants to Travel More
Kohan has said that she has had some fantastic opportunities to travel during her career. For example, one of her films was shot in Costa Rica. However, she would love to travel to many more places if she gets the opportunity and to see as much of the world as possible. She has made traveling one of her personal goals for the future.
10. She Has Two Upcoming Films
Morgan Kohan's career is continuing to progress, and she already has future projects in the pipeline. Both of which are films that are currently in post-production. She is playing Rose Prescott in an upcoming Canadian comedy film called 'Kitty Mammas'. This is based on a story written by Dennis Alexander Nicholson, who is also the director of the film. The screenplay was written by Katrina Nicholson. She is also playing Marissa in the upcoming film 'The Marijuana Conspiracy.' This is directed by Craig Pryce, who also co-wrote the film with Diana Zlomislic. The story is set in 1972 and is based on the true story of a woman who goes into voluntary captivity to take part in an experiment on the effects of marijuana on females. It also stars Tymika Tafari, Julia Sarah Stone, and Brittany Bristow.
Tell us what's wrong with this post? How could we improve it? :)
Let us improve this post!