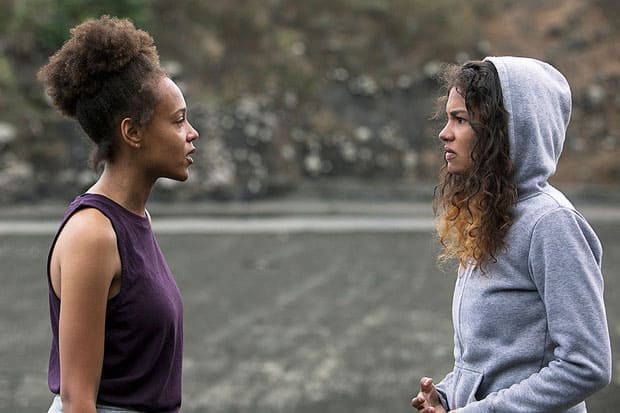 Reign Edwards is young, talented, and on the rise. After making her TV debut in 2009, she has continued to earn on screen opportunities. She has appeared in a variety of popular shows including Snowfall and The Bold and the Beautiful. Her most recent role, however, has already prove to be her big break. Reign plays Rachel Reid in the new Amazon Prime series, The Wilds. The show is already getting lots of attention and many people are praising Reign for her performance. She also has a role in the film Love You Anyway which is set to be released in 2021. Continue reading to learn 10 things you didn't know about Reign Edwards.
1. She Is A Maryland Native
Reign was born and raised in Maryland. There isn't any information out there about her upbringing, but there's a very good chance that her interest in acting developed there. These days, however, Reign is living in the Los Angeles area so she can have easier access to opportunities.
2. She Is A Musician
Acting is what Reign is best known for at this point in her career, but that may not always be the case. She is also a talented musician who enjoys singing and writing songs. As far as we can tell, she hasn't released any music of her own yet, but that will likely come in the future. Hopefully, one day she'll get the chance to combine her love of singing with her love for acting.
3. She Is An Emmy Nominee
Despite still being very early on in her career, Reign is already being recognized for her tremendous talent. During her time as a cast member on The Bold and the Beautiful she received three Daytime Emmy Award nominations for Outstanding Younger Actress in a Drama Series.
4. She Loves Fashion
The fashion world and the entertainment industry have always gone hand in hand. Celebrities have been known to create and/or promote fashion trends, and they usually make it a point to look their best in front of the camera. As a true creative person, fashion is another one of the many ways Reign likes to express herself. She enjoys putting outfits together and she has a great sense of style.
5. Her Faith Is Important To Her
Everybody needs something in their life that provides them with guidance and support and for Reign, that thing is her faith in God. Although she hasn't gone into detail about her specific beliefs, her Instagram bio says that she is a "Daughter of God". During an interview with Refinery 29 she also shared that her Bible is one of the things she can't live without.
6. She Loves Interacting With Fans
Reign's talent is what has helped her build a fan base, but its the work she does when the cameras aren't rolling that have helped her build and maintain relationships with those fans. She loves using social media as a way to connect with fans. It's very common to see her responding to questions and comments on Twitter.
7. She Was A Child Model
Reign has been a natural in front of the camera for as long as she can remember. In fact, she began her career as a model. She told Refinery 29, " I booked a photoshoot off of a headshot when I was three years old. I covered my eyes the entire time because I thought the photographer looked scary."
8. She Dreamed Of Becoming A Basketball Player
At this point in her life, there's nothing else Reign could see herself doing besides acting and making music. That wasn't always the case, however. When she was younger she had dreams of becoming a professional basketball player, but unfortunately she realized that she didn't have the height.
9. She Has A YouTube Channel
Online content has proven to be a beneficial tool for anyone who is trying to get their name out there. In addition to activity on Facebook and Instagram, she also started a YouTube channel. She only has one video at the moment, but her fans are looking forward to seeing (and hearing). more from her.
10. She Is A Private Person
Most of us are used to celebrities sharing all kinds of details about their personal life, but Reign doesn't appear to have any interest in going down that path. Instead, she prefers to be a bit more private. She doesn't do many interviews and when she does she likes to keep the focus on her work. Her social media activity also doesn't reveal much about her personal life.