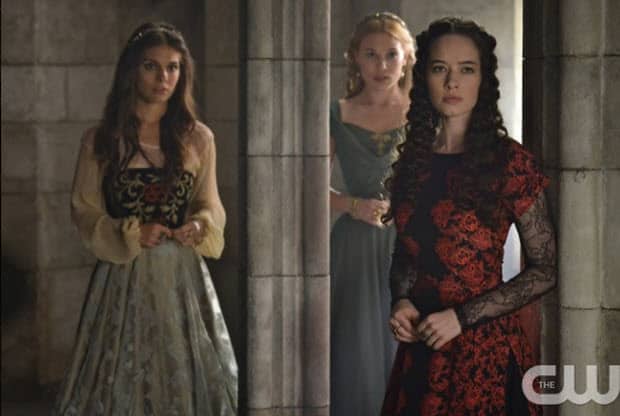 This episode of Reign begins the way I want all episodes to begin, with Bash leaping and vaulting through the castle like he just escaped the Matrix. In reality, he's practicing his sword fighting with his new body guard, Alec, who foreshadows the politics of the castle "learn to expect the blade you cannot see." In terms of sword fighting mentors, he's no Syrio Forel but he'll make do. Mary grabs Bash and reminds him that he's the King Regent and needs to practice being kingly in front of the court so that they'll accept him. This introduces the theme of choice and sacrifice. Bash has been raised as a bastard, with the expectation that he'll never get to rule. Bash has accepted that fate and seems to enjoy the freedom associated with being famous and rich but not having to actually do anything about it. He's the antithesis of Francis whose head of golden locks was groomed since birth to hold the crown. Oh, what are these French royals to do?
Bash spends him time sitting on the French throne, yawning like a Stark child at the petty grievances of the towns people. That is until a homely pregnant girl named Isabel arrives and is accused of robbery. Bash's cold blue eyes flash with recognition and the audience starts thinking "uh oh" this has got to be a mistress of Bash. And while we're on the subject, wasn't Bash supposed to be a lothario in the first few episodes? So far Reign has only shown evidence that Francis is stashing women all over France. But of course, this isn't Bash's lover, it's his cousin with ties to a pagan traitor uncle. And since this paganism plot has been dangled around the series like ornamental Christmas lights, it was nice to see that this is finally heading somewhere in this episode.
The next subject that Bash encounters tries to take his life through a failed stabbing attempt, sounding the alarm bells that something is rotten in the state of Denmark. Mary quickly deduces that Queen Catherine may be up to her old assassination plot tricks and finally starts behaving like Mary Queen of Scots. She storms into Catherine's prison where she discovers her tapestries and fine foods and demands that everything is stripped down and taken. Catherine, inconsolable cries out "WAIT, NOT MY EYE CREAM." Side note: never take a woman's eye cream away.
So Mary sends her handmaidens in to yell at Catherine, giving Catherine the perfect opportunity to dress everyone down. Catherine reminds Kenna that she's useless "I guess you're a bit starved for entertainment Kenna, now that the kings rejected you." Everyone's feeling a bit sad about this until Lola steps up to the plate and figures the best way to frame Catherine is to have Greer forge her signature. Lola, we've finally found your skill!
But just when you thought Mary was a political liability, she finds a solution for the pregnant Isabel problem by suggesting Bash take Isabel through the castle passageways and help her run away. Good thing Mary had all that practice helping almost everyone escape through the tunnel in her bedroom. Mary decides to join Bash in the escape plot for good measure. On Reign, the couple that mischievously plots together.
So Mary and Bash caulk the river and float to safety with Alec and Isabel. Isabel is disguised as a true lady, using what appears to be the Scarlet O'Hara trick of sewing a fancy curtain together to make a dress. They take a pit stop in the middle of the woods for shelter and are interrupted in the night by pagan Dothraki horselords swarming the tent and chanting. And while blood spatters on the tent and animals cry Mary gets to witness Bash doing what he does best, reciting a pagan chant and holding a dead look in his eyes. Mary Queen of Kilts, you're not in Kansas anymore.
Also at some point Isabel conveniently pops out a baby which she gives to Bash and dies. But not before begging Bash to take care of her child, instantly giving the audience an image of Bash holding a new born baby shirtless (or is that just me). Mary also shows her ignorance when she has a complete and total melt down over Bash's paganism because in case we're all forgetting, she's straight up Catholic. Bash launches into a speech about religious tolerance because Bash has been reading up on his Dalai Llama. Bash forces Mary to consider that her stubbornness on this issue is something she needs to work on. She's befuddled. She was raised by nuns.
This makes Mary feel bad and she later finds Bash standing over Isabel's grave and lets him know that she was cruel. Then they passionately kiss. Thank you Reign, for finally answering my prayers.
Bulleted observations:
-Francis doesn't make an appearance in this episode and I'm not quite sure if he's missed.
-But seriously people, Bash holding a newborn baby shirtless? Who is against this concept?
-Mary and Bash cut their hands and then use those hands to hold each other's faces while they make out. Yay?
-If one has an affinity for Bash, is that person called a Bashionista?
-Nostradamus is still somewhere in the castle, being stabbed.
-When Mary said "you lied to me, you hid this horrible shame" to Bash, did she momentarily forget that she's not quite a virgin anymore?
-Never bring a bouquet of flowers to a Pagan funeral.
[Photo via Sven Frenzel/The CW — © 2014 The CW Network, LLC. All Rights Reserved.]