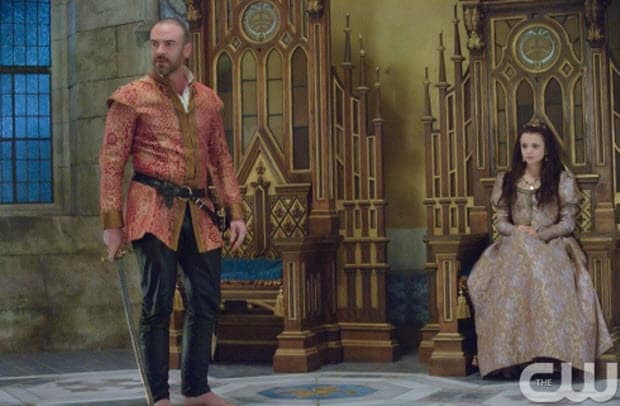 If you ever wondered how a show could straddle the line between teen drama and supernatural thriller with a bit of history dashed in for intrigue, this is your solution. When I try to describe Reign to people I usually get a little bit tongue tied because there is no direct competitor. Sure, it's a CW show which means an easily downloadable sound track and a costume design that will bankrupt any girl with a credit card but it's also dangerously racy on par with a fully clothed Skinamax. My roommate walked into our apartment while I was watching "The Darkness" and asked rhetorically "wasn't this the network that aired The Gilmore Girls?" She happened to step into the middle of the scene where Henry was trying to seduce and choke Kenna. CW has embraced their dark side and tonight's episode is proof of that.
The episode centers on the concept of First Light, where a suitor gives a woman a candle and asks her to light it and put in her window to signify that she accepts his advances. This gives the women of court the illusion of choice when it comes to their future. At the top of the heap is Mary Queen of Scots who has more political power than the rest of the women of that era but still felt pressure from her family and the Catholic church to marry Francis. Sure, she fell in love with Francis but how much free will did she really have when she had the weight of her country and the expectations of her family lineage on her shoulder? Now she receives the not so subtle hints from everyone she encounters that her only job in life is to churn out a baby. So much for the benefits of royalty.
Next we have Lola, who had a night of passion with the Dauphine and ended up with child. She feels her only solution is to marry quickly and to pass the child off as her new husband's. I'm not sure how this WON'T backfire because I'm thinking that even back then men could do math. She's in the tough position of either having to live with a lie or coming clean to Francis and becoming his property. Francis, who by the way still cares about Lola, would be able to provide for her and their new child but how much control would she even have over raising his bastard? It's sad that for many eras women's only card of power was their virtue, which once played meant subservience to a man for the rest of her life.
We see Greer's sad predicament as well as she engineers an apprenticeship for her beau Leith who does not have the wealth and pedigree that matches her family's expectations. She gets courted by Lord Castleroy and is notified by her parents that they're arranging her marriage. It's no wonder that Jane Austen reaches such universal popularity with women, banking on the idea that true love will conquer the confines of society. Will Greer meet her Mr. Darcy in the carriage? Only time will tell.
Kenna survives (barely) as the lowest member of the troupe, forced to perform for King Henry while he keeps baiting her with a future rich husband. She has reason to be concerned about his new behavior, when she wakes up next to a corpse that Henry can't seem bothered to care about. She had instructed Lola in the last episode that the way to security is through becoming the mistress of a Royal. I'm not sure if she finds that to be so secure now.
And on the note of tragedy and redemption, Olivia is nursed back to health by Nostradamus who correctly points out that one is not marked with evil unless one accepts that fact. No matter how many times a man or woman is brutalized or mistreated; it is the believing that one deserves it that kills the spirit. Olivia believes she is being punished karmically for not helping the Royal crew escape in the hidden hallways. Even though that was an undeniably selfish move, did anyone think the proper retribution was having someone feed off of her blood? I'm happy to see Nostradamus step in to help her heal mentally and physically because somehow this abuse of women has to stop.
That isn't to suggest that the men of Reign get a pass on the misfortunes of life. Bash, fresh off of a rejection from Mary, swings his vine to the huntress Rowan. Her family has been 'marked' by whatever creature is roaming in the woods. Since Bash has lost control of his own life he goes full throttle on saving hers. Bash, perhaps too blinded by missing Mary, forgot to take a pulse on his new paramour Rowan who is not as invested in saving his life as he is in hers. Her family poisons him while they're waiting for the monster to arrive and he ends up literally hog tied. Bash repeatedly ends up bound by ropes this season, if not by his own father than by the very people he tried to save. It appears that even if you are fortunate to have a father who is the King, you free will is limited to the slack in the rope of those who chain you.
Lastly, the only person who seems to have complete power over their own life is King Henry. He's suddenly realized that he's been making compromises and has been influenced by Mary and Catherine. After he successfully killed the Duchess without getting caught and now a lady of the night, he's growing drunk on the idea that he has been chosen by God to rule France. Henry closes the episode talking about how he contemplates the cross and that each woman of France will learn one way or another who is the King and who is not.
Bulleted Observations
– Saddest line goes to Lola: "I don't want to become a future king's property just because I made a mistake."
– Greer was killing it this episode with a dress that I wore to prom and a head band.
– Tony Regbo strikes such a sincere note playing Francis that it's refreshing.
– The whole internet is aflutter with their love of Catherine. She wasn't my favorite character but now that she's battling Henry's evil side I'm warming up to her.
– There was a brief mention of Clarissa in this episode and don't think for one moment that she won't be back terrorizing court.
– It's a long shot but what if "The Darkness" is really a camouflaged King Henry?
– Who is in the carriage for Greer? Any guesses?
[Photo via Photo: Ben Mark Holzberg/The CW — © 2014 The CW Network, LLC. All rights reserved.]