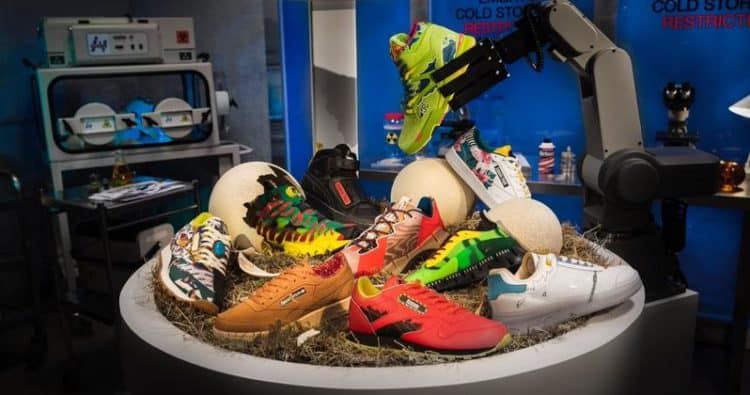 Is there such a thing as taking nostalgia too far? That doesn't appear to be the thought that Reebok had since it's releasing new footwear and apparel ahead of Jurassic World: Dominion's release, bringing out the old school Jurassic Park designs, and coming up with a commercial that's, well, kind of fun for those who want to get into it. Perhaps it's a desire to step back from this story for a while simply because it's gone beyond lunacy and the suspension of disbelief, but at this time it does feel as though Jurassic Park and Jurassic World need to come to a close and take a break. Obviously, that's not about to happen since Dominion just wrapped and people are still on the Jurassic craze as is evidenced by the footwear that Rebook is pushing. In terms of style, one can definitely say that the shoes they're bringing out are colorful and bound to be noticed, but for the price, it might be that some folks would look at them as collector's items rather than something a person would tool around in all day.
There's no doubt that there are plenty of people who would gladly give up a bill or two in order to purchase these shoes since nostalgia is a big thing right now and the Jurassic line is coming to a close eventually, or at least a hiatus. It's been said more than once that Dominion isn't the end of the Jurassic line, that there will be other movies and possibly other projects that will emerge eventually, but so far it's not certain what those will be. The plan to keep the interest of the fans isn't even entirely clear, but it's not as though people are going to up and forget Jurassic Park or World since with each movie new dinosaurs have been rolled out and the technology has continued to increase, so it's entirely likely that people will embrace the idea that there's a lot more to come.
From the standpoint of the movies though, this could lead to burnout eventually since the idea that there's more money to be made with each new movie is going to keep those in charge pushing them as much as they can in order to keep the revenue flowing. It's a smart move really since there are always fans willing to see the next dinosaur flick and also willing to buy the merchandise. People aren't hard to figure out when it comes to seeing them as consumers, as whatever is attractive, new, and in some cases based on an old concept in a new way, will often grab their attention and convince them that they need this or that. Jacking up the price is only going to deter those that don't have the funds to keep up with every new thing that's coming out, but even that isn't going to be seen as a negative since the whole idea behind marketing these items is to make money, not worry over whether people can pay the price. People will find the money if they really want something, as those in charge likely know or at least guess.
It sounds a little cold and ruthless, but the pursuit of money does operate in this manner by placing a cool label on a product and convincing people that the items they want so badly are worth it. And to those that buy the said items, it probably is since it helps fill a void in their life they didn't know existed until then. It's also possible that they just want to grab a piece of the fun that's being trotted out by those that are trying to add a little entertainment to life. In any case, those that are amused by the clip above and the look of the shoes are bound to think that it's worth their time and money, and more power to them really. Jurassic Park has been a favored part of pop culture for so long that people are bound to feel some attachment to it anytime the movie or anything from it is brought up. Those in charge know this and are obviously willing to cash in.
Trends come and trends go, and it's very possible that not too long after their release, these shoes are going to find their way to shelves or closets where they'll be left alone for a while due to the fact that they're not trendy any longer. Some folks will wear them, others will collect them, and those that don't might find themselves wondering what the next Jurassic trend is going to be once Dominion finally hits theaters. The enjoyment that's taken from a franchise such as this is bound to come in a lot of forms, and with a stiff price tag.
Tell us what's wrong with this post? How could we improve it? :)
Let us improve this post!