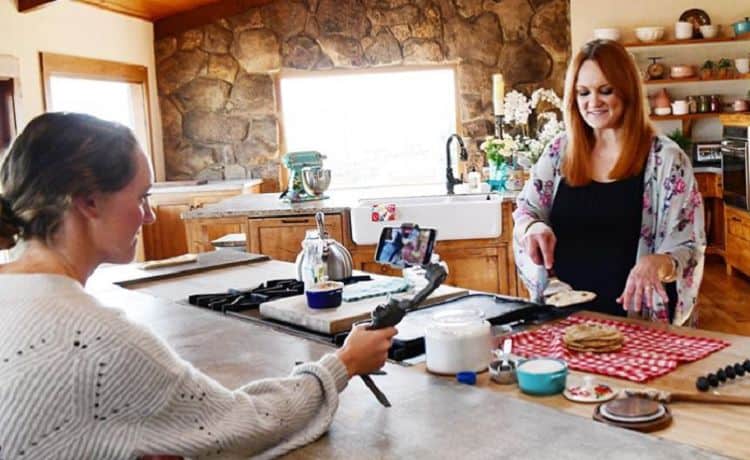 Blogger, TV star, food writer, photographer, television personality, restaurateur…. listing every single one of Ree Drummond's achievements would take an age to read, and even longer to write. Suffice to say, she's one extremely talented lady… her blog, The Pioneer Woman, is one of the most successful of all time; her cookery books are bestsellers; her TV shows are among Food Network's most popular; her cattle ranch is one of the biggest in the US…. if you're not already feeling sick with envy, read on to find out 10 more things about the amazing Ree.
1. She's an award winner
Drummond has achieved a massive amount of success over the past 2 decades, a fact's that's more than demonstrated by her clutch of awards. Her blog, The Pioneer Woman, was awarded the title of "Weblog of the Year" for three years running (2009, 2010, and 2011) at the Annual Weblogs Awards (or The Bloggies, as they're known), while she's also claimed the title of Best Kept Secret Blog in 2007, Best Food Weblog in 2008, Best Photography of a Weblog in 2009, and Best Designed Weblog in 2010.
2. She studied at the University of Southern California
Drummond was raised in Bartlesville, Oklahoma alongside her two brothers, Doug and Mike, and sister, Betsy. After graduating from Bartlesville High School in 1987, Drummond moved to Los Angeles, California to study at the University of Southern California. She graduated in 1981 with a degree in gerontology. After graduating, Drummond initially planned to study for a career in law… a career plan that went up in smoke the moment she met future husband, Ladd Drummond.
3. Her nickname for her husband is the Marlboro Man
Even the most avid reader of The Pioneer Woman would be forgiven for being clueless as to the name of Drummond's husband. Despite frequently popping up in her writing, Drummond's other- half tends to be more often referred to by his moniker "Marlboro Man", than by his birth name. His real name is in fact Ladd Drummond: Ladd, a member of the renowned Osage County cattle ranching family, met his future wife fresh from graduation. The pair started dating, fell in love, and married in quick succession. After honeymooning in Australia, the couple abandoned the bright lights of the city and began their new lives as cattle ranchers.
4. She's an author
The fact she's a writer is a given, but what many don't know is that Drummond doesn't just write blogs, she writes children's books as well. Drummond first turned her hand to children's fiction in 2011. Charlie the Ranch Dog, featuring the Drummond family's Bassett Hound as the titular hero, was applauded by critics for its cross-generational appeal, with Publishers Weekly noting: "Adult readers will recognize in Charlie's voice the understated humor that has made Drummond's blog so successful; kids should find it irresistible". 2011 wasn't the last we'd see of Charlie- Drummond has since gone on to release 6 more books based on his adventures, all of which have been as well received as the first.
5. She made her TV debut on Throwdown! With Bobby Flay
Those unfamiliar with The Pioneer Woman got their first exposure to Drummond during an episode of Throwdown! With Bobby Flay. The Thanksgiving special saw Drummond challenge Flay in a contest to decide which of the two was the better cook. The judging panel (which included country star Trisha Yearwood) chose Drummond's easy- going, homely style of cooking as victorious. Drummond's natural charm managed to win over both viewers and producers alike, and just 6 months later, she was offered her own daytime cookery show on the Food Network.
6. She home-schools her sons
Drummond currently lives on a cattle ranch in Pawhuska, Oklahoma, with her husband, Ladd, and their four children, Alex, Paige, Bryce and Todd. Daughter's Alex and Paige are already at university (with the latter studying at Texas A&M University and the former at the University of Arkansas). The boys, meanwhile, are home-schooled by Drummond. Drummond explained her decision to go the home-schooling route on her blog:- "The flexibility is perfect for our ranching lifestyle, allowing the kids the opportunity to work with Marlboro Man during busy times. Another benefit, which also sometimes makes me want to pluck out my eyelashes one-by-one with needle nose pliers, is the sheer amount of time we get to spend together as a family".
7. She owns a restaurant
In 2012, Drummond and her husband purchased a century old building in downtown Pawhuska as a renovation project. Fast forward 4 years, and the premises had been completely renovated, refreshed and upgraded into the Drummond owned restaurant and retail store, The Mercantile. The new project was one- part exciting, two- parts terrifying for Drummond. "It's very exciting, and honestly a little surreal," Drummond shared with PEOPLE. "I've never actually opened the doors of a business, so it's totally new territory for me."
8. She has a Net Worth of $50 million
Who knew writing a blog could be so lucrative… not Drummond, for sure, who had little clue that in just over 10 years of starting The Pioneer Woman, she'd be riding high on a net worth of $50 million. Of course, The Pioneer Woman isn't the sole benefactor of Drummond's wealth — her multiple cookbooks, children's books, TV shows, and business ventures have all contributed to the grand total.
9. She's one of the largest landowners in the country
We knew that Drummond was rich, we knew that Drummond owned a ranch… what many of weren't aware of, however, was just how big and profitable that ranch actually is. According to CNW, the family owns a staggering 433,000 acres of land, making them the 23rd biggest landowners in the entire country. In the last 10 years, the family have received more than $24 million for leasing out areas of their land… and that's just from the government! What they earn from private individuals, the mind boggles to think.
10. From Black Heels to Tractor Wheels is set to be a movie
In 2011, Drummond released From Black Heels to Tractor Wheels with publisher William Morrow. The book, which describes Drummond's journey from city girl to cattle rancher, was compiled from a series of blog posts Drummond had started writing all the way back in 2007. In 2010, Columbia Pictures bought the rights to the title, and plans for a film are currently underway. Although specific details have never been confirmed, Hollywood actress Reece Witherspoon has been mentioned as a possible candidate for the role of Drummond.
Tell us what's wrong with this post? How could we improve it? :)
Let us improve this post!