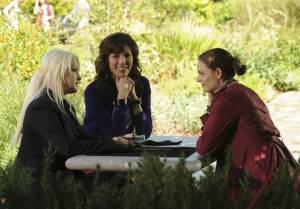 Welcome to the Bones season 5 recap. I know a lot of people weren't happy about the season 4 finale (I liked it though), but I assure you that Bones is back in top form. We open with a psychic, Avalon (played by guest star Cyndi Lauper) reading tarot cards for Brennan. Turns out this is Angela's psychic, and I think she picked up Brennan from the airport and brought her to talk to Avalon. Brennan's been in Guatemala for six weeks and she has no time for Avalon's cards – even if Avalon is accurately describing Booth, his coma and his dream about being married to Brennan.
Booth is in Sweet's office, trying to convince him that he's back to normal. Boreanaz is wearing a nice t-shirt that shows off his awesome biceps and I lament the fact that they put him in long-sleeved suits so often in this show. More t-shirts! And more scruffy facial hair. The man is working it. We also learn his middle name is Joseph. Sweets agrees to certify Booth as fit for duty and then hands him his gun and badge. Booth cocks his gun and puts it in his pocket and for some inexplicable reason it's a totally hot move.
But back to the park, where Angela is explaining Booth's recent coma and his dream to Avalon. Avalon asks if Brennan was pregnant in her book (that she read to Booth) and Brennan just gets exasperated and leaves. Avalon says that Brennan's at a critical turning point between great happiness and death (but maybe not literal death).
Brennan arrives back at the Jeffersonian and greets Cam and Hodgins, who are both happy to see her back. Brennan goes into her office and finds Booth resting on her couch. The two hug and they're very happy to see each other. Angela enters the office to say that there are some bodies buried under the Teversham fountain, at least according to Avalon. When Booth finds out that Avalon is a pyschic, he's skeptic. Angela says that Avalon said Booth and Brennan were linked and Brennan was pregnant. Obviously Booth didn't tell anyone about the baby from his dream, so when Angela tells him this he tells Brennan that they should look into the fountain situation.
At the fountain, Booth and Brennan are using ground-penetrating radar to try and find the bodies. Brennan wonders why Booth isn't wearing his crazy socks and tie and asks whether he remembers those facets of his personality. He assures her that he's just getting reacquainted with being an agent. Booth admits that Brennan was pregnant in his dream and the two of them find the human remains.
Carolyn and a whole slew of FBI agents are now at the fountain and she goes off to get a warrant so Brennan can dig and Booth goes off to question Avalon. Cut to the FBI interrogation room and….why does the room have such weird walls? Is that meant to intimidate and confuse suspects? Instead of answering his questions, Avalon decides to do a tarot reading for Booth. She assures him he didn't lose anything in the coma – but rather he gained something.
The squints and others are now underneath the fountain, trying to excavate the bodies. Hodgins is collecting soil and other particulates when Angela comes down. Angela asks if Brennan is now a believer since Avalon was right about the bodies, but Brennan's still a skpetic.
Booth and Cam are drinking at a bar. He talks to her about his dream and she quickly realizes that he's in love with Brennan. He wonders whether these feelings are real, or merely a lingering symptom of his coma dream. She warns him to be sure about his feelings, otherwise Brennan wll never trust another man again if Booth's feelings aren't real. Then there's a montage of Brennan excavating and Hodgins and Angela working at the Jeffersonian with a Cyndi Lauper song playing in the background. This show loves montages. Booth puts on his funny socks and then looks through articles about himself and Brennan while Brennan finds a disc in the grave.
Booth goes to join Brennan in the grave in the early morning. She gives him the disc and he decides to leave instead of talking to her about his feelings.
At the FBI, Carolyn tells Booth and Sweets that she doesn't believe in psychics and wonders if Avalon is involved in the murder. Sweets quickly reveals that Avalon helped him find his father's lost watch and now he's a believer. Hodgins calls in on a video call and says he found material in the grave from suits worn by people on submarines.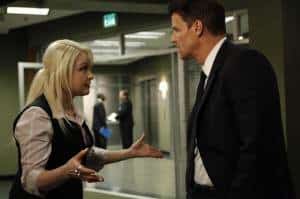 Booth heads to the Jeffersonian to talk to Brennan about one of the skulls. Only one of the found skulls has any physical damage – a hole in the head. But it's not a bullet hole. Angela shows them a photo from the disc. One of the photos shows a license plate of a van, along with the name of the rental agency. She also shows them a facial reconstruction of the first fountain skull and it looks just like Avalon.
Booth and Brennan are now questioning Avalon in the interrogation room and show her the photo of her face. But it's not her face, its her sister's.
Brennan and Angela are getting coffee in the diner, discussing Avalon's abilities and her sister. As they leave Booth runs up and tells Angela she's going to have to work late tonight on gathering information about a cult called 'Harbingers of a New Day', which is the cult that leased the van. Booth then apologizes for being curt to her and she kisses his forehead. Brennan jokingly asks if Booth wants her to kiss his forehead too and he replies 'sure'with a smile. She just laughs and leaves. Damn you, Brennan! He looked so cute and hopeful.
Back at the office, Angela is show Hodgins and Cam and video from the disc of Tom Fargood. He was selling shares in an underground living space. You can also see Avalon and her sister in the video.
Back at the FBI Avalon tells Booth, Brennan, Sweets and Caroline about how Fargood bilked her and her sister out of their parents'insurance money. She also says that her sister suffered from multiple-chemical sensitivity (MCS), which is why she joined the cult. Avalon, meanwhile, got kicked out when she went to see an outside doctor for her headaches.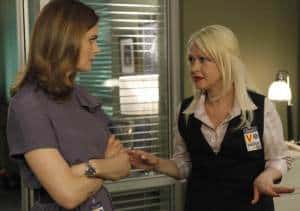 Cut to a free family clinic, where Booth and Brennan have gone to visit Dr. Leecock to discuss Fargood. Leecock reveals that Fargood wanted him to be the doctor in his underwater city, but he declined. Apparently all of the cult members suffered from MCS. Leecock says he'll give up the medical records of the members if Booth can get a warrant.
Booth finds Sweets in his office, who's there to talk to Booth about him being in love with Brennan. Sweets shows Booth cans of his brain, showing that prior to his coma he wasn't in love (because those parts of his brain weren't lighting up). Now those parts are lit up, but Sweets believes that those feelings will fade in time, just like all of Booth's other symptions. He also warns Booth not to admit his feeligns to Brennan unless they're real, because she's actually a sensitive person who wouldn't survive that kind of rejection.
At the lab, Angela and Cam are discussing the skull with the hole and Angela thinks the man died from a spear-gun shot (gross). Hodgins come by to reveal that the other victims died from anti-freeze poisoning (which would also look like MCS).
Meanwhile, Booth is talking with Avalon on the street across from the diner. Booth still questions Avalon's abilities, but wants to talk to her about the brain scans. She dismisses the scans and tells him to focus on his heart instead. She wants to do another reading for him and then tells Booth to 'go to her now'and he realizes that Brennan is in trouble. When he leaves Avalon gets into a cab and leaves.
Cut to the clinic, where Brennan has gone to talk to Leecock. She goes into his office and finds that he's shredding the medical files of the cult members. He enters the office and attacks her with a scalpel. She fights back and the two run into the reception area. He attacks again and stabs in the arm with the scalpel. Booth breaks down the door and shoots Leecock dead. He goes to help Brennan, who's bleeding all over the floor. She pulls out the scalpel and he gets all comforting, murmuring 'I've got you baby'and kissing her head. For some ridiculous reason, he reminds me more of Angel right now than Booth. Am I the only one? Brennan just sits there on the ground, curling into him.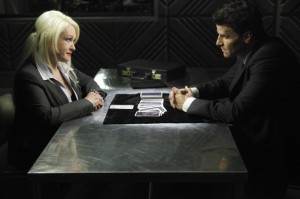 Carolyn joins Booth in his office, where he tells her that Brennan is fine. He beats himself up about not being there for her, but Carolyn says he did good in killing Leecock. She thinks the case is closed, but Booth thinks that Fargood is still alive and the doctor was just working for him. Carolyn thinks this means Avalon is still a suspect.
Brennan goes to Avalon's apartment and she does another reading for her. Avalon tells Brennan that she was an abandoned child and she's deeply rational to cover up her hurt feelings. She also tells Brennan 'he knows the truth of you, and he's dazzled by that truth'.
Angela's doing research with Sweets, trying to find Fargood and her research yields results. Now Brennan and Booth are questioning a man named Gallow, who they believe is Fargood. Brennan's wearing a short-sleeved shirt and no bandage on her previously stabbed arm. This is DRIVING ME CRAZY! Hello, continuity error! Gallow denies having changed his identity and Booth and Brennan go to consult with Carolyn. Brennan believes Gallow is Fargood and Carolyn tells Booth to arrest him to buy some time.
Booth's debriefing an FBI team, telling them to try and find the stolen van and speargun. Breenan comes by with Avalon's cult certificate. Apparently Fargood put the little sticks on it himself, so now Booth wants to get Gallow's DNA to compare to the stickers. Booth and Brennan bring Avalon to the FBI office and put her in a waiting room with Gallow. Avalon attacks Gallow, stratching his neck and drawing blood and Brennan quickly bags her hang and the blood for evidence.
Back at the lab, Cam confirms to Carolyn that Gallow and Fargood are the same person, but Carolyn is still concerned that they can't pin the murders on Fargood.
On the street, Booth tells Brennan that he wants to tell her something, something inside his heart. A clown comes over and sprays Booth with water, but instead of killing him Booth just laughs. Brennan is shocked, telling him that he hates clowns. Booth takes this to mean that he's still not back to normal and tells Brennan that he loves her, but in a professional 'attagirl'kind of way. She says she loves him like that too.
Carolyn pulls up in her small car. She tells them that they can arrest Fargood for a whole slew of other crimes, including fraud and grand theft auto. Back at the FBI, Booth arrests Fargood and Brennan apologizes to Avalon that they couldn't arrest Fargood for the murder of her sister. Before she leaves, Avalon tells Booth and Brennan that her cards says this all works out eventually. Booth seems happy to hear that.
Email me at clarissa @ tvovermind.com