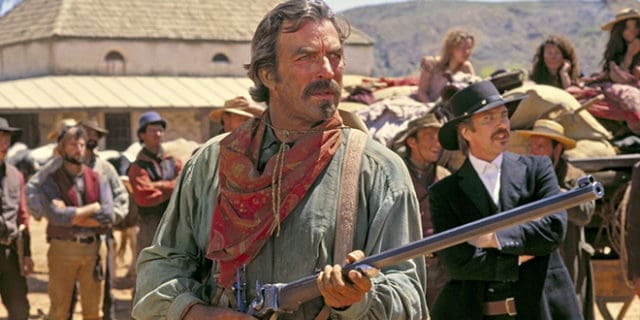 "Quigley Down Under" is a 1990 Western film that was directed by Simon Wincer and written by John Hill and directed by Simon Wincer. The film is about a rancher from Australia paying a high price to hire sharpshooter Matt Quigley, who is from Wyoming. However, when Quigley arrives in Australia, everything is not what it seems. This movie was a moderate success at the box office as it grossed just over $21 million from a budget of $18 million. Now that it is almost three decades since the release of that film, you may have wondered what happened to its cast. Here is what the cast members of 'Quigley Down Under' are up to today.
Tom Selleck
Tom Selleck played the role of Matthew Quigley in 'Quigley Down Under'. Although he has enjoyed a long and successful career in the film industry, Tom Selleck has concentrated on his television career in recent years. He is currently working on an untitled Jesse Stone television movie. Between 2011 and 2015, he had roles in three other Jesse Stone television movies. Selleck has played the role of Frank Reagan from 2010 to 2018 in 'Blue Bloods'.
Laura San Giacomo played the role of Crazy Cora in 'Quigley Down Under'. Since this film's release, she has continued to work in both film and television. Most recently, she has appeared in a variety of television series, including playing Morgan Wilson in 'Animal Kingdom', 'Marjorie Kersey in 'Grey's Anatomy', and Dr. Grace Confalone in 'NCIS'. Giacomo also had a small role in the 2015 film 'The Meddlers'. She has been married twice and has one child.
Alan Rickman
In 'Quigley Down Under', Alan Rickman played the role of Elliot Marston. Sadly, Alan Rickman died from pancreatic cancer just before his 70th birthday on January 14, 2016. The last role he played was Absolem the Caterpillar in 'Alice Through the Looking Glass', which was released posthumously in 2016. He is known for playing Professor Snape in the Harry Potter series of films and also for his roles in 'Truly, Madly, Deeply', 'Love Actually', 'Robin Hood: Prince of Thieves', and 'An Awfully Big Adventure'. He married Rita Horton in 2012, although the couple had been together since 1965. They did not have any children.
Chris Haywood
Chris Haywood played Major Ashley Pitt in 'Quigley Down Under'. As an actor, Haywood's most recent film was 'Boar' in 2017. Other films in which he has appeared in the last decade have included 'Sleeping Beauty' and 'Love Is Now'. In television, he has had roles in Neighbours' and 'Home and Away'. However, he has also worked as a producer and director since the release of 'Quigley Down Under'. He has been married three times and has four children.
Ron Haddrick
Ron Haddrick played Grimmelman in 'Quigley Down Under'. This actor has a career that spans seven decades and he has had many roles in both film and television. He last appeared on television in the short film 'To My One and Only' in 2015. He received an Equity Lifetime Achievement Award in 2015.