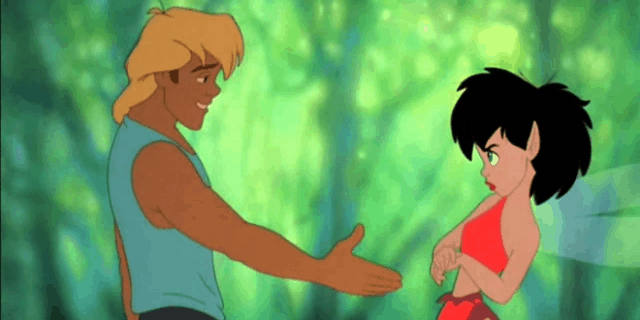 Ferngully: The Last Rainforest, was a popular film when it came out in 1992, but like so many other animated features back then it was swamped by a host of other cartoon films that kind of made it irrelevant after a while. One of the only non-Disney films that has been remembered for so long, Ferngully is still one of those films that manages to serve a purpose and point out without pulling any punches how mankind is slowly decimating the world we live in. It also points out just how important it is that the pollution that is left behind is stopped, albeit in a much more fantastical and lighthearted way. Hexxus, the spirit that sought to destroy the rainforest before he was imprisoned, was voiced by none other than the acting genius Tim Curry, who could play virtually any role to perfection without even breaking a sweat. Other voice talents included Robin Williams as Batty Koda and Christian Slater as Pips, a fairy that's connected to the main character of the story, Crysta.
This was back in the day mind you when Slater, Williams, and Curry were in their prime and were easily some of the most popular people in all of Hollywood. Yet for all that Ferngully kind of came and went, entertaining kids for a short while before being left on the shelves as kids sought out other movies that were flashier and more entertaining without being quite so preachy about how the world needed to be preserved and the rainforest's saved. That's not an entirely fair estimation since the truth is that by teaching the younger generation the importance of the different ecosystems in this world it becomes possible for them to understand just why this needs to happen.
In this case the children that watch such movies are indeed the future, and one that we'll need to rely on eventually.
10. This was Robin Williams' first role in an animated film.
As Batty Koda he played a character that was well within his boundaries of being hilarious and upbeat. He was known for playing outrageously funny characters and Batty was so off the wall that it was hard to make sense of what he was saying or doing half the time. Of course that was all Williams and the wonderful way he got into his character so fully.
9. The song Toxic Love, sang by Tim Curry, had to be revised in order to keep the film family friendly.
The original version had a lot of innuendo that kids simply wouldn't have understood, but parents certainly did. The song had to be changed and revised before it was deemed clean enough to be sung in the movie.
8. This is the first time Elton John was involved with an animated film.
It wouldn't be the last however since if you'll remember he went on to sing the opening song of The Lion King. That song alone earned him a great amount of praise from Disney and from fans all around the world.
7. The release of the film had to be delayed so it wouldn't have to contend with Disney's Beauty and the Beast.
Disney has been such a giant throughout the years that trying to compete with their films isn't so hard when it comes down to plot lines and star power. It has more to do with the amount of marketing and the amount of hype that will be put into each film. Disney is able to easily bury most films if they even try to contend with them, and that's why a lot of studios are very careful about when they release their films.
6. Robin Williams starred as the Genie in Aladdin the same year he did this film.
Once he got into animation it seemed to become a natural part of his act since he also played Bender on Robots. His voice was always a welcome addition to almost anything he did. At this point it's hard to think of what Aladdin or any movie he was in would have been like without his voice to fuel the assigned character.
5. Production time was lessened by using computer animation.
Some of the things that would have taken a great deal of time, such as flocks of birds crossing the sky for instance, were given over to computer animation so as to save time and money. Eventually as we all know computer animation has swiftly taken over the movie industry and old school animation is almost a thing of the past.
4. The rainforest used as a basis is in Australia.
So it is a place you can go and visit, but don't expect to see any happy, twinkling fairies there. In fact you might want to bring some form of personal protection since the denizens of the jungle might try to welcome you up close and personally.
3. Samantha Mathis and Christian Slater have starred in two other movies together.
They were in Pump Up the Volume and Broken Arrow together. They were even dating at one time it sounds like. Mathis plays Crysta and Slater plays Pips.
2. There's a glaring contradiction that was brought up about the film.
The film was all about saving the rainforest, but what some people like to point out is that the paper used to print the images for the film on came from trees, so it seems rather hypocritical.
1. Avatar was accused of ripping off the plot to Ferngully.
A young human gets lost in the forest, befriends an important young woman, learns the ways of the forest, and then strikes back against the invaders using nature, which eventually gives them the win. On a more basic level the movies sound alike, but when you take in all the details they're very different.
A lot of kids are getting turned on to Ferngully now it seems.