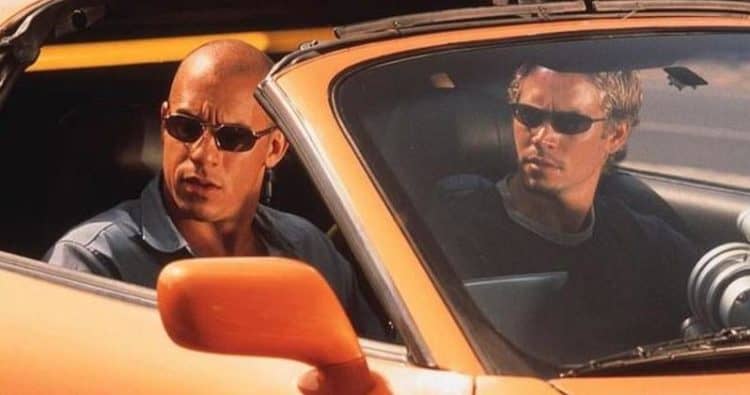 Blood may be thicker than water, but the Fast and Furious franchise's penchant for bringing everyone with a phone and agent on board is a testament to its power. Two decades in, and the franchise still goes as strong as it ever did. While much has been made about the ways that a saga that started with bootleg DVD players has now taken on nuclear war and space travel, the lore is even better when you think about the cast that now occupies nine official movies and a spin-off.
Fast and Furious franchise weaves a who's who of fifty years of Hollywood history, where classically-trained thespians like Helen Mirren might seamlessly appear in a film that also features not so little Bow Wow, Cardi B, John Cena, and a young Dom who, at best, can be described as an artistic reimagining of the source material.
Every Fast movie is a product of its time. The soundtracks roll with the punches while inherently feeling like they came from a teenager in 2001, and while the races become war scenes, crane shots of a beautiful woman raising her arms and kicking off a street race help ground us in the universe at large. Vin Diesel was famously too worried to appear in the second two movies past a brief cameo but came back with a vengeance in part four when his pursuit of fame outside of the Fast films wasn't the sure thing that he thought it was. With this return, the popular race saga became a marquee viewing experience for racing fans and action fans, and cinema fans alike.
While Diesel, Michelle Rodriguez, Jordana Brewster, and the late Paul Walker all had some success going in, the Fast franchise secured their space in the annals of action history. Love or hate the increasingly manic saga, the Fast and the Furious knows its assignment, and while the syllabus has changed, the audacity of its casting process remains one of its greatest feats to date. They don't just swing for the fences. They move the fence wherever they need and make sure that each casting call is just unbelievable enough to fit right in.
Taye Diggs, Ludacris, and Dwayne "The Rock" Johnson rounded out the 'main' cast that saw a sociopathic Jason Statham go from Luke Evans' terrorist brother who kills almost as many civilians as the heroes did in Rio to co-headliner in its first spin-off. Some former regulars like Eva Mendez and Elsa Pataky have since moved on to other things, but the franchise always finds a way to bring you back, should you be around to take the call.
Perhaps, this is best laid out by the third movie of the never-ending series, Tokyo Drift. Regardless of how many times it's used to retcon Han, Statham, and everybody else, it stands as the Tito Jackson of the saga. Save for a brief cameo by Mr. Diesel himself. It started disconnected from the universe at large only to become the Infinity War of the entire saga through plot-based Infinity Stones adding details that were not there when we first saw it. What George Lucas lacked in execution in his return to Star Wars lore, the Furious saga has in sheer audacity alone.
Tokyo Drift focuses on an American "teenager" named Lucas Hedges' Sean Boswell who is forced to move to Japan following a drag race gone awry with a fellow "teenager" played inexplicably by Home Improvement's Zachery Ty Bryan eight years after he played the same age on the show that made his brief inclusion notable
The Fast and Furious franchise has what the Expendables franchise tried to do time and time again. Perhaps, this is why Kurt Russell joined on in the last three movies after spurning Sly Stallone's offer in his attempt to create similar magic. MMA and Expendables 3 star Ronda Rousey followed in fighter Gina Carano's footsteps and made a brief cameo in Furious 7. Perhaps, rappers such as Iggy Azalea and singers like Rita Ora saw the path laid down by Ja Rule and Jin, perhaps the only two main cast members who seemed to have their Furious pass revoked and capitalized while they could.
Just before Wonder Woman propelled Gal Gadot into the A-List, she turned heads as Giselle, Han's love interest and full-time badass with the rest of Vin Diesel's less-than-normal family. International box office stars like Tony Jaa and The Street Fighter himself, Sonny Chiba, pop in from time to time to get those overseas receipts that Star Wars struggles with within certain markets. From a brief appearance by the 15-minutes-of-screentime-or-less king, Djimon Hounsou, to Oscar Winner Charlize Theron's unfortunate debut with dreadlocks in the eighth film of the saga. The only thing more inconsistent than the franchise naming is the pool of talent they pull from to bring these masterpieces to the big screen.
Sung Kang may not have much star power away from the Fast Saga, but Han became the series Nick Fury after dying in the third and returning in the other movies while they caught up to the Tokyo timeline. When they did, Game of Thrones star Nathalie Emmanuel joined co-star Kristofer Hivjua to jump to the biggest franchise not currently under the Disney banner. Not everything hits in the Fast Saga. Scott Eastwood continued his longstanding tradition of being related to his dad in a forgettable run on Fate of the Furious. At the same time, Cole Hauser played a barely-there villain in 2 Fast 2 Furious, which also featured pre-fame Michael Ealy and Amaury Hardwick.
Idris Elba introduced the concept of superheroes in Hobbs and Shaw, causing The Rock to bring in Roman Reigns and journeyman actor Cliff Curtis to come in and help fight for the good cause.
Hollywood loves the Fast saga. It seems that anyone not named Denzel Washington flocks to the chance to appear in the Universal cash cow. This is part of the magic. As fun as it is to make fun of the outlandish ways that Justin Lin, Vin Diesel, and the rest of the crew keep it alive, that same audacity is why we all go back. If family is the fuel that keeps the Fast engine roaring, this family tree of sitcom stars, rappers, and Oscar-winners shows the vast pool of talent that wants to be a part. With two more sequels planned alongside several new spin-offs, the family can only grow from here, and maybe, just maybe, Ja Rule, Jin, and all of those franchise one-hit wonders can finally get the call back they've been waiting for.