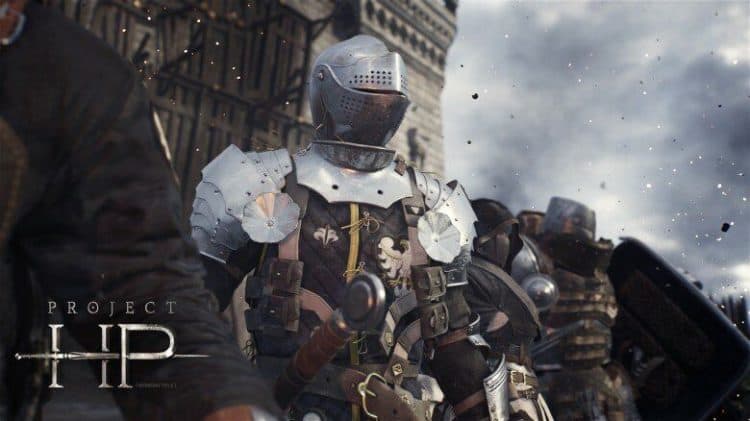 Project HP is a brand new title being developed by Korean talent Nexon. This is a working title that will change as development becomes finalized. This project is a PVP medieval brawler that's akin to For Honor and even Chivalry, in some cases. However, in this case, Project HP has a more mystical feel than opposed to its counterparts. In this game, when players become defeated they will turn to stone and break apart. On the flip side, if players have a massive streak during matches, they'll be gifted with magical powers. They will be able to summon allies to join in on the fight or become more powerful themselves. There is not much explaining how the gameplay mechanics work, but the trailer gives players a taste.
Recently, Nexon released a pre-alpha test build to where players can get their hands dirty. Unfortunately, it was only available for Korean players. Naturally, this game's primary focus will be on melee combat with classic weaponry. Players will take control of various characters that brandish, swords, spears, maces, and axes. The pre-alpha helped the developers take note of which features will need to be polished. Project HP will come with brutal action and epic maps. There will be 6 characters available on the roster for players to try out. Every character will specialize in various forms of combat, defense, and recovery. The trailer showcases a fair amount of insanity with this title's gameplay features. There's a human-panther hybrid that is an archer and a knight summoning lightning powers. These are only a couple of examples of what is seen among the chaos.
Video
Sticks and Bones
The pre-alpha test came with a 16 v 16 game mode called "Strife." Thus, there was another 12 v 12 game mode called "Advance." The goal for Nexon is to have them reach the same quality as all the other AAA titles out there. Maps will have up to 30 players duking it out to take castles and conquer property. These will be large-scale battles that will require teamwork and a variety of objectives to complete. Even though Project HP has elements of magic intertwined into medieval warfare, there are also interactive environments. Players will be able to knock their opponents over cliffs as well as using stationary cannons and crossbows that are found throughout the maps. On top of that, players will also be able to storm the battlefields via horseback to splinter the destructible environments. Even though the battles will have a hearty roster of players to fight, there might be some NPCs battle, as well. It is difficult to tell from the trailer, but it is a good bet that maps will be padded out with soldiers.
In For Honor, maps were full of NPC soldiers to use as cannon fodder. They gave the game modes a grandiose sense of war and they actually do help chip away another's player's health bar. Both opposing teams will start matches on opposite ends of the map. There will be a neutral zone in the center that will need to be captured. They will race toward the designated area and fight tooth and nail to raise their flag. Plus, players will also be required to raise their flag on their oppositions' starting point, as well. Basically, Project HP will have maps that are synonymous with domination games modes on other titles. These game modes are essentially a tug of war of gaining ground and accumulating points. Even though this game mode isn't the most original idea, it still remains a classic and holds up very well for this particular brawler. From how it seems on the trailer, these maps will be teeming with explorable nooks and crannies. They will also have a sense of verticality. Some characters will be able to leap from place to place, while others are rooted to the ground.
Ironclad Intentions
Other game modes like "Skirmish" will entail overtaking various points in a fortress to weaken the power of the opposing enemy. Players will need to kill each other's soldiers to reduce their points and garner their own. The combat will have layers of depth. The fighting mechanics will have blocking, counters, and even magical perks to spice things up. The different characters will come with their own move sets and sense of identity. Even though some will be more nimble than others, there will also be brutes to even things out. These characters can ram through crowds with their shield-like linebackers. Furthermore, the more lightweight characters like the archers will be able to slide down slopes and perch on railings. It looks like the maps were constructed for all the characters to take advantage of their abilities.
Nexon is going all out with this title. The graphics look crisp and the gameplay comes with a barbaric sense of satisfaction to it. From the looks of things, the developers are shooting for a worldwide release. The way the respawning feature works on Project HP is very much like Battlefield. After dying, players will be able to see the entire map from a top-down perspective as the battle rages on. Then, they can choose which zone to spawn on, as long as their team is holding their ground. Hence, this title is taking inspiration from an interesting list of different games in varying genres. All of these ingredients seem to be brewing something rather unique and fresh for the MMO community.
Grindstone Heaven
Details on this title are pretty slim right now. However, it seems that medieval PVP titles are starting to gain steam throughout the gaming community. There is no doubt that FPS's are the king with competitive combat. However, playing something that requires a more intimate approach to smiting enemies still feels fresh. Project HP is slated to be a PC exclusive. There is no word from Nexon on whether or not it will be jumping to consoles. It holds are the marks to be a winner and here's hoping that console players will get the opportunity to play this title. Development for Project HP is nearing completion and it will be released later this year.