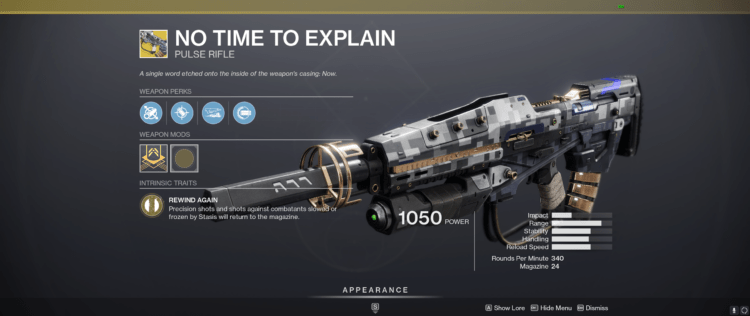 Destiny would be a completely different game without its array of Exotic weapons and armor. This Exotic gear makes Destiny stand out, just like the Legendary gear in Borderlands. Having these highly identifiable and memorable gear allows the player to grow a much deeper connection not only to the game, but the weapon and armor itself. The No Time To Explain is one of these memorable weapons, but what exactly makes it so memorable? What's the story behind this Exotic weapon and why do players have such a love/hate relationship with the gun? Well, here's everything you need to know about the No Time To Explain Exotic Pulse Rifle in Destiny 2!
What is the No Time To Explain?
The No Time To Explain is an Exotic Pulse Rifle that was first introduced in Destiny 1. In order to obtain the weapon, players first must complete quest "Not Forged In Light" in which the weapon will be given to players upon completion. However, in Destiny 2, the No Time To Explain was available exclusively as a reward for purchasing the Deluxe Edition of Destiny 2: Beyond Light. Unfortunately, we don't know when, or even if, the gun will be available for players that missed out on this deluxe edition purchase bonus, though I can't imagine it won't make its way back into the game for all players at some point sooner or later. In order to obtain the weapon in Destiny 2, players need to complete the entirety of the Destiny 2: Beyond Light campaign and then speak to the Exo Stranger who will then provide players with the No Time To Explain as well as a quest to complete for the No Time To Explain Exotic Catalyst. In Destiny 1, the No Time To Explain was the Exotic variant of the legendary Stranger's Rifle with the Exotic perk "Rewind Again" that allows precision hits to immediately return themselves to the magazine. This perk works together with the Headseeker perk in which body shots with this weapon increase precision damage for a short time. The other perks available on the Destiny 1 version of No Time To Explain include:
Smooth Ballistics (Increased recoil, boost to range)
Accurized Ballistics (More range and impact, increased recoil)
Smart Drift Control (Predictable and controllable recoil, penalty to range)
Full Auto (This weapon can be fired in full auto mode)
Speed Reload (Reload this weapon quickly)
Hand Loaded (This weapon is effective at an extended range)
Fitted Stock (Increases weapon stability)
In Destiny 2, however, the perks on No Time To Explain are quite a bit different. Rewind Again is still present, but it's back with a twist. "Precision shots and shots against combatants slowed or frozen by Stasis will return to the magazine." No Time To Explain also includes a new unique trait known as "Time-Slip" which states: "At 10 stacks of Rewind Again, a small portal will open, shooting bullets from an alternate timeline version of this weapon. Precision hits extend the portal's duration." This perk allows for a much different and unique playstyle than the Destiny 1 version of the weapon. Other perks on the version of the classic Pulse Rifle we see in Destiny 2 right now include:
Fluted Barrel (Greatly increases handling speed, slightly increases stability)
Accurized Rounds (Inreases range)
Full Auto Trigger System (Holding down the trigger will fire this weapon at full auto)
No Time To Explain Catalyst
Destiny 2 has also introduced an Exotic Catalyst for the No Time To Explain. In order to obtain this Catalyst, you must complete the "Soon" quest that the Exo Stranger gives you once you pick up the rifle itself. There are a total of 4 steps to complete in this quest:
Step 1: Schematic Code Fragments

You must collect five schematic codes by defeating combatants in the Bray Exoscience facility. Once you collect five of these schematic codes, head back and move on to step 2.

Step 2: Speak with the Exo Stranger

All you need to do is fast travel back to the Exo Stranger and talk to her, there she'll give you the third step of the quest.

Step 3: Defeat Vex in Nexus, Infinitude and Glassway

This step is pretty easy, but it's a bit of a grind as you'll need to defeat 60 total Vex either in The Glassway Strike or the Well of Infinitude accessed through the Nexus on Europa. The easiest way to do this is to physically go into the Well of Infinitude, clear out the enemies, leave, and then reset the area and do it all again.

Step 4: Speak with the Exo Stranger (again)

Once you complete Step 3, head back to the Exo Stranger and she'll give you the No Time To Explain Catalyst, and that's it! Well….kind of.

Complete the Catalyst

In order to charge the Catalyst, you'll need about 700 kills with No Time To Explain
Now you're done.